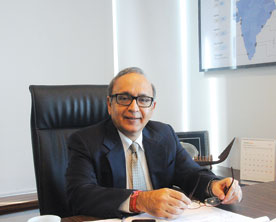 Name : Sunil Seth
Position : CEO of Adani Myanmar and President of India Myanmar Chamber of Commerce (IMCC)
[paypal]
When was your first visit to Myanmar?
I have been lived in ASEAN for many years mainly in Singapore and Thailand. I use to visit Myanmar on business since mid-90's. However, I moved to Myanmar with my family in January, 2013 and it has been six years since I am staying here.
How did you end up in current position?
Adani Group, a large India company was looking for a CEO to head their operations in Myanmar and I joined them a year back to help set up their businesses in Myanmar. Please explain to our readers about Adani Company Myanmar create a credible and professional platform for Indian businessmen to get to know about business opportunities in Myanmar and vice versa. Could you tell me more about your duties and responsibilities in Adani Company Myanmar and India Myanmar Chamber of Commerce? For Adani Group as their CEO for Myanmar, my main responsibility is to look for business opportunities in power sector, ports, infrastructure development and agriculture. For India Myanmar Chamber of Commerce, we have a strong executive committee comprising CEOs of Indian and Myanmar companies with varied experience in different areas/ sectors and we ensure we work in a coordinated manner to help increase trade between Myanmar and India. Our main task is to show opportunities which can be tapped here.
What has been the major contributions of India Myanmar Chamber of Commerce (IMCC)?
Within one year, IMCC has developed a credible platform for interaction between Indian and Myanmar businessmen. We have 70 members already and we are targeting to have at least 100 members. IMCC focuses on infra/ power, pharma, agro and IT/ soft skills sectors which are areas of interest between our two countries. Regular knowledge sharing sessions are held for members to help create awareness about Myanmar business environment. Also, IMCC is a partner with UMFCCI and we leverage this relationship to help our members establish right local partners for doing business.
What inspired Adani Group to start operations in Myanmar?
We all know Myanmar is a last frontier market with huge untapped potential.
With infrastructure needing huge upand India Myanmar Chamber of Commerce?
Adani Group is a $15 billion dollar group and primarily focused on infrastructure development. They specialize in power plants, generation, transmission, renewable energy, ports and edible oil production. The group is also involved in developing integrated townships. The India Myanmar Chamber of Commerce was formed a year back and our Indian Ambassador to Myanmar is the patron of this chamber. We wanted to  grades and investment and with only 35-40 percent electrification the need for power generation and transmission is urgent. Adani group expertise lies in these areas and hence the interest of the group in Myanmar.
What are the differences between working in Myanmar and other countries, for you?
Having worked in Singapore and Thailand were infrastructure is quite developed it is a challenge working in Myanmar though I must say things have improved a lot in these six years. Patience and perseverance are qualities you need to be successful in Myanmar.
What are the future expansion plans and projects for the company in Myanmar?
The group is actively looking at Power sector, Transmission, Infrastructure development and Agriculture for future projects. What difficulties did you face while operating in Myanmar? I must say things have improved a lot since 2013 and basics like tele communication have improved tremendously. Also, skill sets of local staff is now much improved specially the younger generation who are very capable and fast learners. The new Myanmar Investment Law (MIL) and New Companies Law are very good steps taken by the government to bring about investor confidence. Directorate of Investment and Company Administration (DICA) move to digitalize application and registration for companies is a very good step forward.
From a business standpoint, what do you feel are the biggest challenges facing you and your team in next 1-3 years?
For a company like ours which is involved in developing infra projects, getting clear directions from government ministries is very important in terms of policy and regulatory framework. As end of the day we need to have very precise documentation to make our projects bankable to be able to then execute them well. This capability needs to be developed by government to take Myanmar to its next level of development.
What is your opinion on current trends in the Myanmar infrastructure sector?
Myanmar needs a lot of investors to help upgrade its infrastructure whether it is power, transportation, ports, etc. The government needs to provide the right incentives to private sector to make investments in Myanmar. Developers would look at getting certain returns on projects they implement in Myanmar considering the risk profile of the country.
If you could make one major changes to a government policy, what would it be?
A major change in government policy which I have spoken of many times would be faster and coordinated decision making which in turn would help Myanmar achieve its full potential. The government needs to play a key role here and once the private sector sees clarity from government, capital will automatically flow to Myanmar.
[/paypal]