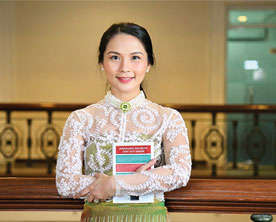 Name : Pont Pont Kyi
Position : Founder of Myanmar Imperial University
Please explain our readers about yourself and background.
My name is Pont Pont Kyi, Founder and Managing Director of Myanmar Imperial University. I was graduated BA (Hons), Multimedia Arts from Middlesex University UK and continued Master study in Business administration which is awarded by Northampton University UK in 2012. I am following my passions of creating positive change of Myanmar education and founded Myanmar Imperial University in 2004 with startup capital of $2,000 to change the country for the better. I am currently contributing Myanmar academic Research society by preparing the research under the title of "Building brand equity in Myanmar private higher education industry". How did you get the idea to open Myanmar Imperial University in the first place? I do not like by-heart studying system since my childhood. So I started studying for international education soon after my school days ended. Then I started Myanmar Imperial Collage for sharing studying skills, memorizing skill, reflective thinking at international level and founded Myanmar Imperial College in 2004 and it has been existed for the last 15 years.
How do you ensure the courses you provide are of sufficient quality?
We always collaborate with both local and international organizations ensuring that education we are providing can empower the students with knowledge, ethical values, positive attitudes and leadership skill. All the courses we provided can improve the student to be confident in their related field.
Can you explain about the process of changing Myanmar Imperial Collage to Myanmar Imperial University?
We changed Myanmar Imperial Collage to Myanmar Imperial University with the transformation of education system into international standards, like England. We go with "Think Global, Act Local." theme. The case studies may be at international level, but they are focused and applied on local needs. And now we have established Myanmar Imperial University Research Center and we will publish literatures, articles, and there will also be student exchange, knowledge exchange programs from universities of ASEAN countries and especially form England.
What are the differences between MIU and other private Universities?
Each private Universities has special functions to develop students as I also welcome private institutions. Myanmar Imperial University always stands on international knowledge that support capabilities to achieve life goals. We provide good environment for students by providing various opportunities as well as training to improve their leadership skills.
How do you compete in the education business?
We provide student a broader understanding of the related fields. Train them how to use their knowledge correctly and systematically.We always  cultivate our student with affections like a gardener keep his/her flowers to grow perfectly.
How do you view private education sector?
Private Institutions have their stands, needs and more private institutions are emerging competitively in this era. I think this is good for students' chances to get onto the higher level and for a better private higher education's sector.
What changes do u think needed to be made to improve education sector in Myanmar?
Education is a knowledge to decide what is right or wrong and the dos and don'ts on your own. We had passed our classes just learnt by-heart in Myanmar. What we need is the teaching method focuses on critical thinking, own creativities and problem solution methods based on the studying facts. It would be better to give this mindset to Myanmar students.
Why studying matters?
And they also need to learn creativity and how to solve the problems by using the facts they have studied