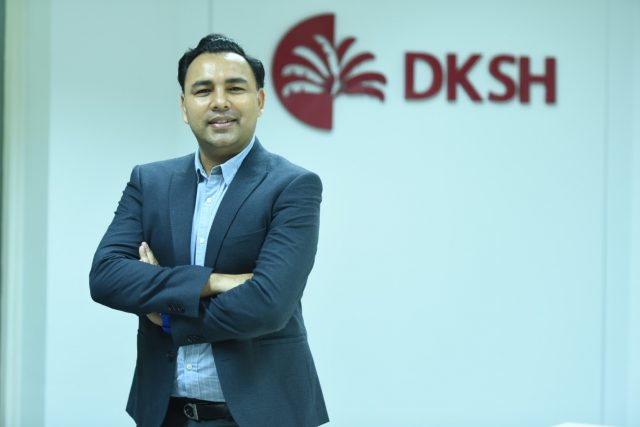 Interview with Ankur Pandey, Vice President at DKSH Myanmar, Healthcare
1. Please introduce yourself and DKSH to our readers.
My name is Ankur Pandey and I am heading Healthcare business for DKSH Myanmar. I have been with DKSH for more than 7 years and have held several leadership positions within the company in Myanmar and Singapore. DKSH is a Swiss organization with over 150 years of experience in helping companies grow their business in Asia. DKSH has been helping Myanmar's patients and consumers in providing access to quality products for over 25 years now. The journey so far has been exciting for DKSH Myanmar and we are recognized as one of the key service providers of quality products in Myanmar. Many global and regional companies have trusted us with managing their businesses and products in Myanmar. With over 3,000 specialists on the ground, we are at the forefront of Healthcare, Consumer goods, Technology, Performance Materials and Field Marketing. Our reliability, professionalism, trustworthiness and compliance standards have been unmatched, which has led us to becoming the leading Market Expansion Services provider in Myanmar and other parts of Asia.
2. You discussed implications of digital in the healthcare industry at the EMDI Launching event. Can you share the key takeaways from that topic?
Digitalization in healthcare is the most talked about topic currently and the ongoing pandemic has given fuel to prioritizing digitalization in many parts of the healthcare industry. Digitalization is not only about technology or only about saving and sustaining lives, but it is also about people and how we use technology to help people live healthier lives and improving the quality of life. As I spoke during the EMDI Launching event that Digitalization of the healthcare industry is important because it touches all the important factors such as Affordability, Accessibility, Accuracy, Speed and Empowerment.
Myanmar could gain a lot by adopting digitalization of its care delivery models such as remote patient monitoring, Tele-health, EHR etc. At DKSH we are working towards a vision of bringing in some emerging health tech products which will complement a lot of ongoing initiatives of digital health in Myanmar. EMDI is a great initiative by Euro Cham and I am confident the EMDI group will push forward the countries' digitization agenda and help the economy in a big way.
3. When did DKSH Healthcare start expansion into Myanmar?
DKSH has been in Myanmar for around 25 Years and since its inception in 1995, DKSH has been constantly investing and innovating in Myanmar to bring the best services for its clients and best products as well as services for its patients and consumers.
[wp_paypal_payment]