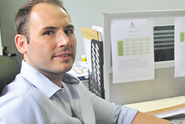 [paypal]
MI : When was your first visit to Myanmar?
I first visited Myanmar in September 2013.
MI : What was your impression like then?
I was immediately struck by the lack of infrastructure, business knowledge, and customer service in the city but pleasantly surprised to see how kind and open-mind- ed the Burmese people are. I was also very fortunate to have our current Director, Ye Kyaw Swar guide me around to see more of the local business and culture.
MI : How did you end up as the Chief Operating Officer at the Centurion Auto Group Limited?
After observing and studying the local market, our team decided to pursue a car rental business that focused more on the emerging corporate market. With my personal back- ground centered around car repair and import/export in the States, it was a natural transition for me to set up organizational and vehicle standards for our project here.
MI : When was the Centurion Auto Group Limited founded in the first place?
Centurion Auto Group was founded in February 2014, with rental operations beginning in July 2014.
MI : Please tell us services offered by Centurion Auto.
Centurion Auto Group's main businesses include car rental, driver training, and corporate vehicle consultation. While we gladly accept tourists, our main market is foreign corporations that have begun their operations in Myanmar. Our focus is to take care of our clients' transportation and logistical needs, so that they can concentrate on their own projects. Car rentals include new & well-maintained vehicles, trained drivers, complimentary on-board Wi-Fi, an English speaking concierge, full first-aid & fire extinguisher on-board, and a $1million USD
comprehensive insurance policy. We offer daily, monthly, yearly, and corporate fleets depending on the client's requirements.
Our driver training program has been constantly evolving since we started our car rental services. After receiving numerous inquiries to offer our driving training methods used by our own staff to other people drivers; we have now started a driver training course that covers almost all scenarios one could come across in Myanmar. Our 2-3 day program covers vehicle maintenance, personal hygiene & hospitality standards, basic English phrases, vehicle dynamics, de- fensive driving habits (risk vs. reward), and anti-terror tactics & bomb searches. We feel quite confident it will improve all drivers' habits and standards immediately as we not only say what to do, but the actual reasoning behind every theory. The concepts are sim- ple but new to the local Burmese culture, and we are confident it will make the roads safer throughout Myanmar.
Our consultancy work centers around assisting anyone looking to improve their road safety standards and choosing proper vehicles for their circumstances. This can be a local firm trying to win a foreign corporate tender, or incoming foreign firms trying to get a better handle on the conditions in Myanmar before fully committing them- selves financially and logistically.
MI : How many vehicles currently Centurion Auto is operating with?
Centurion currently owns 8 vehicles of our own, but has the ability to meet extra demand by working with local partners if needed. Corporate fleets of a larger scale can be handled within 40 days while we arrange the vehicles, drivers, and insurance. Due to the high capital cost of purchasing more vehicles, we approach these on a case-by-case basis to ensure we are the right partners to accomplish each other's business goals.
MI : To which parts of the country is Centurion Auto offering transportation services?
Centurion is willing to rent vehicles through- out Myanmar, but our main markets as of now concentrate on Yangon, Nay Pyi Taw, and Mandalay. We have two facility locations with our headquarters in Yangon and a regional office in Nay Pyi Taw.
MI : What are your expansion plans?
Right now we remain focused on our current operations. We offer a very customer orient- ed service and are not willing to expand un- til we feel confident we can deliver our high standards to every client and see substantial ROI on our expansion investment. We are pleased with the growth of our employees and service, so if the right opportunity that meets our internal requirements arises we would have no hesitation in expanding as the market demand is growing. Our ultimate goal in the future would be to have franchises that can serve people throughout Myanmar with hands-on management in every location to ensure "Centurion Standards".
MI : Could you tell us more about vehicle maintenance and driving traiting?
Centurion's main focus is upon safety. The first thing we discussed was developing a maintenance and driver training program that makes our cars the safest and best maintained in Myanmar. I personally have over 15 years working as an ASE certified automobile mechanic in the US performing bespoke services on many high end vehicles (Ferrari, Lamborghini, BMW, MB, Porsche, McLaren). I have developed daily, weekly, & monthly cleaning and maintenance checks to ensure our vehicles remain in top condition based around common fault points I have seen and from listening to my drivers who have more knowledge of the components that break down quickly in Myanmar. Our goal is to find every fault before it be- comes a problem to keep cars safe and on the road making us money.
We are excited with our driver training pro- gram. We have introduced concepts I have
gained over the years through my sports car racing background and our group's experience travelling in foreign countries to create a system that makes passengers feel relaxed and focus on themselves rather than worrying about their vehicle and risks of driving in Myanmar. We are very thankful our drivers and staff have been so open-minded to help create and train these techniques to our drivers. We currently have a 56 page manual introducing simple concepts such as greeting clients, driver hygiene to more important aspects such as vehicle dynamics; how tyres & suspension work, levels of grip attained by approaching different lines through corners, and emergency response to terror attacks to get our clients and driver to safety. They are simple concepts but are never introduced to the general public in most countries, and really make a difference between life and death in certain situations.
MI : What is the target market segment for Centurion Auto?
Our core market is long term rentals from incoming foreign corporations and expatriates. That being said, we have had many tourists and locals use our service for short trips to see the beauty that Myanmar has to offer outside the main cities. We have placed an emphasis on being multi-lingual (Burmese, English, Mandarin, Bahasa are heard daily in our offices) to allow us to better serve foreigners visiting.
MI : What do you think are the cur- rent customers' expectations?
Personally we find that customers still place their emphasis on price and not value. They come to Myanmar with a preconceived idea it is cheap and service is not going to be good. They sacrifice services and safety for cost. We believe this will change as the market matures and people start realizing the differences between an old vehicle rental and one that is properly maintained and makes their life more convenient.
MI : Who are your potential competitors and how are you planning to compete against them?
Right now, Centurion is focusing on improving our service every day and "doing our job". While there are other car rental services, we choose to view them as partners rather than competitors as we all work together when needed for larger scale short- term rentals and information. We feel confident that if we continue to focus on our service and daily improvement, we will offer the most complete car rental service available in Myanmar.
MI : Any upcoming project apart from this car rental business?
Centurion itself will remain focused on car rental and driver training for the time being. But my partner, Tiffanie Widjaja (classicly trained chef in Manhattan) is currently set to open "Trademark" in the new Myanmar Center next month. It will be an all day, cash and carry concept featuring Western sand- wiches (Reuben, Banh Mi, Grilled Chicken Pesto, etc), prepackaged meals (pasta, salads, yogurt parfaits), bakery items (cup- cakes, Danish, pastries, bagels), fresh coffee, and cold pressed juices. These will be simple and delicious items for office workers to bring to the office or home for a meal. We are also currently looking into education programs to help bring more knowledge to the local market.
MI : From a business standpoint, what do you feel are the biggest challenges facing you and your team in next 1-3 years?
As is stated by many, one large problem is staff retention and finding capable replacements. We have a fantastic team but this is something that is common in Myanmar to all firms. Two large obstacles specific to car rental business is the unstable vehicle prices, and availability of liquid capital to purchase larger fleets.
MI : What is your opinion on Myanmar's automobile rental market?
I feel the market will continue to be in demand as traffic and foreign corporations in- crease in numbers. I also feel right now we all have a long way to go in improving the safety standards, hospitality, and driving techniques shown to passengers. In terms of business, it is a steady volume based field. Lots of capital, manpower, and logistics need to be involved to run a proper car rental business large scale. There is amble opportunity, but it will require patience and a strong management team.
MI : What are the key success factors in running a car rental business?
Focus on the client, understand your numbers, work hard, and treat everyone with respect. My father taught me a long time ago the value of hard work and therefore I personally place a high emphasis on valuing our employees and the work they do. With- out them, this company wouldn't be where it is and we are so thankful for their efforts. Our core client will only interact with our drivers and concierge, so we have to emphasize a strong corporate culture of teamwork and respect to be successful.
MI : How is working in Myanmar different from working in other countries?
Numerous items come to mind, but the largest in my eyes would be understanding this is a different culture. Respect it and try to learn as much as possible about it. Coming from the States; Myanmar's manpower, infrastructure, laws, and enforcement of laws are all at beginning stages. As an entrepre- neur, you need to manage your money, be directly involved with your staff, and have a lot of patience and an open mind.
MI : What advice would you give to someone looking up to start up an auto rental business in Myanmar?
Know your market and numbers. This is a hands-on business with daily interaction with all of the staff in order to keep proper guidelines and checks in place. Vehicle prices are constantly changing, so proper pricing and margins need to be accounted for to make this a viable business. Do not get in a price war with local companies as you will lose at the end of the day.
MI : If you could make a change to one major government policy in order to ease the way of doing business here, what would it be?
In terms of our business we would like to see the government adopt more feasible means of getting access to working capital in terms of loans or lines of credit for SMEs. It's a difficult process to get funds into the country and disenfranchises many corporations from doing business here.
MI : How are you enjoying your stay in Myanmar?
I am enjoying Myanmar very much. While I spend most of my time in Yangon working, I love the opportunities to get outside and see the less explored parts of Myanmar. I have also been welcomed with open arms and learned more in terms of business development and dealing with different cultures in a few years as compared to ten years in the USA.[/paypal]