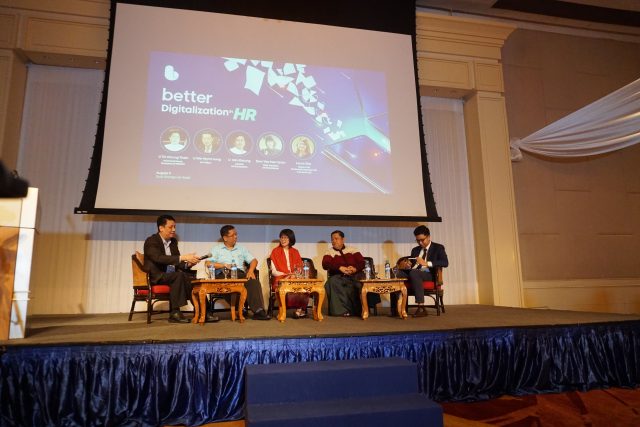 Better HR launched advanced Human Resource Management Software at Sule-Shagrila Hotel on August 11, 2019 and the event featured a panel discussion for Digitalization in HR. Firstly, Ye Myat Min, founder and CEO of nexlabs, gave a welcoming speech to the audience. Later, Myo Htet Aung, Co-founder and Head of sales of Better HR, explained features and services of Better HR, how to use and what advantages and impacts can be acquired by from using it.
Speaking at the launching event, "Using digital technology for HR can drive business to growth and empower the workforce" said Laura Cho, Head of HR from Prudential Myanmar Life Insurance Ltd,and it was followed by insightful panel discussion, "Digitalization In HR" from Yar Zar Soe (Min Khaung- AMARA), Yee Mon Kyaw (HR Practitioner) , Win Myint Aung (AIT Fellow) and Tin Maung Thein, President of MSHRM. "Better HR aims to help and brings innovative solutions for daily HR administration process to maximize efficiency and effectiveness, making more time to manage your workforce and reach out for strategic and development" said Zayar, Head of project from Better HR and he also highlighted Better HR as an integrated HRM software from Nexlabs which commits to help business with beautiful, simple and user friendly features.
Better HR offers everything that is needed to manage workforce ranging from attendance management, requesting leave, storing documents to monthly payroll. In the event, it is mentioned that with the effective usage of Better HR software, Nexlabs won "Most innovative use of technology in HR" from Myanmar Employer Awards in 2018. Right now, Better HR is used by over 1500 employees and 30 companies from different industries including well-known companies like Win mobile World, Ericsson, mBuyy.com, ID Creative Solutions and Nice Style (travel & tour). Over 180 guests turned up at Better HR Launching event and enjoyed the esteemed panel discussion of "Digitalization in HR" with the coffee and dessert treat from Better HR.