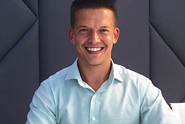 Name : Eddy Herbert
Nationality : British
Position : Regional Sales Director and
Country Manager of FocusCore
[paypal]
MI: What was your first impression of Myanmar and how do you feel about the country?
When I first arrived in 2013, I could see the huge potential for international businesses to setup in Myanmar. Due to years of isolation, Myanmar has allowed neighboring economies to take the lead. But I am very sure that history will not repeat itself. Myanmar now has an opportunity to catch- up. You can feel that when you first arrive – there is positive energy from a number of regional companies who are carving a niche in their respective industry. Myanmar boasts green field opportunities, which when set up correctly, can and will offer great rewards. MI: How has your opinion of Myanmar changed now?
I have been here for two years. I think the transformation has been very fast. One can see many buildings being built and a re- shaping of the landscape and skyline. More and more landmark projects are being developed. In fact it is quite remarkable how fast this country has changed since I arrived. On a local level, there is the upgrading of fundamental infrastructure, the refurbishment of sidewalks and the increase in food and beverage outlets available now, offering the general public a wide choice of venues. When I first arrived, there were only a handful of places to eat, now we can go out and try many different restaurants with lots of different international eateries. Also there are new hotels, such as the recently opened Novotel and the new wing of the Sedona Hotel.
MI: Please tell us more about your responsibilities in FocusCore.
I was the first person for FocusCore "on the ground" in Myanmar. I have worked for a number of years in Asia. My job is to encourage and assist foreign companies to start up in Myanmar, in effect to hold their hand. For many organisations, starting in Myanmar can be seen as high risk. So what I and FocusCore do is to provide a very person- alised service to these companies. We really help them to understand the opaque laws in the market. Our aim is to help them grow, expand and let them focus on what they do best – to run their core business which is why we named our company FocusCore. Many companies, when they arrive, feel totally lost on some of the issues. For ex- ample, on not knowing who to contact when they go to the Ministries. We live and work in Myanmar so we speak to the important contacts on a regular basis. It is easier for me to resolve the problem or understand the local detail to a far greater degree than a foreign company that has just arrived. I am also responsible for the day to day operations of the business. I also play a lead role in FocusCore Singapore Corporate Services and am instrumental in driving companies from Singapore to Myanmar. Singapore is effectively the centre point for access to a large number of companies where one finds the decision makers.
MI: How did you become Regional Sales Director and Country Manager of FocusCore?
I was fortunate enough to have met my Chairman two years prior to my arrival to Myanmar. He is a very influential business- man in Asia. He I and I first came here for a 'look and see' trip back in November 2013. He had the same feeling when he came here as when he built up companies in other areas in Asia. I suppose it is really a matter of being in the right place at the right time! MI: Do you find any differences in working here from other countries?
I worked in Singapore for a number of years, also in Taiwan and Shanghai. Although I am a British, I have worked 90% of my working career in Asia. I already see Singapore as an ideal. Singapore is a machine. It is a very well-planned country. They have very good leadership qualities and a strong financial backing. There are many differences in Myanmar and a key factor is education. Historically, the education system has been very good in Singapore. I think that has re- ally helped the entire business sector with people being capable to run a wide range of businesses and with the knowledge to run a company and the associated tasks. There are some very talented people in Myanmar but because of the huge gap, the discrepancy in training and education, there are many people willing and wishing to do the task, very intelligent, with a great mindset but without the experience, at least so far. They do not, at present, know what to do, the steps to take. So I would say because of this there is even more opportunity here in the market and also with regard to learning on how to harness the new opportunities. I think that is a big differentiator between the two markets.
MI: How and when did FocusCore start its business in Myanmar?
We started in early 2014. Our local company here is TGM Company Limited, a FocusCore Group company. We set up our parent operations in Singapore as our headquarters. This is the advice we provide our clients. With the ease of doing business in Singapore, it makes a lot of sense for foreign companies to have their center of excellence in Singapore not to mention the ease of bank- ing between Singapore and Myanmar.
MI: Who are your typical clients?
We have entrepreneurs, people who have been working in organisations who venture out and do their own thing, so not only just young entrepreneurs. Future entrepreneurs may have been working five or ten years and they see Myanmar as an opportunity and want to start their first business here. So we assist those guys, we also help listed companies, for example Singapore listed companies with business opportunities in Myanmar – we support their entry. We also help some large international firms. The wonderful thing about Myanmar is the fact that there no one type of business that comes here. It really is a wide selection of companies from technology to food and beverage to services to cleaning businesses, to manufacturing.
MI: How would you describe a typical project of the company?
From the beginning, companies come to me because they had heard about our success stories. They had heard about how we have helped other companies into Myanmar. All are very keen to expand into the market and they want a guiding hand. They want to come here, to set up as quickly as possible and start operating. Typically, I would meet the clients and learn what they want to do, understand more about their business objectives and what they want to do in Myanmar and then help them set up for success. To help them with their incorporation, make sure they follow the correct incorporation process for their business, advise them on the correct corporate structure with regard to their company, for example, whether it is going to be a 100% wholly owned subsidiary or in some cases what I do is guide them to  create joint ventures, a company structure guided by the Myanmar investment laws. We get a thorough understanding on what a client wants to do and help them set up in Myanmar. Post incorporation we then assist them with nice office space through our strategic partner ARCC Serviced Offices. ARCC provide world-class office space to our clients with high speed Internet, good support services with excellent amenities in a great midtown location. We also support them with payroll, bookkeeping and legal support services.
MI: What is your opinion of the cur- rent business situation in Myanmar?
I could probably talk at length about that – as to the existing opportunities and current situation for the market at the moment. The country is going global. I think Myanmar is going to prosper. I have got a very pos- itive long term view on this country. When I speak to my clients throughout the world, they all have reasons as to why they wish to set up their business here. Myanmar has come a very long way from where it used to be. There are a lot of very positive business- es in the market. Companies will continue to set up, they might be some leveling off in due course but I cannot see any reason for a slowdown in the next few years. We have a very positive view on the market and our cli- ents feel the same way. There has been some negative media recently but it is like many other subjects – it is how you interpret the information and what you do with it. I feel it is going to be very positive, excellent in the forthcoming years – to do businesses here.
MI: What kind of challenges do you have to face every day?
I think the biggest challenge is this. Once clients have committed to do something in Myanmar and they entrust their core business with FocusCore, they are set up for success. But it is key that they really do commit and follow the correct steps that we advise, then without a doubt, they will do well. There are plenty of opportunities here. At the same time they must abide by the local laws, they must understand the culture. I think people should be culturally sensitive as well as being business aware to succeed in Myanmar.
MI: Who are your target customers?
I would say they are SMEs, entrepreneurs, a mix of organisations, companies looking to get a foothold in the market. Ones that wish to gain a competitive edge on a competitor – we can really speed up that process for
them. We have a very strong local Myanmar team. Sister companies' offers staff recruitment services in the region as well. So we are very good on the subject of people.
MI: Please let us know your competitive strategies.
I would say understanding the market, being well networked and getting the latest updates. Not learning what is going on from a third party or maybe from a news article but getting true facts. We are very good at find- ing out the correct information. I challenge the information. I will not obtain it from just one source but from various sources. The laws of the land in Myanmar can be com- plicated and not always centred around one Ministry. On first inspection, using experi- ence from another country a specific regula- tion could be interpreted as something very different. So I think getting the information from the top source and using it well, helps the country and also helps the clients coming in.
MI: Do you have future expansion plans and projects for the company? Yes, we do. We are going to expand our ser- vice business. This is proving to be very pop- ular and we also have just become the first certified Xero partner in Myanmar which means we can offer cloud based bookkeep- ing and payroll services to new and existing clients. So a lot of our clients that are coming to Myanmar do not want to be bogged down with bookkeeping and the headaches of business admin. From forming corporations, to bookkeeping and payroll, to legal documentation review, FocusCore offers all the functions and services a new and existing company needs. This is complimented by working closely with local businesses and to make sure that they are all complying with the local regulations as well.
MI: From a business standpoint, what do you feel are the biggest challenges you and your team have to face in the following 1-3 years?
I would say number 1 is that sometimes peo- ple are very nervous about opening a new business in any market. So I think convinc- ing the right people is so important. I also think a big challenge is to find good people because you are only as good as your team. So one person who is good never makes a good company, a great company has the best team. I think the challenge is to find these people and retain these people. So we do have plans in place for FocusCore on how we can find good talent and also retain that talent and as well as provide a very condu- cive working environment for them, where they can be creative so they come up with good ideas.
MI: If you could make one major change to any government policy, what would it be?
I would like to see the condominium law in place. Not only because some of our cli- ents are property developers, but because I think would that will provide more liquidity in the market. I think the property market is not very fluid at the moment; the price of housing in Myanmar is pretty high in com- parison to other emerging markets. I think if they move to allow foreigners to buy, then I think that will help a lot.
MI: What advice would you give to someone looking to start up a new business or investment in Myanmar?
Make sure they do their research, the market research, really well. One friend of mine told me when I first came here that the Myanmar people are a lot more than a couple of words and a few hand gestures. The new entrant really should understand well the market that they hope to enter rather than just go diving in. If you can gain the trust of local businessmen and you can prove that you are a good partner, I feel that it is going a long way to ensure your success in the long term.
MI: How are you enjoying your days in Myanmar?
I normally get up very early. I am a runner. I was the founder of Yangon Running Club which now has 800 plus members on the Facebook group. You can see lots of people running on the roads every day or some at least twice a week. The club was founded in January 2014 and it really took off especial- ly when I started to work with local people and other foreigners. It is a public group so I cannot take all the credit for its success. So, I run. I go to the gym a lot. I train at Real Fitness in Golden Valley, 6:30am every day I am normally at the gym. Then I go to work, meet clients and prospects and local busi- ness people. That is my day, training and work.[/paypal]