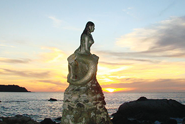 Among many famous and attractive places in Myanmar, there is a place where you can experience a crystal clear sea, a clean fluffy white sand, idyllic lined coconut and palm trees and fresh seafood, named Ngapali. It really is a virtually untouched paradise for visitors, tourists and locals. This beautiful and stunning beach is located in Rakhine State on the western coast of Myanmar, only 45 minutes by plane or over 16 hours on a road trip from Yangon. The beach is a three-kilometer ribbon of white soft-ash sand beach that stretches from the village of Ngapali to Gyeik Taw.
There is no meaning for Ngapali in Myanmar or Rakhine. As the story goes, Ngapali has been named by a homesick Italian after his native Naples, Napoli in Italian. There is no meaning for Ngapali in Myanmar or Rakhine. The state is a unique and diverse part of Myanmar that borders a neighboring country of Bangladesh.
Reported to be the most beautiful beach in the country, visitors are encountered by brilliant views across the Indian Ocean in the Bay of Bengal with the clear turquoise blue sea, a magnificent view of the sun and white sand. Considered as the premier beach resort of Myanmar, it is romantic, enticing, isolated and relaxing along with several bungalows and hotels usually of the high end like Bayview Ngapali, Amata Resort, Amazing Ngapali and the government owned Anawa. There is also an 18-hole golf course nearby, about 15 minutes' drive from the beach. It has been promoted as a major tourist destination in Myanmar.
Here are some top activities and places you must not miss when you have a chance to be in Ngapali Beach:
Boat Tours: On boat tours, you can ask to go to the fishing villages, islands just off the coast, go snorkeling in the pristine waters of
the Bay of Bengal, sail to the inhabited Pi- rate beach and take some beautiful photo- graphs of the coastline or visit a large hilltop Buddha at the far end of the bay to the south of Ngapali which offers panoramic views over the bay and out to sea. If you are feeling adventurous, you can also reach the Buddha by bicycle or motorbike.
Elephant Camp: There is an elephant camp near the town of Thandwe, which is an in- teresting excursion for those tired of the sun and sand. There you will find serenity and peace of mind amidst beautiful scenery.
Go Fishing: Fishing boats can be hired for trips to some of the islands off the coast or just for fishing at nearby reefs. Go game fishing on one of the specialist game fishing boats. Some travelers like to go on what is known as" side cars ", trishaws, peddled by local village men with two back to back seats for passengers at the side.
Playing Golf: Play a game of 18 hole golf at the nearby Ngapali Golf course. A golf course next to the road near Ngapali village is being upgraded. This is located just 15 minutes' drive from the beach.
Visiting Thandwe: If you fancy some time away from the beach, the town of Thandwe (called Sandoway in colonial times) has a number of pagodas and a busy market that make it worth a visit. It is located seven kilo- metres inland from Ngapali.
Surfing: Possible during the monsoon sea- son, which is the quietest time of year in Ngapali. This can be a lovely time of year to visit, but the choice of hotels is restricted and it can rain for extended periods of time. Also, swimmers should be aware that cur- rents can be dangerously strong at this time of year.
Biking: Yoma Cherry Lodge in Lintha village (to the north of the main beach) offers cycling tours with good quality bikes and guides. Morning half-day tours or full-day tours; they will offer preset itineraries or customize the tour to your own needs and interests. Bayview Beach hotel also offers proper mountain bikes. Go out on an early mornings bicycle tour around the surround- ing villages, morning markets or along the entire Ngapali beach, sampling the local way of life.
Diving: The diving around Ngapali Area is still largely unexplored. But the known sites has an abundance of colorful reef fish as well as diverse soft and hard corals.Of the coats, a couple of hours sailing from Ngapali, is several reefs which is waiting to be dived. Be aware of Sharks, Rays and Big Fish. Rakhine and Kinmaw villages: Interesting activities to observe around the area are hand-woven artifacts and ceramic pottery using clay there. It is a good opportunity to meet up with the locals and experience the culture of the people.
Enjoy Sunset: Experience the exquisite sun- sets at the end of the day in this paradise. Sunsets over Ngapali is invariably a time to appreciate and celebrate mother nature's gifts over a glass of cold beer, cocktail or whatever takes your fancy.
Seafood: Unsurprisingly, one of the delights of Ngapali is its delicious fresh seafood, including fried squid, king prawns, lobster, snapper, barracuda, fish curries and more. Most hotels have beach view restaurants that are open to everyone.
Note that most hotels shut during the low season from May to October, although there are a small number open throughout the year. Peak season is from November to March. Peak season is from November to March. Things are almost comatose during the rainy season (June to October) when flights dip to once a week and most hotels either shut up shop or keep open only a handful of rooms.
Ngapali Beach has been described as the perfect beach and the best beach in the country, and for good reasons. The hotels and small tourism industry help to provide income for the villages around Ngapali. It is a place where you can just simply switch off and recharge your energy.