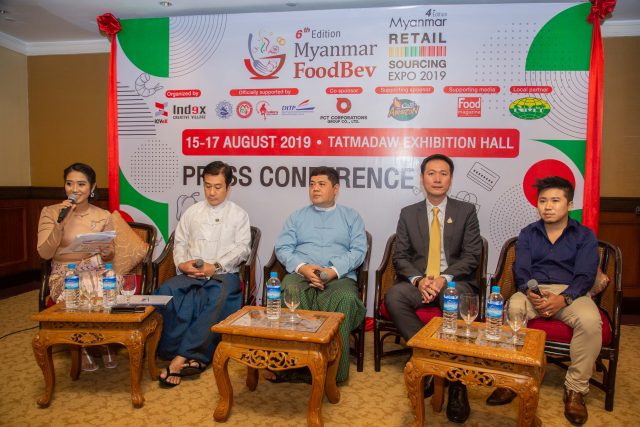 The 6th Myanmar FoodBev and the 4th Myanmar Retail Sourcing Expo 2019 highlights the importance of connecting global manufacturers and retail technology with the local businesses with the hope to open doors for new business opportunity, strengthen the competitive advantage for the existing businesses as well as create a networking platform for international and local players.
This year's exhibition will showcase exhibitors from both local and international such as Thailand, Korea, and Saudi Arabia. The exhibition offers the latest of food & beverage supplies as well as fitting & decorations, retail solution & technologies and retail sourcing products with strong supports from Union of Myanmar Federation of Chambers of Commerce and Industry (UMFCCI), Myanmar Restaurant Association (MRA) and Myanmar Retailers Association (MMRA). Myanmar FoodBev and Myanmar Retail Sourcing Expo 2019 will be held between 15- 17 August 2019, at Tatmadaw Hall, Yangon, Myanmar.
"We hope our exhibition will serve the local businesses in terms of providing more product varieties and creating a competitive advantage by offering new F&B products and international standard retail technology and a platform to network with global partners amid the new retail law," said Chinakit Viphavakit, General Manager of ICVeX,a Thai professional exhibition organizer and a subsidiary of Index Creative Village Myanmar Food and Beverage and Myanmar Retail industry pose strong growth in the next few years due to the rising middle-class population.
According to an analysis from Kasikorn Bank, Myanmar's middle class population will reach 19 million by 2030, from just 2.5 million in 2010. Consumer spending could triple from USD 35 billion to USD 100 billion by 2030. They will generate soaring demand for high-quality groceries, including imported premium meat, seafood, dairy products, alcoholic beverages, even organics. Chairman of Myanmar Restaurant Association, Nay Lin added "The 6th Myanmar FoodBev & the 4th Myanmar Retail Sourcing Expo would help with the F&B business knowledge. Entrepreneurs can also benefit from meeting directly with international companies to find more partners and opportunities for their future plans."