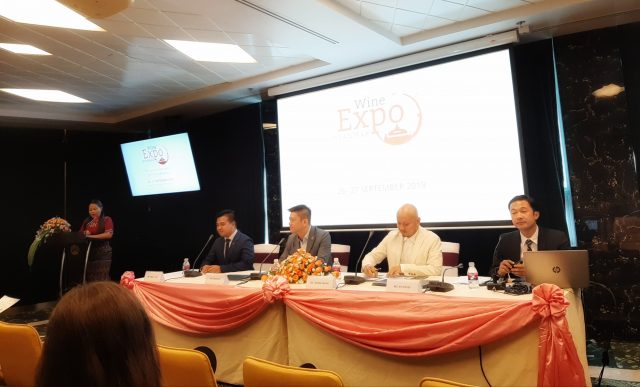 At the press conference held at Grand Mercure Yangon Golden Empire Hotel on July 10, the founder and managing director of Singapore-based Asia Expo Services, Shawn Lee unveiled the programme for Myanmar's most prestigious wine event. The launch of Wine Expo Myanmar (WEM) is announced to be held in Yangon City at Grand Mercure Yangon Golden Empire Hotel from September 26 to 27. The wine fair of its kind expects to showcase up to 200 wine labels and feature the brands from major wine producing countries such as France, Italy, United States of America, Chile, Australia, New Zealand, Portugal and China. Visitors are invited to register for a fine line-up of learning activities, organized in partnership with Wine Language, a wine school in Singapore. The programme, which will be updated on the event website: www.asiaexposervices.com/wineexpomyanmar, includes WSET 1 courses, seminars, workshops and wine master classes.
From my first visit in 2010, I encountered a beautiful nation that's not just hungry for change, but also keen to engage with the world. With my background in the wine industry, I was inspired to bring the world's wines to Myanmar so that we could spark the connection. This has led my partners and I to establish Wine Expo Myanmar, which will take place annually and hopefully act as a catalyst for growing the new generations of wine lovers in the country," said Shawn.
"As Milton Berle said: 'If opportunity doesn't knock, then build a door'. And that is exactly what we expect from Myanmar Wine Expo 2019, to open the door for Gonzalez Byass in Myanmar," said Mr Xavier Vicente, Regional Sales Director Asia- Pacific, Gonzalez Byass. The key to understanding the Myanmar On Trade and Off Trade market is that hotels and hotel chains, similar to wine distributors, are given importation quotas to bulk buy their wine supplies. This is a golden opportunity for wineries and wine trade to establish new contacts and cultivate key partnerships in the country through this platform.
"I decided to participate in this 1st Myanmar event because I believe in new markets even if I am aware that it is a market completely different in terms of traditions, history, culture and taste. I'd like to learn about this new market, to better understand expectations of visitors to be able to meet their requirements," said Madam Margerita Bidoli, owner of Bidoli Vini.
"Wine Expo Myanmar, being the first of its kind, shows the relevant exponential growth and opportunities in Myanmar. It is also a great opportunity to explore, learn and improve oneself, for a more competitive edge, from this expo," said Jon Chan, Managing Director/ Principal Trainer of Wine Language.
During the event, a live feed will be provided by web broadcast partner Vin Republic. "It's so exciting to bring this wine event to my viewers across Asia! I look forward to reaching out to my fans," shared Ivy Chen, Host of Vin Republic TV. Aside from reaching out to wine lovers in the country, Wine Expo Myanmar is expected to attract members of the hospitality industry, one of the fastest growing industries in the economy.