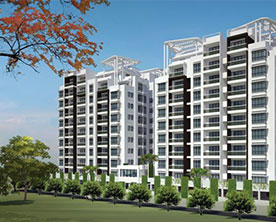 Now is the right time to bargain and purchase condominiums and apartments, said Kyaw Sithu, Director of Success Property Consultant. Customers can choose and bargain to their heart content to purchase condominium and apartment because developers and contractors had pressed to sell condominium and apartments they had built, due to cash shortage in the country, said Kyaw Sithu at the Most Amazing Property Sale Expo 2018 press conference.
Property Sale Expo in which eight housing projects including Golden City was held at the Sedona Hotel on May 26 and 27. While property market is sluggish, contractors are attempting to sell the units by long term installments in cooperation with the banks. Local private banks such as KBZ, AYA and Yoma are providing long term loans together with the developers.
"Property sector can revive thanks to this system. If customers buy the apartments with bank loans, their monthly payments will be the same with the monthly rental payments. More customers can buy condominium and apartments with long term loans if the bank interest rate is further reduced to 8%", said Kaung Thu Win, founder of Shwe Property.com.