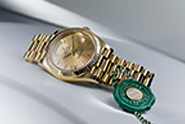 Rolex has been an iconic timepiece for both men and women since the early 1900s. Built first and foremost on innovation, precision and functionality, the watch has now become a timeless staple to many. No matter which stage of life you are in, here are seven reasons you should own a Rolex.
A Rolex is built to last, to be timeless, and as a result, will never go out of style. Its superior craftsmanship goes beyond time and trends, taking you effortlessly from the boardroom by day, to a red carpet soiree in the evening. This enduring classic has never looked out of place, acting as the perfect accompaniment to chinos and a polo-tee at the driving range, to a night at the opera. As the watch to wear for all occasions, a Rolex stands the test of time and remains the constant as trends come and go.
 From celebrities to presidents to the most respected personalities in the world, Rolex's universal appeal transcends language and culture, finding itself on the wrists of the most influential people in history. The Day-Date has even become known as "the presidents' watch", having been worn by so many presidents, leaders and visionaries worldwide. Even renowned American film star, Paul Newman, who was also a racing driver and an icon of masculine style, regularly wore a Daytona with a particular dial, which later became famously known as the so-called "Paul Newman" dial.
Always a great conversation starter, every Rolex watch carries a great story. The 1955 Oyster Perpetual GMT-Master is one such watch. Launched to meet the needs of pilots who required precision across time zones, the GMT-Master was designed with an additional 24-hour hand and a rotatable 24-hour graduated bezel. The crew from the famous Pan American World Airways used the GMT-Master for navigation on the very first non-stop intercontinental flight between New York and Moscow in 1959. The 1956 Oyster Perpetual Milgauss is another storied time piece. Designed to resist magnetic fields, this model was worn by scientists at the European Organisation for Nuclear Research (CERN) in Geneva, one of the world's largest and respected centres for scientific research.
Every Rolex is stress-tested to the extreme. Rolex's unparalleled quality has been certified through a myriad of resistance tests. The new generation Oysterlock, fitted on Professional Rolex models, underwent 26 different types of drop tests during its development. It was also immersed in tanks of chlorine and salt water with added sand, where it was open and closed tens of thousands of times – about three times the clasp's given lifecycle – to ensure it will remain fully functional even in the harshest conditions. All Oyster Perpetual models are equipped with the Oyster case, providing the movement with optimal protection against water, dust and shocks. Immersed in water, every Oyster watch is subjected to a pressure 10 percent greater than that found at the depth to which it is guaranteed.
Wearing a Rolex sets you apart from the crowd. The brand was recently named the world's most reputable company in 2016 by the Reputation Institute's Global Reptrak 100 report. Apart from its prestigious reputation, Rolex watches also come with the green seal, which is a symbol of its status as a Superlative Chronometer. This exclusive designation attests that the watch has undergone a series of final controls conducted by Rolex, which exceeds watchmaking norms and standards. Compared to the average benchmark – -4/+6 seconds per day – set by the Swiss Official Chronometer Testing Institute, Rolex pushed the boundaries of performance and created the Superlative Chronometer, delivering an astounding −2/+2 seconds per day. As an exemplar for watchmaking excellence, a Rolex is of a different class from the rest.
Rolex watches are made using only the finest materials. Each movement, each wheel, each element of the case, bracelet or dial is made of materials meticulously selected by Rolex. Their watches are made only with 904L steel, a highly corrosion-resistant alloy harder than other steels. Because Rolex controls the production and machining of their metals, they are able to strictly ensure top quality and the best parts. Rolex uses only 18 ct gold, a unique alloy composed of 750 thousandths of pure gold to ensure incredible durability, and 'polishability' – for an extraordinary sheen that lasts for generations. Rolex has a massive gemological department, with the goal of buying, testing, arranging, and setting diamonds and other precious stones in a range of Rolex models.
It drives you to accomplish the greater things in life. Rolex carries an undeniable sense of confidence, reliability and dignity that translates to its owner. It inspires one to do the impossible and achieve unforgettable success. Similar to Sir Edmund Hillary and Tenzing Norgay who were the first to reach the summit of Everest in 1953, and Jacques Piccard and U.S. Navy Lieutenant Don Walsh who reached the deepest point of the oceans in the Mariana Trench, the list of extraordinary men and women who have worn a Rolex goes on.