Interview with Jim Taylor
CEO and Co-founder of Proximity Designs
Please introduce yourself and Proximity Designs to our readers.
My name is Jim Taylor and I am the Chief Executive and Co-Founder of Proximity Designs. Proximity Designs is a social business (social enterprise) that designs and delivers affordable, income-boosting products for rural families. Launched in 2004, we're one of Myanmar's largest providers of agricultural products and services across farm technology, agronomy services and finance.
A little bit about our name – we believe we need to work from a place of empathy and deep understanding of our customers, which comes from working closely with them, or being proximate​. We design ​all of our products and services so they make sense for our low-income, rural customers. Hence, the name Proximity Designs.
What inspired you to set up a social platform in Myanmar? Why agriculture?
My co-founder and I had worked in challenging environments for a long time, and we knew that if we wanted to help the people of Myanmar and reduce poverty, farming was the best place to start. With 35 million farmers, and 70% of the population relying on the land for their livelihoods, Myanmar is a nation of small farmers. The agriculture sector was underserved: irrigation products that are standard elsewhere were hard to come by; access to farming advice was limited; and, perhaps most crippling of all, availability to affordable farm credit was small. We were drawn to work here because we saw the huge potential for how simple, well-designed products and services could have a significant impact on the lives of millions of small farmers.
What innovative services and products are accessible through your platform?
At Proximity Designs, we offer solutions across the whole crop cycle a farmer encounters. We have six service lines in our core areas of irrigation, agronomy services and farm finance:
Rice Seed Cleaning: a seed cleaning technique to ensure farmers use the highest quality seeds.
Precision Irrigation: our irrigation systems — sprinklers, misters, drip — and water pumps offer a low-cost way for farmers to increase the productivity of their small plots while saving water and labor costs.
Soil Health Testing: our newest service analyzes a farmer's soil and we provide customized fertilizer recommendations. Armed with a soil test, a farmer can apply fertilizers and manures at rates that are optimal for improving soil fertility and crop yields.
Nutrient Management: soil nutrient advice to help farmers manage fertilizer usage so they can be more precise.
Seasonal Crop Loans: loans ranging from $200 to $400, that allow farmers to buy more and better-quality seeds and inputs.
Crop Protection: farmers experiencing a pest or disease infestation can call or message us and receive tailored, timely information via return call or chatbot to diagnose and treat their problems.
In terms of farm financing, how do you manage to secure funding for the loans?
Proximity Designs' microfinance arm is called Proximity Finance. Currently, Proximity Finance raises funds for loans from a group of 10 impact investors, who are a mix of domestic and international debt investors – 2 local banks and 8 international lenders. We work with lenders who are aligned with our mission, generally impact investors and DFIs (development finance institutions), who support financial inclusion in emerging markets. Investors conduct comprehensive due diligence before investing, and monitor our performance closely in line with key social, environmental and financial metrics. We are grateful to have received the support of early investors to help seed our operations such as Norfund, Cordaid and the multi-donor fund LIFT who has an aim to expand financial access across Myanmar.
W​hat are your future plans with the investment from OPIC?
In April 2019, we were happy to announce that Overseas Private Investment Corporation (OPIC), the U.S. Government's development finance institution, committed $8 million to Proximity Finance. In farm finance, we are looking to double the number of households we serve over the next five years, so we plan to disburse nearly 1 million loans. OPIC's financing will support 100,000 of these loans throughout the life of the investment. By expanding farmers' access to affordable credit, Proximity will support small farmers to improve their yields and incomes, expand their farm enterprises and help their communities thrive.
W​hat organizational goals have you reached since establishing the platform?
Over the past fifteen years, Proximity Designs has served close to 700,000 small farm households (over 3 million people), and in the last five years alone, has increased farm incomes by a total of $440 million. Over the past 15 years, our customers have seen an average annual income increase of 30% by using our products and services, which helps them put food on the table, keep children in school and set families up for a brighter future.
W​hat challenges were existing in the market and how likely are the current ones to affect your business?
Back in 2004, Myanmar was not an easy place to do business. The country was isolated and farmers were significantly underserved. Lack of infrastructure, a small talent pool and limited access to technology were the norm. While we expanded our business over fifteen years, the real growth came in the last five years, with the opening of the country and an uptick in the economy. The growth of digital technology also affords opportunities for overcoming some of the long-standing structural challenges that still remain. Like other organizations, we're investing in digitally transforming our business and processes, creating services that reach digitally inclined farmers and building up the skills of our employees with our in-house Proximity School.
What does it take for Proximity Designs to create an impact in the lives of rural families, specifically for farmers?
As our name suggests, we strongly believe it takes deep knowledge of a place and the lives of its people to have a chance at solving the complex problems they face. Every day, our field team of more than 700 staff witness the evolving needs of farmers – they listen, observe and learn. Alongside them, our in-house design team of designers, engineers and researchers work on the ground to understand farmers' challenges, create prototypes and iterate new designs based on farmers' direct feedback. Our approach is rooted in co-designing with farmers where they are.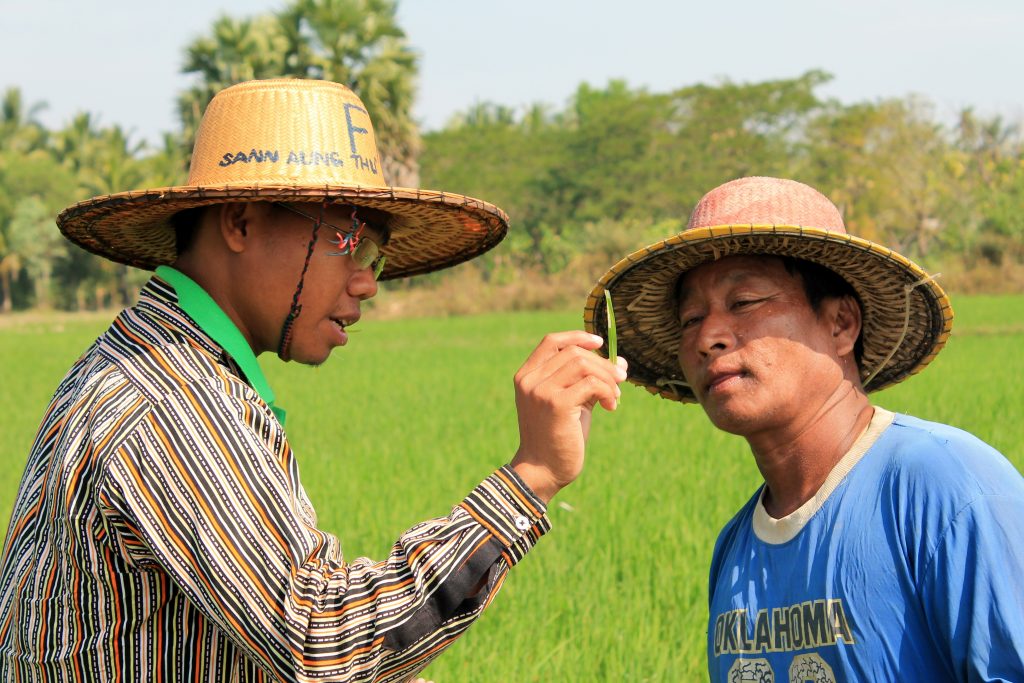 Through this design process, we bring to market products and services that meet farmers' changing needs. It requires that we stay flexible and design for extreme affordability, ease of use and durability. By delivering innovations that can scale and have an impact, we increase yields and profits of farm households, and in return they can send their children to school, invest in their farms, pay for healthcare – and feel confident and hopeful to pursue their dreams and aspirations.
How is Proximity Designs structured to rank as one of the Best Workplaces for Innovators by Fast Company?
We take an innovative approach in everything from research, where foundational studies such as When It Rains, It Pours ​- a groundbreaking study of the sesame ecosystem in Myanmar – inform the organization's work, to product design which is conducted through a rapid process of iterative co-creation and prototyping. We have also worked to foster an organization-wide culture of innovation through Proximity School, our in-house professional school that leads ongoing training in creative problem-solving for the whole company. Our Yangon office, populated with a range of spaces designed for both collaborative and solo-work, is carefully planned to deliver the kind of flexibility an innovative culture thrives on.
Which challenges and opportunities are possible for rural farmers in the agriculture sector of Myanmar in the years to come?
Myanmar has been ranked third amongst those most affected by climate change over the last 20 years, with the Central Dry Zone now being particularly vulnerable to failed harvests due to higher temperatures, extreme weather events and erratic rainfall. It's not just changing climate that threatens the livelihoods of farmers, but also the chronic pest and disease outbreaks, volatility of crop prices, labor shortages and the lack of infrastructure and access to electricity.
There have been some worthwhile initiatives to improve the situation in recent years, like the expansion of Myanmar's Good Agriculture Practices (GAP) program which includes a number of crops. GAP allows farmers to have better access to export markets; it has been well received by farmers. As with the rest of the country, connectivity and digital access in rural areas has significantly improved. This transforms how farmers now do business; they can more easily track weather patterns, access market information, interact with traders and get paid for their crops.
What do you think is the impact of private-public partnerships on farmers' lives, in upgrading their businesses to the next level?
A well-functioning small farm ecosystem is critical to support millions of farm families, to improve their businesses and bring them out of poverty. This cannot be done by one group alone. Proximity along with other service providers such as agri-businesses, government, NGOs and financial institutions need to work together to improve the operating environment for farmers.
What does it mean to be a social enterprise?
Being a social business, our aim is to have deep sustainable impact at a large scale – in our case, this is to meaningfully impact millions of small farmers by improving their household incomes. We earn some revenue from the sales of our products and services and, also, receive grants that allow us to invest in product and service design, measure impact and expand. We treat farmers as customers (regardless if we sell them a product or give them a training free of charge), not as beneficiaries. We are accountable to provide products and services that farmers value and, as customers, they choose and decide what works for them. Back in 2004, being a social enterprise was a new idea, now it's more common.