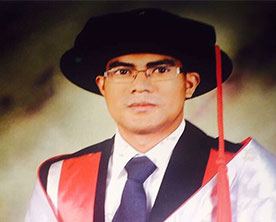 Name : Nyein Chan
Position : Founder of ITC Yangon
Tell us about your educational background.
By education, I am a mathematical physicist (cosmologist). When I was in Myanmar, I attended Practising High School, Yangon Institute of Education, better known as TTC. When my father was transferred abroad on official duty, I attended a local school in Tokyo. I moved to England just before the age of 16. I studied for General Certificate of Education Advanced Level (GCE A-Level) exams at Notre Dame Catholic Sixth Form College in Leeds. Upon completion of my A-Levels, I went on to read my undergraduate degree at University College London (UCL) in 2004. I continued to read my master's degree and the eventually doctorate degree (PhD) at the same place. I earned my PhD in Mathematical Cosmology from the same university in 2012.[paypal]
Could you tell us about your duties and responsibilities?
My duties and responsibilities vary. I am a full-time teacher contractor at a leading international school in Yangon. I also run my own tutorial centre where foreign language classes such as French,English and German and Cambridge International General Certificate of Education (IGCSE) classes are offered. As a teacher, my day-to-day duties are with regards to student assessment, curriculum development, carrying out lessons and planning etc.
As for running the tutorial centre, I am responsible for every aspect of the business – from budgeting to running classes, planning new classes, staffing including recruitment of new teachers, dealing with companies for corporate classes, implementing long term strategies etc.
Could you tell us about position at the international school you work for and your centre?
At my school where I work as a teacher contractor I teach physics to Grade 10, 11 and 12 students and general science to Grade 9 students. Grade 11 & 12 are two-year university preparatory programme and students take an internationally recognized exam sent from the UK. I am mainly responsible for preparing Grade 11 & 12 students to be successful in physics in the said exam. Grade 9 & Grade 10 students follow US science curriculum called Next Generation Science Standards (NGSS). Aside academic responsibilities, I am involved with students' golf team along with the Director of the school and another colleague.
At my own centre, ITC, I am both the owner and lead teacher. I teach IGCSE physics, chemistry and additional mathematics myself. I also manage my staff and direct them as appropriate for the growth of the centre.
When was ITC founded?
It was founded in June 2015. We started with only 4 students, one staff and one teacher (myself). It is a tutorial centre for international school students and language learning and exam preparation centre for working professionals and young adults. How many students are there studying at your centre ITC? There are about 75 students at my centre and the numbers are growing as we speak.
How many staff and teachers do you have at ITC?
There are three administrative staff and seven teachers including myself – one French, one German, four English, and myself for IGCSE physics, chemistry and mathematics.
What kinds of courses do you have at ITC?
As mentioned earlier, there are two types of classes – language classes for general public and academic classes for international school students. The languages we offer are English, French and German. We will soon have Spanish classes. There are two types of English classes – one is general 4-skills class and the other one is Cambridge IELTS exam preparation class. For IGCSE, we have chemistry, physics and additional mathematics classes.
Did you have any challenges when you started running this centre?
From staffing to timetabling, from budgeting to advertisement, we have gone through ups and downs, twists and turns. Our centre started with a loss with only four students. It's into its 3rd year now and we have grown significantly in terms of student numbers, teachers and variety of courses we offer.
How would you rate on the benefits of the students after attending your school?
Most students come to attend IGCSE  classes at our centre because they do not feel prepared by the lessons at the schools they attend. Cambridge IGCSE syllabus is absolutely rigorous and specialist training complemented by a wealth of experience is vital. The language of instruction is fully in English at our centre and students are trained specifically for the up-to-date syllabus, complemented by various resources such as state-of-the-art simulation software, workbook, dozens of past papers that we practice etc. Thus students can be confident to do well in their IGCSE exams. To the best of my knowledge, no tutorial centre in Yangon can give IGCSE classes in English as the language of instruction.
Our language teachers have 30 years teaching experience and some young teachers are currently working at other international schools. Their professionalism and quality are second to none. Language classes follow Common European Framework of Reference for Languages, better known as CEFR, as our guide. Thus students have targeted goals and they know what they will and must achieve by the end of the course at our centre.
Let us know about your future plans?
I will split this into two parts. First, at the international school I work for, I want to transform our physics programme into the one that is the best not only in Myanmar but also in the region, helping students get into elite UK and US universities.
Secondly, my future plan for ITC is to take it to the next level. I believe language proficiency has strong positive correlation with employability and hence contribution towards national economy. It is my aim to be able to offer more language classes as well as language exam preparation for those who are intending to take such exams. We want to ensure that our courses are good value for money. Ultimately, we aim to become a centre that actively contributes towards the professional development of young people as well as the national economy.
How do you encourage staff and teaches to take control their responsibility?
Staff needs to be encouraged and rewarded appropriately. They are given responsibility and ownership of their work and I always listen to their opinions and feedback. They are given authority and freedom to make decisions. We strive to create an atmosphere in which we feel confident to say that we are proud to work at ITC.
Do your staff and teachers have the opportunity to do what they do best every day?
Different staff and teachers specialize in different fields. We all have unique and different talents. For instance, one teacher is specilaised in teaching general 4-skills English while the other is an expert in IELTS exam training. By allowing them to teach in subject that they profess, it benefits our students more and the teachers are more productive. This factor is important in maintaining the quality.
How did your centre get to where it's today?
Cooperation , d e d i c a t i o n a n d determination are the key to success. Staff take ownership of their job and they work very hard to take our centre to the next level. This in turn ensures quality of the courses we offer. This has brought us to where we are today.
What are your centre's main objectives in the next years?
 To cater for the language needs of working professionals and young Myanmar adults
 To unlock the potential of international school students taking IGCSE exams
 To cater for the needs of corporate firms who are looking for high language training for the professional development of their staff
What are the greatest obstacles for your centre this year?
As in any business, the functioning of our centre is affected by economic climate as well as by the competition of the other service providers. Having said this, our operations are heading in the right direction and we are confident to overcome any challenges ahead.
What do you think Myanmar needs now?
As our country has opened up, I hope to see more foreign investments. This will create job opportunities for the local people. This will also lead towards the demand of staff with appropriate language proficiency. I see a lot of Myanmar professionals with engineering, IT and accounting background but note that many lack language proficiency. Soon we may experience shortage of labour with appropriate language skillset.
What's the most important thing you're working on right now, and how are you making it happen?
As a teacher it is my duty make sure that my students achieve well. The reputation of the international school I work for and the centre that I run depend on the success of the students. It is only right that students are given "unconditional care" thereby unlocking their true potential. As far as IB physics is concerned, my ultimate goal is to achieve the excellent results that are amongst the top in the world. To prepare the students for the exam is the first and foremost the most important thing I am doing right. As practice makes perfect, I take the students through this tough journey with rigorous training.
What made you first think that starting a school is right for you and tell us about an accomplishment that shaped your career?
I was lucky and privileged to have the opportunity to have studied in the United Kingdom. The quality of British education is second to none. Having attended UCL, one of the most prestigious British universities, I dream of having such intellectual powerhouses in mother Myanmar. This is the main reason I came back to Myanmar and I would like to make contribution towards my country's development in its academic sector. A good starting point, I feel, would be to start running my own training centre.
Accomplishments?
My accomplishment was my failure from which I learned to grow. When I was a master's degree student at UCL in academic year 2007-2008, I failed four out of six subjects. It was absolutely a disaster. I had to wait one year to retake in the next exam season. During that time, I worked in a coffee shop to earn a living, did lots of other jobs, studied hard to revise and did some academic research to help support my PhD application. It was an absolutely challenging year. I would not want to repeat similar experience but I can tell you that it was the best experience ever – the experience I can never gain in a classroom or lecture theatre. When I passed my exams in the following year (in 2009), I got into PhD and I am who I am today. I am grateful for the second chance – which is the chance to retake my exams. I want everyone to get a chance to unlock their potential. By opening a training centre, I am offering a chance to use our classes as their stepping stones to go to the next step of their career.
[/paypal]