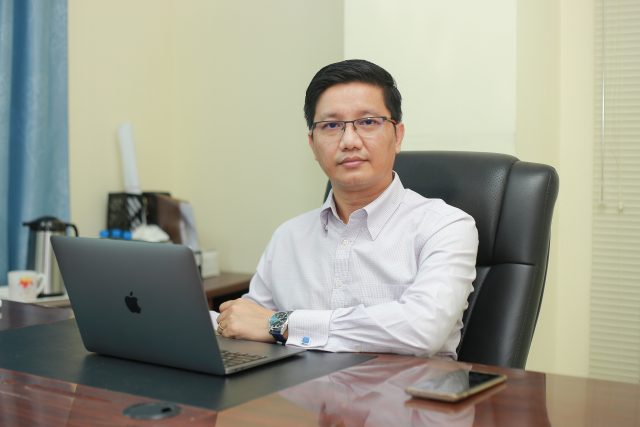 Pls tell our readers about HI?
HI was established in 2012. Initially we gave free Wifi to our customers. From 2018 onwards, we move onto fiber internet. We lay down fiber cables across Yangon and starting offering fiber internet service. At present we probably rank towards the middle among ISPs(Internet Service Providers) and geographically, we serve Yangon, Mandalay, Pyin Oo Lwin and Myeik Te Lar. Essentially HI is an internet service provider.
How would you estimate the size of internet providers market in Myanmar, in terms of $ value?
There are about 25 service providers in Myanmar. Average spending on fibre broadband per month is around 30,000 Kyats. Altogether among ISP, there may be half a million customers. Hence, the total current market size could be 15 billion Kyats per month (~$10 million), which equates to greater than $100 million per annum. The market still has a lot of potential since the ISPs still has not serve all the cities across Myanmar yet.
Here I would like to highlight the difference between the international scene and Myanmar. In other parts of the world, an operator (telco or mobile company) cannot become an ISP. Yet in Myanmar, all the four telcos (MPT, Mytel, Telenor, Ooredoo) are providing fttx service.
How do you view the competition scene?
The market is very competitive since it is already saturated in the areas that we all serve. So there are price wars actually. The price itself is very competitive compared to our neighbouring countries. In order to be viable, the ISP must have a value in its offering among all providers and the quality of service must be there. Service quality is measured in terms of quickness of the installation, speediness of the service, customer satisfaction, responsiveness of the call centre and lead-time for completion of repairs.
What are your target market segments?
There are two parts to it. One is B to C. In that segment we sell to everyone, including the students. The second part is from mid range to high end. That is the B to B part, targeting companies of various sizes. But we do not serve the lower ends of the market, as we would not be able to preserve the quality of service at that particular price point. Most of the clients are connected through fibre to home arrangement. However, at the high end, the service requirements such as zero down time, becomes critical. As such we usually signed SLA (Service Level Agreement) with our customers. Citimart is one such client.
How would you rank your market share among the providers?
The history of ISP itself in Myanmar is not that long yet. So everyone is still trying to break out. Obviously, it is quickly difficult for us to rank ourselves, unless there is a market wide measurement. Having said that, in terms of the subscribers base, we are around the middle. Large ISPs may have close to 100,000 customers whereas smaller ones may have 10,000 subscribers. We are somewhere in the middle.
How do you intend to compete?
We can first ride the market growth wave, since the fibre ISP has not been present in all major cities yet. Even though such cities residents can access to the internet through their telco mobile providers, they do not have the advantage that we have, which is unlimited usage based on a set bandwidth. The telco internet providers are 100% pay as you use more.
For competing among existing ISP, our model has always been to compete on the quality of service. People now-a-days have a lot of experience regarding the internet. Myanmar people has used internet service for nearly ten years. May be in the past people focus on the price, but now the focus is more on the quality of service. Even if the price may be a bit higher, people are still willing to pay more as long as there is consistency in network availability.
What types of control the government imposes over the ISPs?
Not just in Myanmar, but in every single country around the world, if you are an ISP, you have to work under the rules and regulations of that specific jurisdiction. We have to follow the guidelines and instructions by PTD (Post and Telecommunications Department) here. There are not that many out of these that are applicable to us. Mostly the rules apply to national gateway providers. Since we bought the bandwidth from them and resell (we are resellers) by the time we are providing service to the customers, a lot of these rules and regulations have been complied with. One fine day, if we have our own gateway, we would have more rules and regulations to worry about.
How would you ensure filtering dangerous websites from reaching the population or children through your ISP?
The age profile of our users ranges from 10 to 70+. PTD has already given guidelines to ISPs on these matters of importance. We filtered the sites that are harmful and that are not in accordance with Myanmar culture and traditions, immediate as we come across. The first level of filtering is already done at the gateway level.
What are your future plans?
Our subscribers base has grown quite significantly in the last half year. So we are looking into geographical expansion. Plus we would like to continue our level of service to other cities in Myanmar that have not been served yet. Later, probably we can go into other value added services such as software solutions, new products, etc., to supplement infrastructure development in the country.
How has the COVID and change of government affected your business?
Yes and no. COVID affects everyone and every business. Cost have gone up due to quarantine and other restrictions. HR efficiency has also dropped. Yet, for telecommunications it is like rice that we have to eat everyday. Nobody these days can live without internet access. In terms of the change of government, we follow all the rules and regulations that apply to us. Not much impact because of that. So the main impact remains COVID. Service quality has somewhat fallen during the peak of the 3rd wave, now it has successfully recovered.