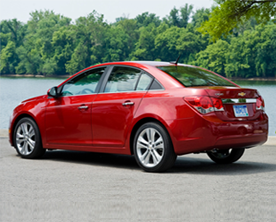 Chevrolet has launched a two-tier corporate social responsibility (CSR) campaign to- day as part of its unique entry strategy in its newest market and opened a Brand Experience Centre at No.81, Corner of Hledan and Insein Road, Kamaryut Township,Yangon, Myanmar.
Chevrolet earlier announced that it would enter that country by appointing Pacific Alpine Myanmar as its exclusive distributor. Now, Pacific Alpine Myanmar has already established a distribution network that begins selling a growing range of Chevrolet vehicles starting Jan- uary 2014.
Gustavo Colossi, Vice President of Sales, Marketing and After Sales for GM Southeast Asia Operations, said: " Chevrolet is rapidly expanding its presence across the region, including Laos, Cambodia and now Myanmar. With growing demand for personal transportation, Myanmar offers a great opportunity for our popular lineup of Chevrolet cars and trucks."
As of 2010 Chevrolet had operations in over 140 countries, and global sales in 2011 set a re- cord with 4.76 million vehicles sold worldwide.
Zaw Moe Khine, Chairman of Pacific Alpine Myanmar Ltd., said, "We have a comprehensive plan that will enable Chevrolet to be properly represented in the local market. We are com- mitted to growing with the people of Myanmar."
The Chevrolet Brand Experience Center in the heart of Yangon provides an easily accessible location for consumers to learn more about the Chevrolet Brand and its products. Visitors can also learn about Chevrolet CSR activities and community projects.
Sales, Service and Spare parts (3S) Centers will be opening in major cities across Myanmar. They will feature trained personnel. The first 3S Center in Yangon, located at No. 242, Up- per Pazundaung Street, Setsan Quarter, Mingalar Taung Nyunt Township, will be ready by the fourth quarter of 2014. This Center will house the Chevrolet Technical Training Acad- emy, which will train and educate employees for their placement in other 3S Centers in Myanmar.
Colossi said, "The people of Myanmar will appreciate the same high-quality products and services as other Chevrolet customers around the world, such as a mileage-based warranty of up to 100,000 kilometers."
Under the Chevrolet One-World Futbol (OWF) initiative, the first tier of its two-tier CSR campaign, Chevrolet is delivering more than 20,000 virtually indestructible footballs to disadvantaged youth across Myanmar over a six-month period. The second tier of the cam- paign is focused on education and training. Chevrolet and its partners will donate engines and technical parts to mechanical training colleges in Myanmar to provide practical hands- on training using up-to-date technologies.
Chevrolet is produced by General Motors Company. It is the top-selling GM marque with vehicles ranging from subcompact cars to medium-duty commercial trucks. Its best-selling model globally is the Cruze saloon and the brand has launched the world's first mass-pro- duced range-extended electric vehicle called the Volt.