Interview with Peter Tyroller
Member of the Board of Managememt, Robert Bosch GmbH
Please introduce yourself as well as Bosch Company to our readers.
Mingalarbar. I am Peter Tyroller, and I'm a member of the Board of Management of Robert Bosch GmbH since 2006. I am responsible for Bosch's activities in Asia Pacific including Australia, China, India, Japan, ASEAN countries, and South Korea. Myanmar is under the ASEAN cluster.
How did you end up at your current position?
I have been with Bosch for more than 27 years. I joined the company in 1992 as Director of the Airbags Systems Units and Managing Director of United Airbag systems GmbH. Over the years, I've held leadership positions for different business divisions and subsidiaries. In 2003, I was the President of the Gasoline Systems Division; and in 2006, I became a member of the Board of Management of Robert Bosch GmbH.
How has Myanmar become one of the fastest growing markets for Bosch?
As Myanmar is in the strategic location between China and India, and a shared border with Thailand, it has become a very important market for Bosch in Southeast Asia. The economy here is heading towards positive development, and business and social reforms are underway. The rapid growth in urbanization and industrialization in the country drives Bosch to see strong growth across all four business sectors – Mobility Solutions, Industrial Technology, Consumer Goods, and Energy and Building Technology.
Tell me more about four different markets you are operating in Myanmar.
Bosch has been present in Myanmar through our representative office since 2013. The four business sectors are Mobility Solutions, Industrial Technology, Consumer Goods, and Energy and Building Technology. Some of the Bosch products available in Myanmar include automotive spare parts, power tools, security systems, drive and control technology for industrial applications, and thermo-technology systems.
Who are your target customers in Myanmar?
Bosch has been providing the products and solutions that are used in practically all the key industries including automotive, construction, hospitality, and energy. Some successful millstones achieved by Bosch through our Power Tools and Building Technology divisions include landmark developments such as The Central, Myanmar Center (HAGL) and Yangon International Airport. In automotive, we are one of the largest suppliers of aftermarket products in Myanmar.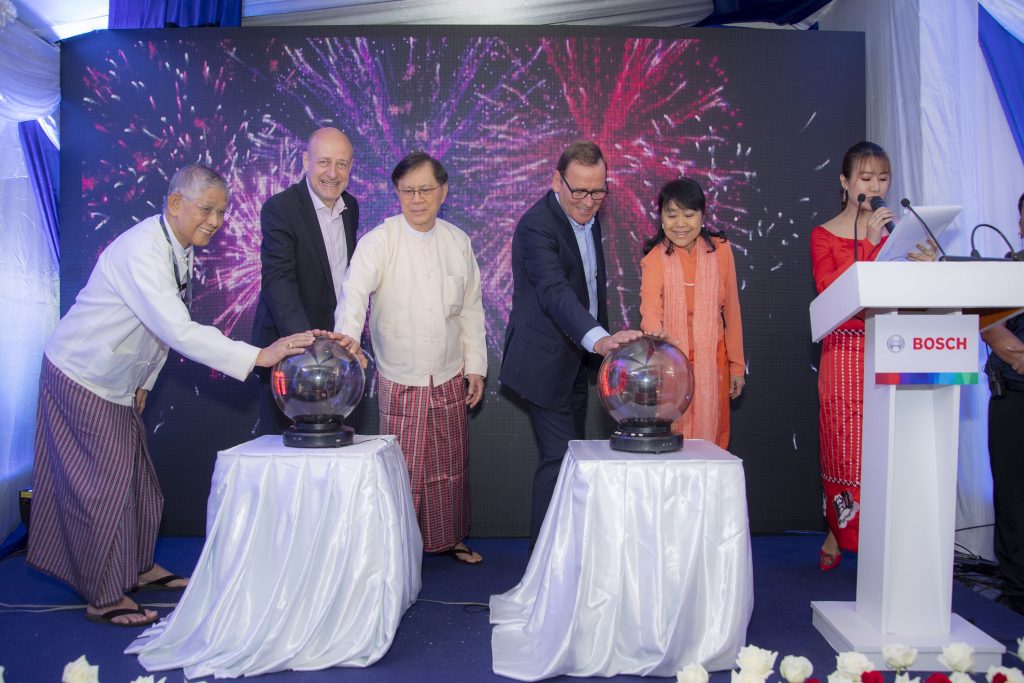 How is Bosch Group structured?
The Bosch Group has a special ownership structure that makes it possible for the company to plan over the long term and to undertake significant up-front investments in safeguarding the company's future, while making a significant social impact. Since 1962, 92% of the share capital of Robert Bosch GmbH is held by Robert Bosch Stiftung GmbH, a charitable foundation. Meanwhile, the majority of voting rights and the entrepreneurial ownership functions are carried out by the Robert Bosch Industrietreuhand KG, an Industrial trust. The charity foundation Robert Bosch Stiftung GmbH has been continuing the charitable and social endeavours of company founder, Robert Bosch. In line with the values of Robert Bosch and the wishes he expressed in his will, many of the Stiftung's projects centre on healthcare, education and international relations.
Do you have any plans to expand the business in Myanmar? If you have, which sector you would like to expand?
We plan to sustain the growth momentum and build on what we have achieved thus far. We will continue to invest in developing local talent, in making a difference in the community, and in delivering industry-leading products and solutions that cater to the needs of the Myanmar market. When you look at the market development in Myanmar, one of the fastest growing areas is in automotive development and this is really a big opportunity. The other area is in infrastructure and internet of things. Connectivity has improved in Myanmar and mobile phone penetration is high.
New industry developments in automation such as Industry 4.0 implementations are just about to get started in the country, and it's a very exciting time.
To which extent is Bosch making contributions to Myanmar in terms of employment opportunities, customer base and sales growth?
Myanmar is a very important market for Bosch in the region. Since we established a representative office here in 2013, we have invested in building the local talent and expanding our presence in the country. Our headcount has grown more than fourfold since then. Bosch actually first entered Burma in 1936 with the opening of our first Bosch Car Service in Rangoon. As you can imagine coming back as one of the first German companies to invest in the country in 2012, as soon it opened up, was really a meaningful moment for Bosch's business and history in Myanmar.
Bosch has experienced strong, steady growth in Myanmar over the past 7 years. Last year alone, Bosch in Myanmar recorded double-digit growth thus remains as one of the fastest growing markets for Bosch. Today our four business sectors are actively present in Myanmar. We cater to the growing automotive aftermarket and we support booming sectors such as Building and Construction and Infrastructure. Our products and solutions are tailored specifically to the local needs.
What makes Bosch in Myanmar different from Bosch in other Southeast Asia countries?
Myanmar is moving towards closer integration into the regional and global economy. In recent years, there have been rapid social and economic transformations in Myanmar. Every market is unique. Myanmar is especially promising owing to its strategic location – close to China, India and other Southeast Asian markets; a young population, growing middle class, and cities that are urbanising. This brings enormous opportunities for us as the infrastructure and industrial sectors develop, and as there are more vehicles on the roads, and more people using connected technologies.
What kinds of sustainability initiatives are you planning to take?
Along with the expansion of Bosch presence in Myanmar, we continue our investments in local talent development, innovative programs and market leadership. Bosch has made a commitment to sustain the development by delivering social and environmental benefits for all stakeholders. In addition, Bosch is celebrating 100 years in Southeast Asia with a commitment to continue enriching the society that the company operates in, especially in the areas of climate action, air-quality measures, and education.
Does the economy trend have any impact on your business?
Myanmar's economy is stable and growing. As an emerging market, there are great opportunities but we also recognise the challenges. Economic volatility, in any market, impacts our business but we are structured in a way that allows us to resiliently thrive through these trends and continue planning for growth. As a 133-year old company, our secret to long-term success is to focus on customers and innovative strength. We focus on inventing for life; on creating products that improve the quality of life worldwide. At nearly 130 locations globally, we employ 68,700 people in research and development so that we can create innovative current and future solutions.
If you could suggest one change to government policy, what would it be?
We've seen positive language recently from the government of Myanmar with the call at the top of government levels to place greater emphasis on innovation. This is a positive step. More government initiatives and support that emphasize on leveraging opportunities from the fourth industrial revolution and enabling a truly connected, digital future for Myanmar would be beneficial for the country and its people. We look forward to supporting a vision to build smart cities, invest in smart, clean energy and transportation, and in smart factories in Myanmar in the near future.