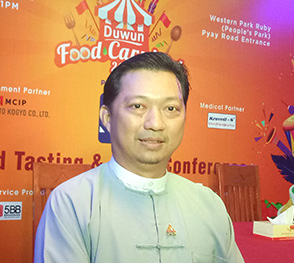 Interview with: Soe Ko Ko
-General Manager of Agent Banking Department, KBZPay
Introduce yourself for our readers please.
I am Soe Ko Ko, General Manager of Agent Banking Department, KBZPay.
Explain more about KBZPay and its services.
When we talk about the main services of KBZPay and what we are currently providing, there are two parts: customer and merchant agent. In customer part, we largely provide services like normal payments and daily transactions of KBZPay, such as mobile topup, cash in, cash out, cash transfers, etc. On merchant side, we assist merchants to be able to collect money in their business transactions. For agents, they can do more than cash in, cash out transactions, they can also perform collecting money.
What is your opinion on the digital payment platforms in Myanmar and other countries?
When considering the factors in Myanmar, the neighboring countries are not using the exact same methods and transactions as we do here. For example, in Singapore, the cards are very much widely used but in Myanmar, the cards are not as popular as they are in Singapore. So, what I would like to mention is that rather than comparin with other countries and trying to catch up with them, we are into building the unique digital systems that are more suitable for Myanmar society and customer nature.
How many digital payment systems are there as of this year and who are your main competitors?
In Myanmar, there are so many services,
what we call as "Wallet". But as KBZPay, we are not seeing the other brands and services as our competitors. Instead, we view ourselves in this industry as responsible to help build the better digital payment society together for Myanmar.
What is your competitive strategy?
KBZPay is a product of KBZ bank. When you talk about KBZ bank, we are
very old and strong established bank, we are financially sound. Moreover, as the biggest local bank in Myanmar, we have over 500 branches and no less than 1000 ATMs all around the country. So, we are able to provide the nationwide services to the customers. Via those branches, we can also assist the unbanked users, those who are not users of the bank. Which is why I have to say these are the main competitive strategy of KBZPay.
How is the customer usage of KBZPay since the very beginning?
Since the six months long pilot launch of the KBZPay, we won one million users. Also, from that six months to next three more months, we won another one million customers. Apparently, we provided services to around two millions users within a year. The growth rate of the KBZPay, when compared to other brands, is the highest. So, I think that may help you imagine the percentage of the population that is using KBZPay.
Who are your targeted customers?
When we talk about target customers, the motto of KBZPay is that the establishment of KBZPay is for 100% financial inclusion, which mean, we are implementing a banking system that is available and reliable for everyone. So, the targeted customers are, let's say, start from age 15 to age 55-60. We target all those customers who are willing and able to use. You get the idea. So, we target all 33 millions of those customers between that age ranges.
What are the critical success factors for payment platforms?
In my opinion, for the digital payment system to be successful, itt depends on both parties. What I meant is, both parties as in customers and merchants. In Myanmar, cash plays a very important role. Cash is what they call, "the king". So for customers' part, while transforming into digital payment system: Number one is financial literacy and Number two is digital literacy. Such education should be provided eventually. As well as for the merchants, they have to have awareness of the inefficiencies that take place when they do the transactions such as, the lack of small notes and the presence of dirty notes, etc. So, there should be the presence of digital awareness in both parties. So, mainly, awareness is crucial for a digital payment system to be successful. To get the awareness, KBZ led and organized the events such as Duwun Food Carnival that was held at People's Park on March 31st. Previously, Duwun Food Carnival used cash for transactions but this year, with the assistance of KBZPay, almost all the transactions are carried out digitally via KBZPAy. Through this means, customers witnessed the efficiency and readiness of the digital payment system. Not only customers, also merchants experienced the sophisticated procedures of digital payment system.
What is the future of digital payment in Myanmar?
At KBZ, we have our goals and aims of building 100% financial inclusion and 100% cashless society. To achieve this, KBZ cannot work alone. For example, all the other associations such as variety of wallets and banks have to cooperate and work together. It's hard to predict and foretell about the future to some extent but, since we all are cooperating and working together, we are sure that our digital payment system will boom.
Since digital payment market is emerging, what kind of impact can happen on Myanmar's economy?
Two million customers is next to nothing, when compared to the whole population of Myanmar. As I mentioned, in upcoming years, if the usage increase to twelve or more millions, that will definitely have impact on the economy. If the increase can make it to twelve, it will get easier to get to twenty. So, by that time, I believe, people will understand the nature of the cashless digital payment and how it works. Thus, the cash flow will become faster. Since the cash flow becomes faster, the trade flow will also keep up with it. So, I am confident that the growth rate of the economy will surely improve.
How much the inefficiencies of local banks have contributed to popularity of digital payment platforms?
Definitely, those inefficiencies have impact on the digital payment and it will also encourage people (to adopt digital payment). For example, there are going to be questions about "What are the differences if we use the digital payment system?" Number one is that for a bank user who does cash-in cash-out frequently, he or she will have to go to the bank every time. Bank operates for only a limited time like it opens at 9 a.m and close at 3 p.m. But with digital wallet and payment systems like KBZPay, you do not have to rely only on the bank. All our partners, the merchants and agents are working beyond normal banking hours to provide the services. So, basically, everyone will be able to enjoy the financial services outside the bank and outside the limited working hour.
How has the downward trend in Myanmar economy affected companies like yourself?
It is too early for me to give my opinion on the nationwide economic growth, but, as I said earlier, if the cash flow becomes faster, the trade flow will also become faster for sure.