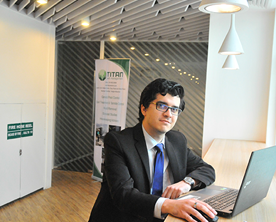 Name : Krystian Zycinski-Singh
Position : Managing Director, Titan Pest Management
[paypal]
When did you first visit Myanmar and what was your impression ?
The first time I visited Myanmar was in October 2015. I actually didn't know what to expect since I'd heard many contradicting views from both the media and friends. People told me that it was a country that had recently opened its borders and there was a lot of economical volatility with the upcoming election. My impression of Yangon was very positive. The Myanmar people are very warm and welcoming.
How has your impression changed ?
Having moved here in May, my impression hasn't changed much. If anything I've started to ingrain myself into the culture and learning more about the society. The food is fantastic as well, can't go without having Shan Noodles at least once a week! How did you end up as current position at TITAN Pest Management? Titan Pest Management was set up by myself and my sister Nicole. Given that she leads our parent company, Killem Pest, in Singapore, it made sense for me to take the helm here in Myanmar.
What are your primary responsibilities?
My primary responsibilities span operations, human resources and business development. I'm more or less a jack of all trades and I'm pushing the business to grow whilst promoting safe and environmentally friendly pest control. I am also training my field staff in Myanmar by taking them to site surveys and educating them about inspection, correct chemical and equipment use. I am not afraid to get my hands dirty! Please explain to our readers about TITAN. Titan Pest Management Co. Ltd. is a subsidiary of the highly successful Killem Pest Pte Ltd based in Singapore, We are committed to working in harmony with the environment to bring integrated urban pest management solutions to our clients. We use environmentally-friendly, low toxicity, target-pest specific pesticides and have access to a range of standard as well as highly specialised technology and equipment to ensure that we provide a service that is the most effective and least disruptive.
How does Titan Pest Management help Myanmar Citizens?
There are three main reasons how Titan helps Myanmar Citizens. Firstly, by getting rid of pests that carry diseases such as dengue or Malaria, Titan is reducing the risk of vector-borne diseases for the public as a whole. Secondly, Titan is helping to reduce economic damage caused by pests such as termites or rodents. Termites can destroy structures, whilst rodents contaminate food sources. Thirdly, Titan is trying to raise awareness about best practices in pest control that not only impact sanitation, but are also not a burden on the environment. In which ways working in Myanmar different from working in any other countries? I've worked in London and Singapore and I've found the Myanmar people to be more patient! What are your current future projects for TITAN PEST Management? Our current and future projects include construction sites, F&B outlets, private residential houses and flats, condominiums, shopping centres, industrial sites, schools and commercial offices. In essence, our projects cover the wide spectrum of urban properties.
What is your view on Myanmar economy in the coming year?
Very positive. The amount of foreign direct investment (FDI) pouring into Myanmar is testament to the belief in the growth of Myanmar's economy. From a business standpoint, what do you feel are the biggest challenges facing you and your team in next 1-3 years? Lack of [public] awareness regarding pest control. What effect do you think the sudden influx of foreign companies/ nationals would have? Foreign companies will bring in international standards and best practices across a range of industries. This will promote competition as well as provide access to a wider range of products and services.
What advice would you give someone who is looking to invest in Myanmar?
Do it sooner rather than later! There are many opportunities in Myanmar for both MNCs and SMEs across a number of industries. Franchises such as KFC and Pizza Hut have recently entered and it won't be long before others will enter the market. With the new condominium law foreign real estate investors will find very high quality properties available in the market. There really is an endless supply of opportunities!
How are you enjoying your days in Myanmar?
My work actually tends to spill into my weekends so I haven't actually thrown myself into exploring Yangon very much! However, at the moment I normally kick back and relax by watching TV or going out for a run. I am hoping to run the Yangon Marathon in 2017.
[/paypal]