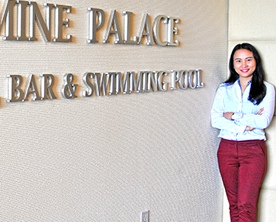 Name : Pasuta Sukmanop (Wi)
Position : General Manager at Jasmine Palace
[paypal]
How did you end up as the General Manager of Jasmine Palace Hotel?
I have applied for a job as normal which I've seen their advertisement on Job online website in Thailand. Then go through the process of first interviewed via Skype then a second interview with owner as per their invitation in Yangon.
What are your role and responsibilities?
My role is the generally as a hotel GM, responsible for the day-to-day management of a hotel and staff. Managing budgets and financial plans as well as controlling expenditures, organizing and directing all hotel services, including front of house, back of house, all other operation departments within the hotel. Setting and achieving sales and profit targets as as well as promoting and marketing the business, analyzing sales figures and devising marketing and revenue management strategies, addressing problems and troubleshooting, etc.
What is the current room occupancy like and what is your future expectation?
Our current room occupancy is around 60- 70% each month and of course I would expected a bit more in the future but it is also depend on the trend of economy in this low season period too.
What is the target market segment for Jasmine Palace Hotel?
Our target market segment is more for corporate as a top priority. We also have many long stay guests staying with us.
How do you train and retain your local staff?
Well, that is not easy at all. We sometime has a lot of challenges about training staff as most of our staff has no experience for hotel service industry but we mostly train them on the job, showing them what they are doing right and what they are doing wrong, Luckily, I have experienced and professional heads of department so that they can train them closely. The most important thing is to demonstrate so they know and follow.
What are the unique or selling points of your Hotel?
I think our unique selling points are the room which still new and more functional, you can see the view of pagoda from your room with big glass wall and window. All of our rooms also include a minibar with free of charge supplies. So guest no need to pay anything extra. Also we have full facilities such as swimming pool, nice gym with fully equipped machine, Spa and a pool bar on the 5th floor so you can relax and enjoy your day during your stay. Our hotel staff also very friendly and have a great service mind.
Is there any plan to open new hotels under this Jasmine Palace brand name?
It's in the pipeline…may be.
From a business standpoint, what do you feel are the biggest challenges facing you and your team in next 1-3 years?
I think the big challenges in the future are more hotels opening as well as there will be not enough manpower or staff to work in the hotel. Many staff likes to jump and work in another new hotel without thinking about their career goal sometime. So the hotel needs to train more new staff and get the right service person to keep all our guest satisfied. Also for sale and marking point of view, that we need to maintain all our service standard and develop strategies to make our hotel more unique than other.
How do you think that Myanmar should prepare for the increase of tourists visiting year after year?
I think everyone will say the same thing with me as Myanmar should develop and prepare more all infrastructures and transportation to be ready for all business investor in all sections. Also have proper rules and regulations compare to international standards.
What do you think are the consequences of the sudden influx of foreign companies/ nationals brought into the country?
I think it is the right time and also good for the country. The country will be more developed and the people will get more experience and skill training from all of foreign companies. The country will be growing fast.
With the current occupancy rates dropping across the industry, how would you maintain profitability?
The best way to maintain the profitability is to sell more and get more revenue coming in so that mean we need to maintain and plan new strategies to be more competitive hotel and value for money and service as well.
How are you enjoying your days in Myanmar?
Well, I have work here for 1 year already so everywhere I work or live is my home! And Myanmar and Thailand is very close and make me still enjoyable in this country especially since I love the job that I am doing now.
[/paypal]