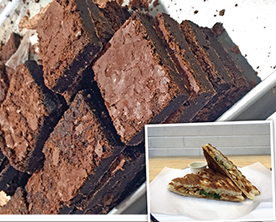 More and more café are mushrooming in every corner of Yangon. If you are a lover of cakes, there is one little café on the first floor of Myanmar Plaza. The name of the café is"Trademark".
Atmosphere
We can see the Trademark café at the center of first floor, near the supermarket Market Place. There are tables and a bench area large enough for eight people to sit. Its American style similar to Starbucks.
Everything food and drink on display is already packed. All thing in the menu is guaranteed for freshness. Trademark has its own bakery at 7 miles, Pyay Road. They bake their own bread and bring it to shop every day. Catering service is also available for events, birthdays, weddings, etc.
The menu includes many different kinds of coffee such as Americano, Cappucccino, Iced cappuccino, Iced Latte and Green Tea Latte. Frappucinnos are also available with many alternative flavours such as Caramel, Vanilla, Hazelnut, Brownie, Green tea, etc.
For Yogurt Parfait, There are two kinds: Greek Yogurt Parfait and Strawberry Greek Yogurt Parfait. For fruit smoothies, there are four kinds: Watermelon, Pineapple and Honey Melon and a mixed one.
Among the many varieties of cakes available,two best seller cakes are worth recommending. They are so delicious.
If you love chocolate, you will definitely love the brownie cake. Brownie is so full of chocolate yet it is not too sweet and oily. It is crispy outside but moist and soft inside. You can choose among three different kinds – walnut, oreo and chocolate chip.
The second one is Red Velvet cake. It is also a chocolate cake but the colour is red. The topping is cream cheese. The taste is a combination of sweet and salty.
The café also caters for lunch too. Five varieties of sandwiches are available – Chicken pesto, BBQ chicken, Tuna, Ham and Cheese & Chicken Pesto. The sandwiches can be served hot or fresh.
The prices are reasonable. A combination of drink and cake or drink and sandwich will cost less than 10,000 Kyats.
Final Verdict
Just seeing the colour and texture of cakes, sandwiches and drinks on display will make you hungry. The food is freshly prepared.
Taste of the cakes are sweet, but not too oily.The place is also kept very clean. After hanging out or shopping with your friends, this is one place where you can rest and recharge.