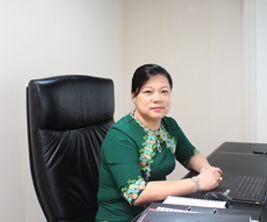 Name : Ms. Mya Sandar Min
Position : Executive Director IKON Mart
IKON Mart, set up in 2010 to provide the growing market's needs, provides catering services for international hotel chains and restaurants, residences, hospitals and embassies. With 20 years of experiences in hospitality and tourism sector, IKON Mart's Executive Director Ms. Mya Sandar Min shared MI readers interesting information on current projects, customer expectation as well as her thoughts and opinion on retail market and hospitality sector in the country.
[paypal]
MI : Please tell us briefly about your past experiences especially in F&B, Hospitality and Tourism sectors.
I started my career as a hotel sales secretary while I was in university, about 20 years ago. Since then, I have been accustomed to hotel products and services at my work place as well as from the familiarisation visits to other hotels. Then, in the beginning of the year 2000, after getting married, I jumped into the typical hospitality supply business.
MI : How did you end up as your cur- rent position as the Executive Director at IKON Mart?
As I said, I started my hospitality supply business 15 years ago with a few product lines. At the beginning, we could not keep much stock and had to work on the customers' order basis. Later I began adding a few more products and kept them ready for customers. Since then, we grew not only in unit sales but also in project sales through expanding our service team.
In 2010, we set up IKON Mart to cater the growing market with a mix of complete showroom, cash-and-carry sales and upgraded pre-sales and after sales service team
In this new company IKON Trading, I took the position as Director and then Executive Director in this year.
MI : Could you share us your duties and responsibilities?
I am now taking care of sales and logistics issues in general, with purchasing, admin and human resource and training in particular.
MI : How was IKON Mart founded in the first place?
While we were supplying products on project basis, it had always been our dream to open a hospitality retail store where customers would not have to wait to importing their order or to look for themselves in overseas.
We put ourselves in the customers' shoes and hoped to provide their requirement and solutions to their operational issues.
Year by year, we gradually develop sole distributorship with renowned manufacturers around the world, and we were able to make bulk purchases to keep the sizable SKU of inventory to meet customers' demands.
We opened IKON Mart as a one-stop hospitality shop/ showroom for projects, cashand-carry, and solution provider for many operations in May 2010. It was the frst of its kind in Myanmar then. The ideas could not have been put into reality without the support from our partners, who have trusted us to develop into this stage.
MI : What kind of products and services does IKON Mart provide with?
IKON Mart provides total solution for HoReCa market needs and wants; where consulting, designing, equipment supplying, installation and training, and after sales services all come under one roof.
One stop housekeeping and hygiene supplies are also made available by the world's leading cleaning chemicals brand Diversey, Taski Equipment, Rubbermaid Commercial and Clean Tool accessories offered along with technical assistance and trainings.
Additionally, for different market segments IKON Mart supplies products like kitchen equipment, utensils, and accessories, tableware (glassware, chinaware and cutlery), bar equipment and buffet ware, coffee, gelato and many other food stuff, bedding, linen, towels and bedroom articles, banquet furniture, housekeeping equipment and also commercial laundry system.
MI : What is the target market segment of IKON Mart?
IKON Mart primarily aims to cater international hotels chains, 3 plus to 5 stars hotels, as well as fnedining restaurants. We also target the international fast food chains, restaurants and coffee shops, hospitals, schools, embassies, and residences.
MI : What is the growth of market size like since the foundation of IKON Mart?
When we started opening our doors in 2010. there were less than 20,000 hotel rooms in our country. Now there are over 35,000 hotel rooms with
more international hotel chains in the market along with a rapidly growing number of restaurants.
MI : What are the customers' expectaions here and how are you responding their feedback?
Customers are simply expecting quality products, consistent supply, and reliable services at the reasonable prices. Having to deal with one source supply, customers can save their time and costs and overcome unnecessary hassle of visiting many other dif- ferent suppliers and sources.
At IKON Mart, we try to focus on our market needs and strive to provide on-time delivery services for quality products. Moreover, cus- tomers could expect from IKON Mart introducing newly developed products to catch up with new lifestyle and trendsetting.
As for feedback, negative ones are taken as constructive advice, which we would immediately take action for, in order to improve our services. Positive feedback always encourages us to keep moving forward with even better products and services to be offered.
MI : From a business standpoint, what do you feel are the biggest challenges you and your team will be facing in next 1-3 years?
We will firstly be facing the shortage of skilled labour as trained mid-management staffs are being poached.
Second, the higher costs of leasing the land and building are causing us to slow down market expansion in the provinces.
Thirdly, logistic cost is also needed to be tackled as a priority issue.
Last, but not the least is enabling integrated operational software and tracking system to create better efficiency in work place.
MI : What are the current projects of IKON Mart?
IKON Mart is currently preparing to expand food product line along with more cash-and- carry stores in provinces. We are also developing integrated warehouse and logistics system and setting up hospitality consulting firm in partnership with an experienced foreign firm.
MI : With your past international experiences, in which way do you think is working in Myanmar different from working in any other countries?
After the open door policy started a few years ago, there is not much of a difference working in Myanmar and any other coun- tries now. Restrictions on businesses are now lesser, dealing with government offices had become easier than before and have be- come more transparent.
MI : What is your opinion on the country's current retail sector?
Myanmar's retail sector is developing up- trend, such as the number of retail stores, which had increased in different sizes and
places with more enhanced design and merchandise displays. I believe this is a good thing for the country.
MI : As an expert yourself in Hospitality sector, what do you think that Myanmar should be prepared with the increase of tourists visiting year after year?
Myanmar needs to create and develop more tourist destinations and attractions to be more accessible, allowing more convenient ways of travelling. The accommodation, recreational facilities, sightseeing and possible activities for tourists are equally important to be developed to have them spent more time in a relaxing way.
The hospitality sector also needs to upgrade their service levels so as to meet the customers' expectations, to invest in human resource development with higher level of trainings and management schools to enhance the skill set of employees.
MI : If you could make one major change to any government policy, what would it be?
I would have the bank lending policy be more feasible and accessible to local business firms.
MI : What advice would you give to someone looking to start up a business and invest in Myanmar?
Think globally, operate locally.
MI : Apart from your duty as the Executive Director of IKON Mart, what are your other activities and responsibilities?
I am involved in public relations work as well as participating in workshops and panel discussions.[/paypal]