Davy Elpidio Eek is the man behind Swe Sa Bwe, Yangon's well-known restaurant that is widely recognised as one of the best restaurants in Myanmar by the food critics of Myanmore, and the Myanmar Times as well as the wider public on TripAdvisor.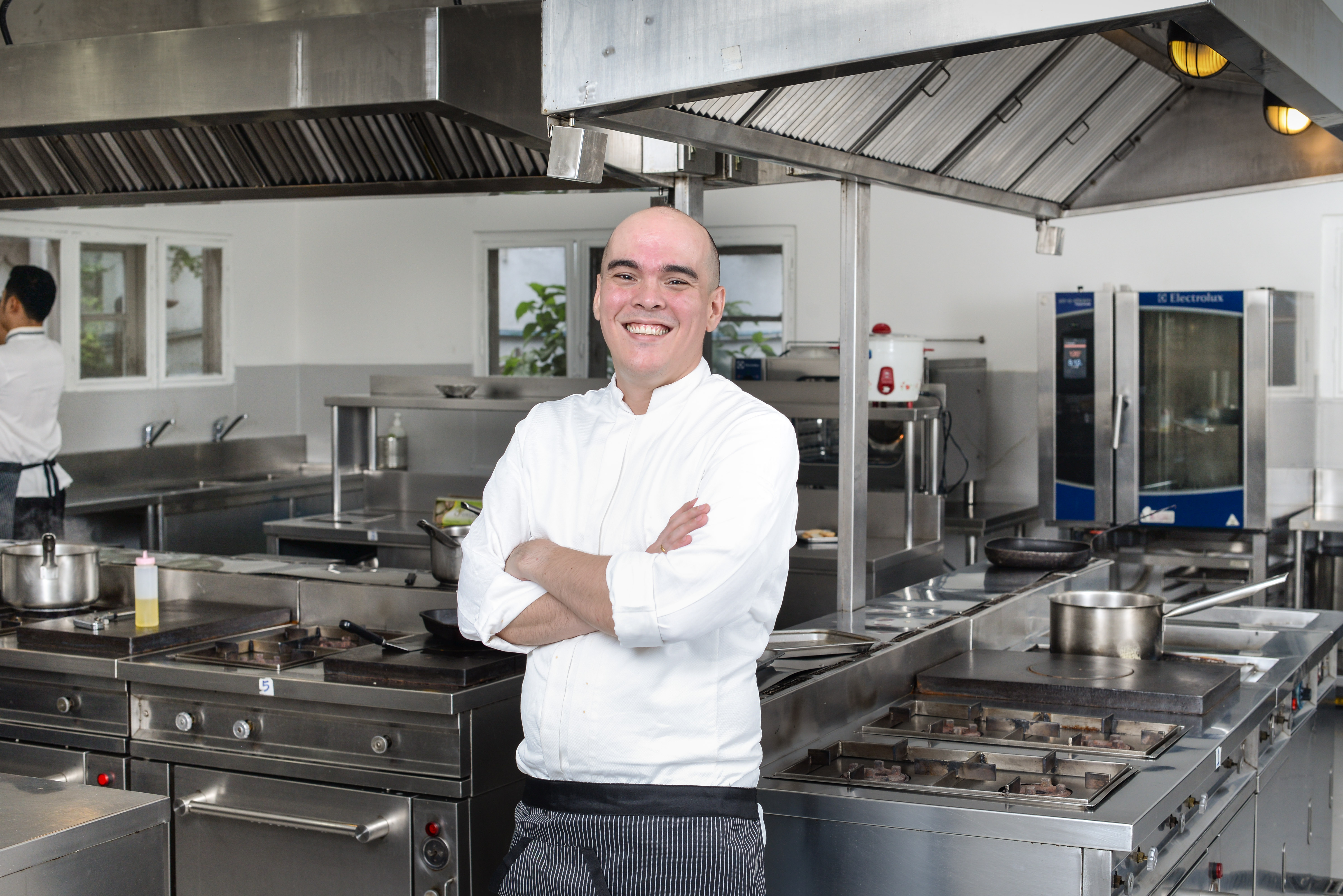 Having graduated from the International School for Culinary Arts and Hotel Management in the Philippines when he was aged 23, Davy's first trip to Myanmar has started by working at the Prestine Lotus hotel by Inle lake as sous-chef, and then later executive chef. He also worked as head chef at other fine-dining restaurants in Yangon later on and ended up as a lead trainer in the journey of translating the vision of Shwe Sa Bwe, which is a social enterprise since 2014. Having lived in Myanmar for ten years, he is married to his wife Phyu Phyu from Shan State and has two daughters.
As co-owner, head chef and trainer, Davy didn't found Shwe Sa Bwe, but he follows the legacy of the founder – a French social entrepreneur. "Our aim is to provide a better future for the disadvantaged youth in Myanmar by helping them learn new life skills through appreciating and mastering the art of fine-dining. All students are provided with free accommodation, free tuition and are supported to find jobs after graduation. As a self-sustaining business, Shwe Sa Bwe only relies on the income of the restaurant to fund our student training."
Davy Elpidio Eek, head chef, trainer and co-owner at Shwe Sa Bwe shared contributions of the restaurant to the industry with Myanmar Insider which entails strategic partnership with Pegaz Solutions, an integrated facility management provider with strong expertise in F&B and catering solutions as well as the biggest supporter of social values of Shwe Sa Bwe.
"They have the ambition to provide the best education for students in hospitality sector in Myanmar through practical experiences. So in partnering with them, students from Shwe Sa Bwe will have lots of employment opportunities, which is also our ultimate goal. Though offering top quality food and drinks, our price compares favourably with many of Yangon's fine-dining restaurants, because we source the ingredients directly from the local farmers. However, the most important factors that differentiate Shwe Sa Bwe from the rest, are the authenticity, the warmth, the smiles and the professional service from the heart of the student staff here", said Davy Elpidio Eek.
The price ranges from 50,000 Kyats – 65,000 Kyats (USD 33 – 43) for a three-course dinner or a tasting menu, and 15,000 Kyats – 20,000 Kyats (USD 10 – 13) for a bistro lunch per person. When it comes to setting up a restaurant business, the challenges were laid in how to keep the business alive and how to maintain the consistency. Excellence is too easily taken for granted where it should be recognised. In the light of family typed culture, Shwe Sa Bwe is doing effectively with a very low employee turnover rate.
Being in the business in Myanmar for 10 years, Davy clearly sees a behavior change in the way Myanmar people dine. Though there are a lot more types of cuisine and more options for people to choose from, he is clear that Shwe Sa Bwe is still able to keep its loyal customers – the ones who not only appreciate an excellent dining experience, but also want to support disadvantaged young adults, and support the future hospitality sector in Myanmar. After two months going through an exciting restoration, Shwe Sa Bwe has successfully reopened at the end of August. Contemplating the new version of the restaurant, Davy is beaming with excitement "We will modernize the food, bring in Asian cuisine alongside European, and improve the bar and cocktails while still keeping the warm atmosphere. And in the next few years, we will also offer short courses for other restaurants, help them with the management and operation of their businesses."
With the re-opening of the restaurant, customers will get to experience some unusual dishes that are guaranteed to taste good, such as foie gras, crème brulee and beef fillet with chocolate sauce. The menu changes every two weeks, so customers are advised to keep in touch with the restaurant.