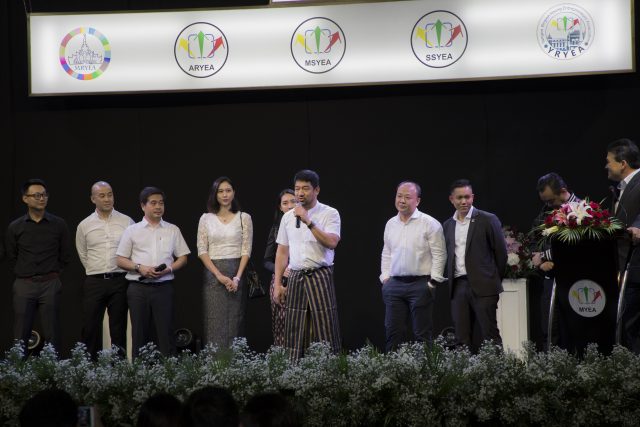 MYEA Members Day brings the launch of MYEA Member Portal and introduction of newly elected committee members on August 21 at Novotel Max Yangon. The event started with the opening remarks by Dr Aung Thura, Chair of MYEA, followed by the introduction of the newly elected members and committees. MYEA Facebook Workplace will be a bridge to connect and reach among the members which is officially launched and demonstrated at the event celebration day. MYEA Members received the Workplace by Facebook activation codes at the registration desks and start connecting the members after signing up.
Offering a platform for young entrepreneurs in Myanmar to connect and exchange ideas and to interact with regional and international businesses, MYEA will promote an inclusive and ethical economic environment and raise public awareness and culture of entrepreneurship in the society at the same time.
A founding member of ASEAN Young Entrepreneurs Council (AYEC) and Myanmar Member of ASEAN Young Entrepreneurs Association (AYEA), the MYEA is teamed up with 1,062 Executive Members, 652 Associate Members, 1 Corporate Member – totalling in 1,714 members who are business oriented young entrepreneurs around the country. The Regional Government Officials and Ministers are serving as Patrons at the MYEA to promote local businesses and support the members as well as young entrepreneurs in the country.
With the aim of supporting local MSMEs, young entrepreneurs and tech entrepreneurs, MYEA signs the MOU with AMCHAM Myanmar at the Members Day Event and will continue to partner with local and international organisations. "As a member of MYEA, there will be countless of privileges provided by the Myanmar Young Entrepreneur Association. The members will get the priceless membership benefits such as business connections and networks, series of mentorship trainings and entrepreneurial trainings as well as the business inspiration. Please come and join our association and sign up our MYEA Workplace by Facebook so that we are keeping in touch and update with the association's activities," noted Dr Aung Thuya, Chair of MYEA.