In 2012, Myanmar's car market began to fluctuate as restrictive import measures were lifted as a part of the democractic transition. Before 2012, if you wanted to buy a car locally, you had to spend a fortune for it. As a change, the government of Thein Sein began issuing car permits to allow cars to be imported at lower prices than before.
The result was the dramatic fall in the car prices. Car prices have dropped to the point. Today, not only can we import cars directly from abroad, but we can also buy cars assembled in Myanmar locally. Financing for car purchase has become easier as local banks have introduced installment schemes.
Thanks to the financing plans, salaried employees can now buy their favorite vehicle on a small salary. This method has become very popular in the country. However, you can only buy in installments if you comply with the rules set by the banks. But you have to show proof of employment.
Currently, six local banks are offering hire purchase schemes with varying terms and interest rates for the loans. Service fees vary as well.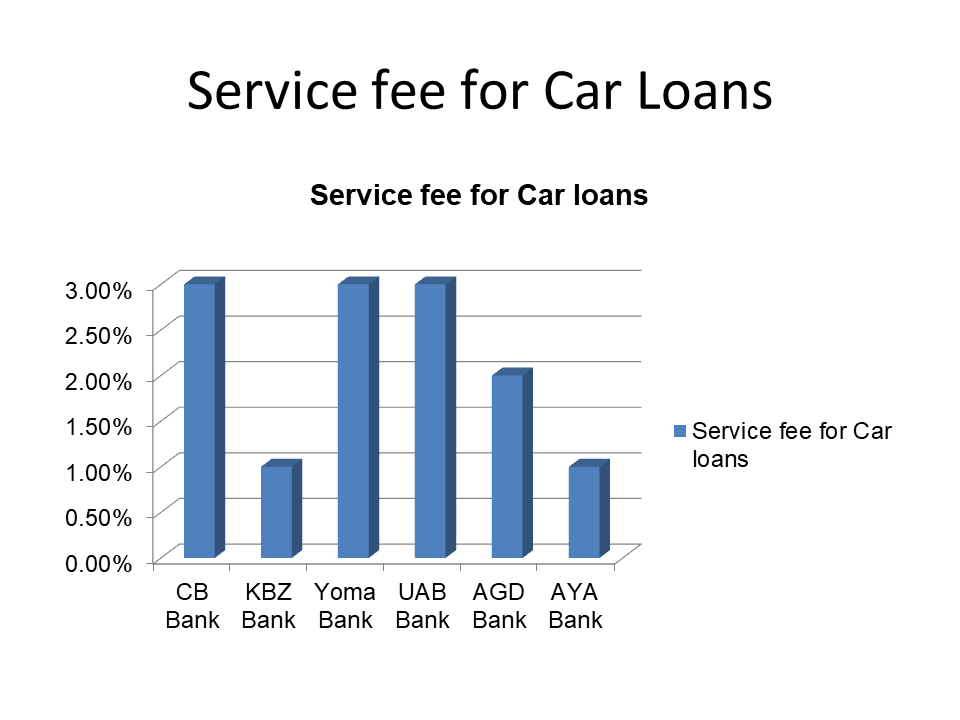 These are the requirements if you are going to apply for the loan:
Registration ID (Copy)
Copy of household list
Original ward recommendation letter
Original police report
License photo
And for applicants who are employees, the followings are required:
Certificate of Employment
Salary receipt (3 months)
Bank statement (3 months salary)
If the applicant runs his/her own business, then the following documents are needed.
Business license or company license
Articles of Association Team record
Profit and loss statement
Profit tax return for 3 years must be submitted.
If the applicant is unable to prove income, the property will be secured at the time of loan repayment. Besides, a fine of 3% of the monthly payment will be made if the loan repayment period is delayed. 
If the purchaser dies during the loan period, it must be paid by the family member or heir and otherwise the bank will confiscate the vehicle. Only after the loan is repaid can the sales contract be signed. The Owner Book and other documents will be released by the bank.