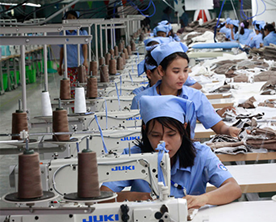 Since Myanmar has opened up it has moved towards a more urban, industrial and service-based economy. More and more people from rural areas are leaving their native towns and moving to big cities. The reasons for this are varied. Rural poverty, unemployment, a lack of economic opportunity and fragile livelihoods comprise the key drivers of both domestic and international migration. Urbanisation and job creation in urban areas have the potential to have a significant impact on labour and mobility patterns, especially for the landless and land-poor workers that account for a large part of the national workforce.
According to the World Bank's figure, Ayeyarwaddy region has the highest level of migration. This began to develop after Cyclone Nargis hit in 2008. Magway region is ranked second for domestic migration which has increased exponentially since Myanmar's economic transition started in 2011. According to World Bank, one in four households in Ayeyarwaddy and one in five in Magway have a family member living as a migrant away from home. Moreover, over half of migrants move to Yangon rather than leave to employing countries such as Malaysia or the United Arab Emirates. Yangon is still the favourite choice for migrants with population growth exceeding other big cities such as Mandalay and Mawlamyaing.
Ayeyarwady Region has a favourable environment perfect for farming. There are large groups of landless labourers and fishermen in Ayeyarwaddy Region. Ayeyarwaddy is well-known as the granary of Myanmar due to being Myanmar's most productive rice-growing area. These resources, however, are not utilised effectively. It might be in response to income loss; seasonal irregularity in agricultural outcomes or the lack of diversity in incomes from farmbased activities. In the agricultural sector of Ayeyarwady Region, over 50 per cent of farmers own only about three acres of paddy. This indicates an unbalanced distribution of farmland.
Starting in 1998, fishery permits were issued to companies through an auction system and favoured big investors. While wealthy business owners are purchasing a larger number of fishing ponds and farms by making attractive offers, small-scale farmers are losing their property. Migrants can fall into two primary categories; those who come from poor families and seek jobs in order to support their families at home and the other is the non-poor who want access to a better formal education and higher paying work in urban centers.
What do they do? how do they live?
According to the World Bank, two out of three miSammatha Cheng Economic migrants are one of the reasons that Yangon has a growing squatter population. There are more than 400,000 illegal squatters in total around Yangon, according to statistics from the Regional Administration. INSIDER OPINION 33 WWW.MYANMARINSIDER.COM grants are men across both regions. They are young and better educated than their peers in general. Normally, most migrants take up low-skilled employment in cities as they lack formal education. Migrants find work in informal labour markets such as construction, factories and restaurants. Social networking plays a vital role in finding jobs. Migrants primarily seek jobs through social networks in their villages rather than through paid brokers. Sometimes, paid workers used to be friends. They become a link between their current or ex-employees and their job-seeking friend. Sometime they secure a job for their friend and are willing to live together. So current and ex migrants are primary resources for information.
According to the Eden Forbes (Independent Researcher) Urbanisation and Informal Settlements in Yangon Report, migrants tend to stay in Yangon's outskirts in such places as Hlaing Tharyar Township and Dagon Seikkan Township because most industrial zones are located in these township.
If you are not aged between 18 and 25, you will face difficulties in finding a job at factories. Apart from age, education qualification plays a vital role in finding a job. Passing matriculation can be a guarantee to work in factories. In 2015, Myanmar set a minimum wage of 3,600 Kyats for an eight-hour work day. Finding a place to stay in urban hubs such as Yangon is not easy. The rental price of apartments is rising. Even finding a place to stay for one person (a small space measuring 6 feet by 10 feet.) costs around 30,000 Kyats per month.
There are several issues for workers in factories. Recently, "The Myanmar Dilemma Report" was released. The report mentioned a series of labor rights issues in garment factories including very low wages, unlawful wage deduction, very long working days, unpaid and forced overtime, and the abuse of apprentices to avoid paying the legal minimum wage, child labour and unhealthy and unsafe working conditions. Limited job opportunities for migrants in industrial zones means that those who find work in downtown Yangon must endure long commutes, which are a burden in time and money. Sometime, they become house maids or assistants at tea shops and do not have to worry about having a place to stay. Recently, the government kicked off the new bus system. Bus fees cost twice as much. People have to catch two or three different buses to get to their destinations and so the journey costs them much more — as much as 400-600 Kyats, compared with 100 Kyats previously. For example, before this system, People spent 200 Kyats to go to Haling Tharp Yard Township but it now costs 400 Kyats.
Chit Su, who working as assistant at the Zaw Copy shop in Lathe Township, said "I came from Ken Su village in Ayeyarwaddy Division. Our village was one of the most destroyed area after Nargis. I came to Yangon to raise more money for my family, being the eldest one. I passed grade ten but do not have any working experience. So I could not find a job. I had to work as an assistant. I earn 120,000 Kyats per month. Before the new system, bus fees were only 8,000 Kyats but now they are 16,000 Kyats and I have to pay 30,000 Kyats to stay in Hledan Township. When I left my native town in Ayeyarwaddy Division, I expected to send money back to my family every month. But now, I am hoping to just make ends meet for myself and can only send money every three or four months. My cousin's sister finished middle school but she worked as a housemaid. She does not have to worry about the cost of eating or a place to live. She can send her whole salary to her family".
Economic migrants are one of the reasons that Yangon has a growing squatter population. There are more than 400,000 illegal squatters in total around Yangon, according to statistics from the Regional Administration. Hlaing Tharyar has the highest squatter population of the city's 39 townships.
The quality of life for people on the outskirts of Yangon are poor in general. Diseases are rife in the township because they have difficulty accessing to clean water, improved sanitation, and waste management services. According to UN habitat's study in 2016, Hlaing Tharyar has the highest incidence of Diarrhea of all Yangon and is ranked second for malaria and third for dysentery. Additionaly, squatter locations become hot spots for criminals and drug pushers. A lack of effective policing expounds these problems. In May, 2015, Phyo Min Thein, Yangon Region Chief Minister, enforced laws against squatters on stateowned and private land. The government issued identity cards to them and listed squatters were going to be accommodated at temporary shelters while jobs were found for them. The effectiveness of the solution is, so-far, difficult to measure but, on the face of it, does not look promising.
Boosting the agricultural sector If we can create job opportunities in migrant's native lands we can reduce the rate of migration. Boosting agricultural production and investment is the main solution to solve these migration problems. Young and capable people moving to urban centres has impacted the agriculture sector. During both planting and harvest seasons, labour shortages has occurred leading to lower yields and more pressure on farmers to offer competitive wages.
Another problem is Myanmar agriculture technology. Much of the machinery in use, where it is used at all, is out of date compared with neighbouring countries such as Thailand or Cambodia. Although agricultural machines can address labour shortages, few farmers can afford to invest in modernisation. The previous government arranged a hire or purchase system for agricultural machinery but the demand for these machines was too high. The government could not fulfill the demand.
In October, 2016, The Ministry of Agriculture, Livestock and Irrigation tried to subsidise modernisation by importing $100 million worth of agricultural machinery from South Korea. Farmers had to offer 20 per cent as a down payment. Since than the government has changed the system to allow farmers to pay only 10 per cent.
The Yangon Government is also trying to accelerate the modernisation of the agricultural sector and is implementing a master plan for development of agricultural mechanisation in the region within three year. Yangon Government officials said "Yangon has more than 2.5 million acres of farmland. The industry sector in Yangon developed but the agricultural sector has weakened". As part of the first step of the plan, irrigation is going to be extended in the 2017-2018 fiscal year. The master plan aims at getting quality rice strains for export.
Getting a good price for crops depends on the export sector. As they cannot produce value added rice for global market, the export volume will remain low. Myanmar has to compete with other regional countries such as Thailand, Vietnam, and Cambodia on the world rice market. According to Ministry of Commerce figures for the first seven months of 2016-2017 fiscal year, Myanmar exported over 559,700 tons of rice, a reduction of about 200,000 tons year-on-year. According to Myanmar Rice Federation officials, China is the top rice export market for Myanmar, followed by Singapore while the United Arab Emirates remains third. About 80 per cent of rice exports went to China, mostly through border trade.
The government is currently in discussions with Indonesia to export three million tons of rice between 2016 and 2019. If the deal is confirmed, it will help relieve some of the burden.