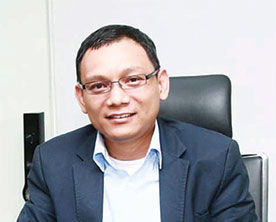 Name : Zeya Thura Mon
Position : CEO
Please explain to our readers about Zeya & Associates.
Zeya & Associates is the first company in Myanmar that introduced and supplied 11 kV Porcelain Clad Outdoor Vacuum Circuit Breaker and Polymer Lightning Arrester for System Voltage up to 245 kV in 1998 and Polymer Type Cantilever Line Post Insulator for 66 kV Transmission Line in 2005. It is also the first engineering company in Myanmar to get awarded ISO 9001:2000 Certification in 2005 and officially introduced Toughened Glass Insulators in 2007. It is one of the bigger companies in Myanmar.
What are the critical milestones that made the company grow to this size?
In 2013, the company signed "The First Gas Thermal IPP in Myanmar".
With most of your revenue coming from government sector, how do you ensure your company is not included as one of the crony companies in Myanmar?
I want to be the crony because if I become a crony, I will get favoritism using political power to block competition for my benefit. Here I attached a chart showing crony-capitalism index, which confirms the dominance of cronies in well-known countries. Other than trading and participating in tenders, a lot of your businesses involved betting on the future such as wind energy. Wind energy, solar energy and waste relationship, reputation, preparation and presentation. History will tell the future.
How do you secure financing for the group investments?
Triple F : Friend, Family and Fall on me. Moreover, my ex-employer and the suppliers. Finally the Bank, of course. You need to know how to synchronize them. The important things are the  relationship, reputation, preparation and presentation. History will tell the future.
How has the slowdown in the economy affected your businesses?
This is the confusion. We are not steady state so sometimes down, sometimes up. But most of the local business are not ready for slowdown. They think new government will bring the dynamic and speedy economy. But the government put the wrong guy on the economic driver seat. What is the solution to current Myanmar economic woes and cash energy.
How would you develop such a foresight?
all are more environmental friendly energy options. This is the future but how far we can go. I am not so sure in here, in this country.
We are struggling with traditional difficulties. crunch?
There are many solutions:
1. Government inject money.
2. Blame it on the misfortune.
3. Normally, macroeconomic theory, there are so many solutions such as tax cuts and lowering interest rates. But we need to assess which one is better and need to calculate elasticities of tax cuts and lower interest rates.
4. Lower interest rate promote small business. Promote made in Myanmar and inbound tourism.
5. Clear cut vision, strategy and efficiency.
6. Clear cut value creation and value capture.
You are always a proud alumni of Chicago Booth. Can you give an example of how you apply in your business, what you had learnt? Shut down rule from Microeconomics. Financial strategy and Competitive strategy.
How do you deal with corruption in the government with regard to your business?
We always do the projects that do not need unauthorized payments. That kind of things are 50:50. For example, some of the infrastructure projects are on hold even though we are awarded by tenders.
In the power business, what are the Critical success factors (CSFs)?
State of the art technology and cheap financing costs Electricity supply has gone from bad to worse this two years.
What do you think are the factors that lead us to this downhill path?What are the solutions?
Lower efficiency – solution is to increase efficiency. I can say more on that but it is repeated already. And the current authority know about that, I am waiting for their solution tomorrow. Because that solution, we can start tomorrow. This is the quick fix thing for this country and they can start tomorrow. But to do this we need budget. Some parts, if you reply on only government, it cannot happen within a year. If they combine with FDI and LDI, (local or domestic direct investors), we can wow the world.
Why do you think Myanmar is now the worst among ASEAN countries, in terms of electricity supply?
It is not only electricity, also getting credit. Let me talk about life cycle of the business from the starting the business to ending the business. We will see everything is below regional average.
What is the biggest challenge facing your companies in the foreseeable future?
Not enough capital. Look like everything is in ICU. So everything becomes an emergency. We are in safe mode or emergency mode, so it is not comfortable.
If you could make one change in government policy, what would it be?
One change is not one enough. Let me talk about 4 or 5. Remove subsidies as much as possible. Increase efficiency of state enterprises. Making ease of doing business. Digitalization in general and Strategy (to set the competitive strategy for each area)