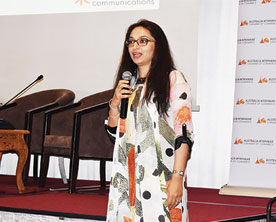 Name : Sonya Madeira
Position : Founder and Managing Partner of Rice Communications
Background
I started my public relations career in India in 1995 and moved to Singapore in 2002. I have worked with clients to meet their business goals through communications across industries and geographies. I set up Rice Communications in January 2009 to add value to my clients with my experience working at some of the largest consultancies in the world as well as with boutique firms. I'm a PR professional accredited by the Institute of Public Relations Singapore with experience in consultancy and marketing communications for clients across various industry sectors. I have over 20 years of experience in the cut throat PR industry across India and Singapore, and now in London.
[paypal]
When did you first visit Myanmar and what was your impressions back then?
My first visit to Yangon was in 2014, when we were considering setting up our office. I wanted to see first-hand Position : Founder and Managing Partner of Rice Communications Name : Sonya Madeira what the market was like. We visited potential office space and met with some CEOs who were already doing business in Myanmar. From my first step into the airport to the moment I left, my trip was very fulfilling. It waswonderful to meet so many friendly people, to see life on the street, taste different flavors. At the time, there were not many international brands there. Of course, since then much has changed.
What do you think of Myanmar now?
My last visit to Myanmar was in May 2017. I loved the new airport, and the efficient systems in place there. The investments in infrastructure and communications are also evident. There are so many new restaurants, and retail chains, both local and international that have popped up. Thankfully, the warmth of the people and the delicious flavors have stayed the same. Our team has also grown, we have a wonderful office in Kyauktada and we had a strong response to the communications workshop we conducted.
Could you tell me more about your duties and responsibilities in the company?
I set up the firm in 2009. Since our early days, we have grown a lot. Now our teams are based in Singapore, Yangon, Hong Kong and Beijing. I work on some key accounts, manage finance and partnerships and on strategic initiatives for the Group.
Rice Communication is in several countries other than Myanmar. What are the differences between working in Myanmar and those other places?
Since 2009, we have had the opportunities to work with other communications agencies in Thailand and in Vietnam for many years. But when it came to Myanmar, we realize that we didn't really know anyone here to support our clients. It is a market we then considered setting up in directly and were willing to take the risk as one of the early communications agencies here. Since 2014, we have seen more joint ventures being set up and other agencies investing directly. We are very happy to be one of the early entrants. I would say Myanmar is unique market. It's quite interesting both in terms of growth potential, 7.5 percent GDP growth and we are talking about direct investments of $6 billion, I think it presents great opportunity for the country. Geographically, Myanmar is at the heart of Asia. I do believe that this we will continue our expansion into other cities beyond Yangon as well. As long as there is a demand for communication services of any kind, there will always be an opportunity for companies like us.
What kinds of service does Rice Communications provide for local and international companies?
Rice develops, coordinates and executes strategic communications programs across Asia Pacific for companies of all sizes. Rice's heritage is in public relations. We work with clients to determine objectives at the very beginning of any campaign and ensure that the strategy and execution is built around achieving them. We help brands manage communities and create compelling content to drive engagement online. As platforms, tools and methods of communicating continually evolve it's vital for organizations to stay on top of changes in order to remain relevant. Rice work with clients to drive the strategy and content development for marketing communications across the region. Rice has extensive experience working in partnership with marketing teams to develop integrated communications strategies and targeted marketing content.
What kind of projects are you currently working on?
We work with a number of international companies that are setting up or expanding their presence in Myanmar, including Bosch, Dentons, Diebold Nixdorf, WWF, and MTM, besides others. Each client is different and the job scope is unique. For some, we might be working on messaging and media training, for others, influencer marketing or media relations and events. Our on-ground experience is quite broad, and we hope to grow this in the coming years.
Who are your major clients?
Headquartered in Singapore, Rice Communications established an office in Yangon in 2014 to cater to the needs of multinational companies and fast-growing local businesses in Myanmar. It counts among its client'sglobal brands such Bosch, Hilton, Dow Chemical, Diebold Nixdorf, Twinings, WWF-Myanmar; and Myanmar companies Premium Distribution, Myanmar Information Technology, S&P, and Myanmar Tourism Federation. Regional clients include Inmarsat, LinkedIn, and National Instrument.
How do you secure high profile clients?
Rice has grown largely by reputation and word-of-mouth. Some of our client relationships date back to the year we started. A lot of our clients are companies that approach us because they have heard of the good work the team does. I hope this can continue in Myanmar.
What is your opinion on the current trends in the Myanmar marketing sector?
Five years ago, the market was very different. There was a handful of local companies servicing the clients and a few international clients were interested doing business in Myanmar. Today that landscape is really shifted. You have agencies with just one person and you have agencies with over 15 people that offer a full range of services from creative and digital to advertising to media buying as well as public relations. I think we will see this trend continuing. It is important for us to be able to attract good talent in order to keep growing. In Myanmar like other markets in Southeast Asia, we really see an entire universe of clients. You have clients who are very sophisticated at one end, but also those who are just beginning their journey and believe you pay journalists for a positive story in the press. Our role is to educate our clients and our colleagues based on our experiences in marketing in other part of the world. Or the international experience we have in building relationships with stakeholders to see a strong return on your marketing investments.
What is the target market segment for Rice Communications in Myanmar?
Rice Communications has strong expertise and successful track records in technology, corporate, digital media and consumer industries. Currently, Rice team in Myanmar has been supporting a wide range of industries since entering into the market.
Could you please tell us more about "Careers in Communications: Opportunities for Myanmar Millennials"?
Rice has been in Myanmar for close to three years now. One of the philosophies we will always have in business is 'how can we give back to society'. In Singapore, for example, which is our headquarters, we have worked with NGOs to give our expertise for free.
To nurture local talent and help address the increasing demand for skilled communications practitioners, we launched a certificate course in PR and Communications tailored for Myanmar. As part of this initiative, we will invest time and money in providing a market-tailored programme that cover PR fundamentals, industry best practices, on-the-job tips, and insights on current and emerging trends.
We plan to dedicate some Singapore $100,000 in senior experts' time, tools and technology, resources and knowledge within the agency as well as our extended network to deliver a high standard of training.
The programme is open to Myanmar nationals with a keen interest in communications as a career. These include graduates of communications and related degree programs, working professionals in media or agencies (PR, advertising, digital) and those in corporate, government or non-government communications roles.
Classes kicked off on July 22, 2017. The 12-month course consists of fullday classes once a month, quarterly industry-expert workshops, webinars, online consultation, and a suite of project-based learning tools. The sessions will cover such areas as integrated communications planning, content development, media relations, events management, and digital and social media engagement.
Part of Rice's reach into Myanmar is around capacity building by up-skilling, partnering and facilitating growth and development. We are very much a 'training agency', committed to making a difference by transferring skills and knowledge; and along the way, feeding the industry's and our own talent pipeline in this high-growth market.,
Who are your major competitors and what are your competitive strategies?
We have a very open approach in all our markets. We might compete with some firms for clients, however, we pass each other prospects we cannot work with for various reasons. Each firm has its own focus and strengths, and I believe we can all work together to develop the market.
What is your view on the PR Industry in Myanmar?
I believe that the PR industry in Myanmar is developing rapidly and I hope to see a greater appreciation of the role of communications in business, as well as a conducive operating environment comparable to neighboring countries in Southeast Asia. A few years ago, there were just a couple of agencies on the ground and while it is still early days, there is growing interest. There is still only around 10 PR agencies visible in the market and, even then, not all are providing services strictly in PR with several being public affairs, or marketing and advertising focused.
We see a growing appetite for both traditional and digital services from clients. Unlike more mature markets where traditional media relations wasthe mainstay for years, the Myanmar economy has effectively "come online" at a time when digital channels are prevalent. Some estimates say 80 percent of all internet users in the country have a Facebook account. As a result, organizations looking to communicate with their audiences realize that today's universe requires a more integrated approach.
Going forward, I believe the challenge for the PR industry in Myanmar is one of education and maturity. It is purely a matter of time – as the market matures and people's understanding of the role of communications grows, demand for the services of PR agencies and the value of internal PR practitioners will increase. There are several industries in Myanmar that present the most opportunity for the PR industry. We see growth sectors such as mining, telecoms, tourism, and automotive, where communications can have an immediate impact on sector development as well as real business impact for organizations operating in these areas. Myanmar's economy also continues to grow. While growth may be moderate, I believe there's too much momentum to seriously stifle the progress that has been made.
What are your future expansion plans and projects for the company in Myanmar?
A long time ago, Bill Gates, the founder of Microsoft said "if I had a dollar left, I would spend it on public relations". For me, that really underlines the important of relationship building in communications. That has not changed and isn't likely to change. People say thatsometimes when a company is in crisis, the PR department is the first to go. We believe that when a company is in crisis and continues to invest in public relations and communications, it will be the most successful coming out of it. There will always be a market for services for professional services, for good content, good story telling and it is something we would like to be a part of in the next few years.
From a business standpoint, what do you feel are the biggest challenges facing you and your team over the next 1-3 years?
In terms of challenges, I take a more optimistic view general. We are in Myanmar, and the goal is to do our very best. None of this will be possible without a great team of people and each and every one of our colleagues has a role to play in this.
If you could make one major changes to a government policy, what would it be?
I cannot comment on policy changes, but we are hopeful about discussions around primary and secondary education that will build a solid foundation for the future or Myanmar.
[/paypal]