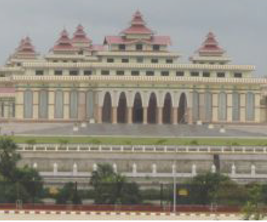 Myanmar to Continue to Promote the Tourism Industry
Myanmar will continue to try to promote the tourism industry in the coming years, according to Ohn Maung, Minister for Hotel and Tourism. The government has tried hard to promote the industry over the past year and will continue to do so in the future, Ohn Maung said. The country is now encouraging the community-based tourism, with more places across the nation being planned to be developed as new destinations for community-based tourism in the coming years. The country expects to receive more than 7 million tourist arrivals and earn more than 9 billion U.S. dollars within five years from 2017 to 2021, according to the government's second five-year National Development Plan that spans from 2016-2017 financial year to 2020-2021 financial year.
Myanmar Moves up in the Human Development Index
Myanmar has moved up in the Human Development Index to attain medium human development status, ranking 145 out of 188 countries, according to Human Development Report 2016 of the United Nations.
Released by the UN Development Program (UNDP), the report was launched in Yangon on March 22. It states that Myanmar's Human Development Index (HDI) for 2016 reached 0.556, up from 0.536 in 2014 when it ranked 148 out of 188 countries. However, Myanmar's HDI remains below the average for East Asia and Pacific (0.720). The HDI measures not only economic growth, but also the quality of growth in terms of human development and human wellbeing.
Tour Guides to be Sued if Tourists Wear Shoes when Entering Bagan Pagodas
Myanmar authorities have announced plans to take legal against tour guides who fail to ensure to make their visitors barefoot when entering pagodas in the country's world-known tourist destination Bagan. Tour guides would face legal proceedings if visitors do not obey the local rules, said Aung Aung Kyaw, director of the Department of Archaelogy in Bagan.
The Department of Archaeology is currently prosecuting a tour guide whose foreign guests walked on the brick-stone pagodas with shoes on his feet. There is an increasing number of tourists who violate the rules to wear shoes or sleep on pagodas, according to a tour guide who mainly serve the foreigners in Bagan trips. In Bagan, major attraction to foreign visitors to climb temples is to watch sunrise and sunset. Around 750,000 tourists visited Bagan between 2014 and 2016, according to a Bagan district administration department.
Some State-Owned Enterprises Likely to Be Privatised
Myanmar government is planning to privatise some state-owned enterprises and workshops within three to six months, according to official media on March 22. Authorities are now considering the future of these suspended enterprises and factories – whether to privatise to local or foreign business entrepreneurs or totally shut down, said Kyaw Win, minister for planning and finance. The minister highlighted the role of private sector in economic development, adding the government's role is just as a navigator.