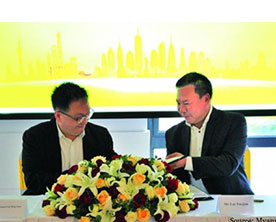 Golden City has welcomed KI College Singapore as the latest tenant to take residence at the grade-A office building Golden City Business Center (GCBC) in Yankin Township. The new learning centre, founded by a Singaporean education specialist, Indigo Education Group and two Myanmar partners, will move to the ground floor of GCBC, ready to start their operations in Myanmar.
Lai Xuejun, General Manager of Golden Land Real Estate Development Co., Ltd said, "Kids are the next generation of leaders and at Golden City we are delighted that an institution such as KI College has chosen our exclusive office space to bring world-class education to Myanmar, supporting students through rigorous academic programmes. With access to a wealth of facilities, we hope teachers, students and families find Golden City Business Center as the perfect environment to work and study inspired and comfortable in their pursuit of learning."
"Golden City makes it a convenient, safe and comfortable spot families and students willing to study in our learning center. The opening up of the Myanmar economy signals the imperative need for quality world – class education to help mold the younger generation. It is my conviction for KI College – Singapore to instill passion and spark curiosity in teaching and learning, thus helping teachers and students stay relevant and competitive in the 21st century, "said Samuel Lim, Principal of KI CollegeSingapore. The launch is expected to be end of August this year.