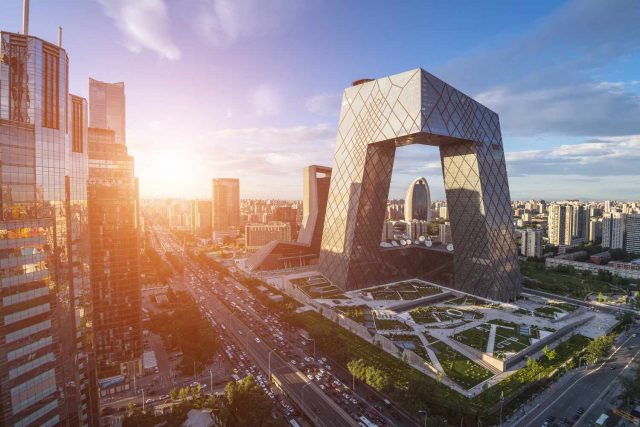 If you are travelling to the forbidden city of the world for the first time, no amount of preparation would be adequately lay the ground work to comfortably settle yourself upon arrival. Especially if you do not speak mandarin, nervous tension and distress would undoubtedly add to your additional anxiety of going to a foreign land.
The eagle has landed
It is noteworthy for China to be able to remove Covid restrictions after a couple of painful years of zero Covid policy. Yet health declaration of travellers is still required, probably due to contact traceability requisite. That's when the mess starts for first timers. Once you got out of the plane, the first obstacle appeared. A QR code needs to be shown to an official at the initial point of contact. That QR code is the code you get after you do the health declaration. Most of the travellers are neither informed prior to arrival nor through the airline staff of this requirement, hence the chaos begin.
In order to do the health declaration there and then, you need to first scan the QR code posted on the a couple of notice boards, past the aerobridge. By the way, all the instructions are written in Chinese! Competency in spoken Chinese is simply inadequate. In order to activate the scan to forward you to a site for completion of your health and related details, one needs an internet access. Clearly, the airport free wi-fi would be stressed out during that time from jam-packed demand, resulting in you unable to get access for a considerable period of time. Even if you activated roaming of your home country mobile, the website may not work with your domestic mobile set up. About to give up? Don't lose heart. After most of the traffic has gone through with the required QR code, the officials at the first point of contact will hurriedly guide you to the machines that could be used to do the same thing above, with significantly lesser amount of stress. In fact there are staff there who would assist you to speed up the declaration entries on the machines. If truth be told, they were so fast filling and clicking the relevant details on the screen that I even thought they entered me as 'female' on the declaration.
The second point of hassle could be the police fingerprint scanning done through the machines. The process was simple enough yet the sensitivity of the finger print scanners left many frustrated after repeated attempts. There were helpers there too. Those who are not successful doing the scan were asked to move along rapidly and move onto the immigration counters. One surprising factor is the need to scan the fingerprints again regardless of whether you have done it at the previous station. All in all, travellers requiring visas would have done their fingerprint scanning three times before setting foot onto Beijing; one at their local embassy, one at police fingerprint scanning machines and for the last time, at immigration counter.
After clearing the immigration, you really began to feel like you have done yourself proud. Yet you might end up biting your lips in vexation, as you proceeded with caution down an escalator to a mini tram station, wondering aimlessly if you are in fact on the right tract. Yes, you are! Travellers have to take the tram to another terminal where the baggage collection station sits. The train stopped at one station prior to the destination, which makes a lot of passengers wonder which station they should alight. There were announcements in both English and Chinese too. Plus helpful airport personnel informing people not to alight, at half way point.
The airport was large, clean and functional. People are generally helpful despite being abrupt sometimes. Baggage collection and custom clearance were a breeze. Finally, the eagle has really landed.
Where eagles dare
Now that you are in the centre playing field of the governing body over nearly 20% of the world population, you cannot help your curiosity running amok to explore how this is effectively done and how it could be applied to other developing countries of the world.
Yet the stuff that you get yourself so familiar in the digital world is not present in this great State. No Facebook, no YouTube, no google search, gmail, map, or services, no telegram, etc. You learn how to live with WeChat. You learned that vpn (virtual private network) does not always work, especially on wifi connections. It works better on 5G mobile networks. China is the first country in the world to successfully run 5G networks. So, do not even bother to delay buying a local SIM card. This would be the first step to your enjoy digital affinity back.
The next important step is to open a WeChat account. Opening one while you are overseas or in China could itself be an anxious adventure. There would be verification requirement to be performed by an existing WeChat user, the account is device-specific and you cannot use back the same phone number or a previously used email to open a new account. If you verify your email account late, or if your WeChat friend did not react to your verification request on time, you cannot reuse that email account. May be WeChat is punishing you for being late! In fact, based on my own opinion, WeChat is probably the most difficult app account to set up. It would at least teach you the value of patience and how there would always be rules that you must follow, or else.
The pan ultimate dare is setting up a bank account, to enable WeChat pay. While it is illegal in China not to accept cash as payment, shops prefer either WeChat pay or Alipay. Especially for Myanmar nationals, it is close to impossible to open a bank account in China, at the time of writing.
Last would be the language barrier. Although most residents of Beijing can speak broken English at a minimum, from road signs to top up instructions to notices are written only in Mandarin most of the places. Restaurant staffs also speak Mandarin only. You need to grow up fast in learning one of the core languages of the world. After you challenge yourself to get all the above done, you would have exuberant feeling of having achieve some measures of success for surviving in Beijing. And the journey has not even started yet!
Obviously, if you are to list issues with any airport or immigration operations, or unique shortcomings of a country, there would be aplenty. Many of them would be more challenging than  those described above. You have to see in the context of how would any other government do it if it were to manage 1.4 billion people. China has time and again has proven its way worked. This article aims for travellers to better psychologically prepare for the upcoming trip to the capital of the middle kingdom. For a civilisation as old as the discovery of modern humans, we have many things to admire on how one could go for stability in lieu of chaos and peace and organisation instead of discord and lawlessness.