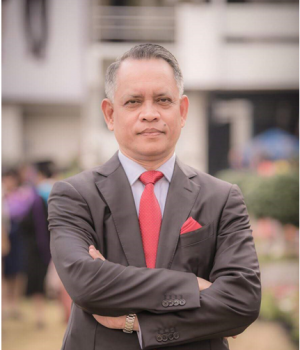 Interview with: U Aung Naing Oo
Permanent Secretary of the Ministry of Investment and Foreign Economic Relations
Please introduce DICA for our readers.
I was the Director General of DICA until the end of March this year and have been transferred to the Union Minister's Office since first April. As mention in its name DICA has two roles to play. The duties of DICA are to be an investment promotion agency of Myanmar, the secretariat of Myanmar Investment Commission and the regulator of companies in the country.
Can you tell us about your roles and responsibilities as a Director General of DICA?
It was a bit broad. I assumed the duties of DICA in May 2012 then I led the reforms for improvement of business environment in the country. I did many things which went beyond the prescribed duties of DG but major responsibilities were to help develop the institutional capacity of my office, to coordinate with other government agencies for facilitation of business, to promote foreign and local investment, to regulate the companies as a registrar and more importantly to discharge the duties assigned by the government. In seven years, I had involved in many initiatives under my capacity as the director general and secretary of MIC. I led the process of revising the Foreign Investment Law and Rules in 2011/2012, I played a leading role in upgrading the Special Economic Zone Law and Rules, I was in charge of drafting the new Myanmar Investment Law (2016) and Rules and Myanmar Companies Law (2017) and its Regulations and obviously the setting up of Myanmar Companies Online (MyCO), which was my own initiative and I have to say that it's my masterpiece. Apart from these major duties, I also led the formulation of Private Sector Development framework and Action Plan in cooperation with Mekong Business Initiative as part of ADB's programme. From 2012 to 2014, I was also a Senior Economic Official of Myanmar to ASEAN and I am proud to say that I was a co-chair of OECD Task Force on Updating Policy Framework for Investment in 2014 and 2015.
How many local/foreign organizations are registered with DICA? What is the trend like over the year?
As of the end of March 2019, there are over fifty five thousand Myanmar companies and over six thousand foreign business entities registered with DICA. After the establishment of MyCO, we can see the significant improvement. A good example is number of new companies registered from 1 August 2018 to end of March 2019 is 13020 which breaks the record of highest number of registration which is 9286 in 20172018 fiscal year. It is obvious that about four thousands more companies were registered in seven months compared to that of entire last year.
What is the condition of foreign direct investments into Myanmar?
In terms of approved amount of FDI from October last year to end of March this year is about 1.9 billion USD which is about 6oo million USD more than that of same period last year. However, it is challenging for us to meet the target of 5.8 billion USD to approve before the end of this fiscal year.
What are the factors behind the decline in FDI over the past 2-3 years?
The major factor is global trend of FDI was also down in 2017 and 2018 that impacted to us. In addition to that, the exaggeration of news on Myanmar in international media which doesn't reflect the reality of the country raised the concern of potential investors and some of them probably considered that it's not time for them to invest in Myanmar.
How come the ease of doing business index has not actually improved for Myanmar?
Actually we are doing our best under the leadership of Vice-President to improve the ranking of Myanmar in Doing Business Report published by the World Bank. However, we haven't seen the outcome yet. There would be two points. The first one is other countries are striving as we do and perhaps better than us. The second point is that government agencies need more synergy in improving the business environment.
How can we increase the FDI?
We firstly need to help facilitate the existing FDIs in the country. We need to make them happy in doing business in Myanmar, make them having less problems and barriers, ensure that their businesses are saved and well-protected in Myanmar, then they will advertise for us. Secondly, we must improve our infrastructure which is a main impediment in attracting FDI.
What is your opinion on Myanmar's current state of economy?
The statistics show that Myanmar's economy is not bad but we shouldn't extremely rely on the data. In fact, all know Myanmar has lots of potential and what we need is to put our effort in realizing those potential.
How do you set the service standards in DICA?
DICA has a motto which is "Cooperator of business community, developer of national economy". Base on that philosophy, I always urge my staff that we are not an agency which is separated from the business, we must be a part of business community, we must provide better service to the businesses so that they will grow and subsequently our country will develop. More importantly I run my office as a corporate and make sure the concept of corporate governance must be flourished in my organization. In addition to that, I have an evaluation mechanism for my team. Whoever comes to my office will receive an evaluation form and request them to provide feedback on my staffs' performance to us anonymously so that I can make sure the service of DICA is satisfactory.
How about service standards on MIC permit applications?
It's more or less same as that of DICA but for your information, I have started the new initiative of online application to MIC and definitely my successor will keep moving forward with this.
Surveys after surveys, why do you think business owners said economy is not doing well at present?
It's true and we have to accept this. From my personal point of view, weak coordination and harmonization among the ministries is one of the causes which makes the economy slow. I think policy makers at higher level know that well and probably one of the reasons why setting up our ministry, which is Ministry of Investment and Foreign Economic Relations, is to enhance coordination among the ministries.
What do you think might be the most important sector to focus on, for Myanmar to develop and develop more?
The sector is infrastructure that we need to focus to develop.
If you could make one change in government policy, what would it be?
To look after local businesses and help all of them grow since approximately over eighty percent of Myanmar's economy is run by those micro, small and medium size businesses.