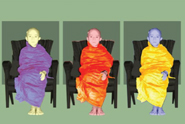 One of a handful of artists creating superb digital artworks in a tech challenged Myanmar, Phyoe Kyi believes that "various kinds of works may change according to the development of information technology". What to expect from young artists throughout Myanmar is difficult to say. In the mean time, Phyoe Kyi continues to inspire with his keen sense of the contemporary in Myanmar art.
Formerly a painter at the University of Arts and Culture, he soon abandoned the medium. It could not contain all that he wanted to achieve. In an interview, he described his introduction to the digital world of art in five processes; five life determining moments in a young boy's artistic life.
The first process describes a small boy drawing vigorously by candlelight and, as the light fades, his coloured pencils emulate the hues of the yellow flame. When he wakes up in the morning, he is sad because the colours seem "out of place". The second process introduces electrical lighting in the boy's home, and he is happy because he "feels free to draw until midnight". In process three, he meets digital art at a friend's house, who "paints" on a monitor screen. In the same week he goes to purchase a computer. Processes four and five see the boy become a man, and reinvent his life in colour. He also experiments with other mediums, such as performance. Finally, he uses a phone camcorder to create an animated short film. Years later, he would design a museum – the Mingun Museum of Contemporary Art. A fictional, digital wonderland, it holds artworks designed by Phyoe Kyi. It is revolutionary in its scale and approach to art making in Myanmar.
An artist's influences are not easily described, but Phyoe Kyi's short story takes memories of life and colour, to a living artist's process of discovery for the seemingly endless opportunities the digital medium has to offer. Though he admits there are challenges to digital work, like the threat of copyright infringement or the difficulty in marketing the work, he continues to favour it over all others and uses it whenever possible – paving the way for a generation of Myanmar artists to come, whose lives will surely be consumed by the global technology wave arriving in the country.
It is not only his expertise in digital work, but his willingness to experiment with more unfamiliar mediums. Once Upon A Time There Was Nothing is a performance art homage to the past, or perhaps a push to accept its truth and what it can teach us. Since 2004, he has realised the art piece four times, in four different locations (Mingun and Yangon in Myanmar, Fukuoka in Japan and, most recently, in Berlin, Germany). The essential elements of the performance entail Phyoe Kyi dressing as an ancient Burmese king who walks about, blowing bubbles and posing for pictures. Once Upon A Time implies a fairy tale, but one that is never perfect. Through his costume and movements, he questions the way we look at what has been before us.
The diversity of Phyoe Kyi's last decade of work goes even deeper, with brilliantly colourful screen prints, impressive sculptures made of paper from his native Shan State and an endless collaborative effort to interact with spaces and the people in them. His childhood is a recurring theme, especially the relationship with his family. His self portraits send the viewer two opposing messages: one being that childhood is about innocence and freedom; the other that he was somehow neither free nor innocent, but longs for childhood nonetheless.
Of course, one could say that, since Phyoe Kyi is from Myanmar, his work relates to the volatile country in which he grew up. He has indeed approached the traumas of social isolationism, as well as increasing environmental damage. Perhaps more interesting is his being from Shan State, which also sets him apart from the rest. Without simplifying too much Phyoe Kyi's intentions or inspirations, it is best to say that he clings to a human message. It is about family and inspiration, our pasts in opposition with our futures, and creating situations in order to rehabilitate ourselves through expression. A friend described Phyoe Kyi's beliefs about art as such: "He believes art is easy, and should be easy… that everyone can make art."