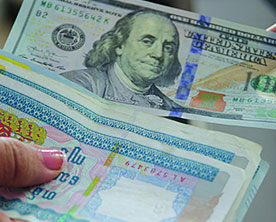 The Dollar to Kyat reference exchange rate broke the record high of 1,539 Kyats on August 28. The news about Dollar to Kyat exchange rate in the market became breaking news on social media and wellknown local media starting from the first week of August. The exchange rate rose up to 1,509 Kyats on August 22. Some businessmen forecast the prices for fuel and consumer goods could also increase due to high exchange rate.
Depreciation of Kyat will be a good sign for exporters, as goods sold by locals will be cheaper for foreign buyers. The strength of the Kyat is influenced by the level of exports and foreign direct investment into the country, which brings an additional supply of dollars into the economy. According to the Ministry of Commerce, for trade between April 1 and July 20, imports amounted to $6 billion and exports to $4.8 billion, resulting in a trade deficit of more than $1 billion. Trade deficit and slow FDI inflow is one of the reasons of high exchange rate.
Former Citi Banker, Saw Bo Bo said, "There are many reasons for Dollar appreciation, pointing out that the greenback has risen against currencies all over the world. Business activities in Myanmar are stagnant due to the rainy season and private banks currently hold excess kyats.
Turnell, Special Economic Consultant to State Counselor, there is a degree of misunderstanding over the Kyat's present depreciation. The current conditions are part of a global story, with dollar strengthening against all emerging market currencies as risk anxieties grow. He also said that the Kyat has fallen slightly further than some other currencies because the Kyat is perceived as less liquid than emerging currencies broadly and carries a higher risk premium. Myanmar does not have sufficient forex reserves to defend the currency.
Central bank of Myanmar moved to take many actions to stabilize exchange rate. On August 13, Central bank liberalized its regulation of foreign currency trading is permitted within a range of 0.8 percent above or below the reference rate of Central bank. This move could affect the foreign exchange market and economy of the country. Local private banks and exchange counters are no longer required to trade within 0.8 percent of reference exchange rate. But now, they can identify foreign exchange rate in the market independently. There can also be many changes in the international Dollar market.
"The decision by the Central Bank to remove trading band for foreign exchange transactions will make it easier for the government to implement its plans for sustainable development by helping to prevent distortions in the currency's value and reducing its volatility," said Sean Turnell.
Although Central bank used to sell $100,000 per day in the previous weeks, Central bank sold $1.65 million on August 15 and $4 million on August 16 at auction to reduce the high rate of dollar. The Dollar to Kyat exchange rate decreased from 1,560 Kyats to 1,530 Kyats on August 16.
Saw Bo Bo said "the government needed both short term and long term plans to handle the domestic dollar shortage and reduce exchange-rate volatility. The central bank needs to inject more Dollars into the financial market. It should also ease some foreign currency restrictions for private banks and find ways to boost the flow of dollar from foreign banks into the local market." The economy of the country started to go down in 2016 across all the sectors. There are many reasons for this continual economic downturn. Major problems of businesses are Kyat depreciation, taxations and tariff, financing and banking, lack of skilled human resources, unstable rules and regulations, increase in local costs and inflation, competition from foreign companies, lack of good infrastructure, import and export procedure and illicit trade and market demand.
The government tried to solve the problems of record high exchange rate and its consequences. Myanmar state counselor arranged the meeting with business community on August 27 to handle the high exchange rate and economic downturn, to respond to suggestions from business community and to deal with major complaints. At the meeting, State counselor said, "We are working on the process of implementing advice from the business community, especially about the dollar exchange rate. Some work can be done during a short period. But some need to be worked on over a long term period. We are working on it. We have discussed the advices in detail."
The Union of Myanmar Federation of Chambers of Commerce and Industry (UMFCCI) has submitted its first quarter report, including 12 points to the government to promote currency control and financial policies to get business recovery. The report is to prioritize infrastructure development, macroeconomics and establish transparency capital, promote technical and vocational education for human resource development, implement modifications to ensure responsibility and accountability of state-owned enterprise, create job opportunities for locals and Myanmar's migrant workers to return home and enhance the agriculture and livestock sector. In addition, UMFCCI requested the government to formulate specific laws and policies to foreign investment, improve the effectiveness of monetary and fiscal policy, develop time-saving system for tax collection, increase revenue, ensure public service, maintain public recreation areas and cultural heritages, implement effective intellectual property law and encourage domestic market to penetrate into regional as well as global markets. Private sector is the main driving force for Myanmar's economic growth. With an aim to dealing with barriers and challenges faced by private businesses, UMFCCI is holding B4B Insight Forum once every three months and conducts reports to be submitted to related organizations. In a bid to realize needs for business development, current economic climate and outlook in coming twelve months, Business Sentiment Survey collected from 1,464 enterprises was also reported at that forum.