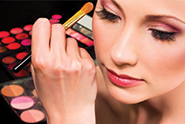 Is looking good necessarily the re- flection of natural beauty and the features one is born with? Not quite. A subtle enhancement of nat- ural appearance transforms men
and women alike, though the latter spend far more time, effort and money to look what they perceive to be beautiful. Wom- en certainly take their external appearance very seriously, seeking to change any of their physical attributes that do not appeal, or seem to detract from their beauty. The straight-haired wish their hair would curl, while those with wavy tresses spend time and money straightening them.
The beauty industry is booming and de- mand for the phenomenal variety of prod- ucts and services is spiraling, even as mil- lions of dollars are being spent on research to find solutions for perfect skin, perfect hair, age-defying creams, and potions that will elevate beauty. The global demand can be gauged from the figures released by Euromonitor International, which pegged global sales of skin care products at USD 107 billion in 2013, and hair care products at USD 77 billion, with both industries slat- ed to see a 20% increase in the next three years.
It's all about personal preferences and being beauty conscious
Looking good has different connotations for different people and among the many influencing factors are, age, nationality and gender. Time and effort levels may vary but the global consumer does focus on being clean and presentable, though some are obsessed with enhancement of features and going to great lengths and pains to remove every blemish. There are many who believe in bathing being the complete cleanser, and just as many who follow a four-step regimen of cleansing, toning, scrubbing and mois- turizing, every day. Some are comfortable with their acne and freckles, while others may visit dermatologists and skin clinics to try out skin peeling, ozone treatments, and steroid creams to get rid of them. The bot- tom line of course, is that we all want to have softer, smoother, blemish free skin, shining and whiter teeth, and wish to age gracefully, albeit with age reflecting last on our face!
Some of the universally accepted char- acteristics of looking good include:
 A clean appearance and fresh smell- ing, odor free body
 Well combed hair that are neat and tidy
 Presentable attire that is neither dirty nor crumpled
 Some form of makeup that adds to fa- cial features.
Style is one aspect of personal image of which physical appearance is one signifi- cant part. The all-important need to be well groomed that adds charm to the outer ap- pearance requires a wide range of products for skin and hair care, cosmetics to add col- or, and fragrances.
Myanmar's budding beauty sector
That knee touching mane of straight, dark and silken hair, and 'thanakha' covered cheeks is perceived by most tourists as the most pleasing, pristine beauty in the wom- en of Myanmar. How long this lasts in the country which is now an open playground for global players of the beauty business, remains to be seen. Strong influences from highly fashion conscious neighboring coun- tries, already seem to be permeating in big cities like Yangon and Mandalay.
The Euromonitor International ranks Myan- mar as one of the 20 markets of the future. With a middle class that will double in num- ber by 2020 and a potential customer base of nearly 60 million across age groups, near- ly every player in the global beauty and personal grooming industry is waiting to step into the country. The money making poten- tial apart, this will create job opportunities for aspirants, and contribute substantially towards capability building through train- ing programs that will take the recruits to international standards of service and per- formance. Eventually, as the country turns more cosmopolitan, there will be a need to provide world class services, comparable to what neighboring countries offer.
Myanmar hosted its first internation- al beauty trade exhibition, Cosmobeaute Myanmar, in June 2014 where 58 com- panies from 11 countries showcased their products. This is one of many firsts, intro- ducing locals to a variety of brands, not known before. Not that most international brands aren't available – they have been flooding the market for the last two years. It is now easy to buy the latest creams and lotions, toners and cleansers, in fact a sig- nificant part of the range offered by Kanebo, L'oreal, Revlon, Maybelline, Shishedo, Joi- co, Clinique, and other leading international brands, are seen in spas and beauty parlors. Supermarket brands like Dove, Sunsilk, Rejoice and Rexona seem to have been left behind, at least by those who can afford to pay more.
Beauty parlors, spas, skin clinics, nail art and hair salons have multiplied manifold in the last two years. While earlier, one could expect high quality services only at salons located in four and five star hotels, it is now possible to enjoy similar services in one of the many spas and parlors opening up. L'Oreal Salon, California Skin Spa, Niti- pon Beauty Center, Clinique Skin and Laser Clinic, are some of the foreign chains that bring with them better expertise and inter- national standards. From small hair salons to upscale parlors, the number runs into hundreds now.
The newer salons and spas are vying for space in upscale localities while the older businesses continue to flourish in their old locations. All of them are replicating décor and designs seen in places like Thailand, with soft soothing music offering relaxation, dim lights and clean, sterilized equipment being used. La Source has two branches, one that lies off Inya Road and another in Sedona Hotel, and it had to close down the one it had opened in Junction Square. Le Coiffeur is off Kabar Aye Pagoda Road, the Clinique Skin Clinic has recently opened on Kan Street, off Pyay Road. T8 and Tony Tun Tun are popular beauty and hair salons with multiple outlets. Similarly, Beauty Concepts serves customers from the Sule Shangri-La Hotel and Market Place. Spa Paragon has conveniently opened at ground level in the luxurious Shwe Hin Tha Condominium, benefitting from its 150 plus apartments mostly occupied by expatriates, and a vast clientele beyond. The Inya Day Spa has many walk in clients due to its prominent location, and the standard of its services does not disappoint. Last year, the well- known Thai salon, Nitipon, opened on Ka- bar Aye Pagoda Road. With shopping malls mushrooming in every part of the city, small beauty salons are opening up on higher floors to attract mall visitors, and complet- ing their mall experience.
Most of these offer membership that comes with a 10-20% discount for all treatments. As competition increases, these salons are coming up with festive promotions, and freebies that were practically nonexistent two years ago. Luring customers is one thing, retaining them requires a higher quality of services than what is found in oth- er salons.
Popular beauty treatments
Most of the spas and parlors visited seem to be using similar brands and have both local and expatriate clients. While tourists vis- it mainly for body massage and hair wash, those residing in Yangon, opt for the whole gambit of services. The range of services of- fered is most or less similar too, though La Source offers ozone treatment for hair, some hair regrowth therapy, and hair steaming to promote hair growth.
The majority of local Myanmar ladies, visit salons for hair wash, color and treatment and nail art. For them hair care takes prece- dence. Hair straightening is extremely pop- ular, especially since the local women have admirably long hair. Coloring hair into nu- merous shades of brown or just highlighting the ends, is a favorite pastime of the young- er generation, wanting to sport a new look, every few days. Hair wash outside the home seems an alien concept to most expatriate women, but once tried, they get hooked on to it too. Manicures, pedicure and foot massage are very common too. Footfalls increase over the weekend, though during the week, one would find these salons over- staffed, with the staff just sitting around beautifying themselves.
Asian women with darker hair often have to resort to hair removal treatments and frequent salons for waxing and threading, eyebrow reshaping and so on. Removal of facial hair does wonders to the appearance. Permanent solutions like laser treatment for hair removal have started appearing, but have yet to make a mark in Yangon since this requires a high level of expertise and experience.
Yangon is one more Asian city where so called beauty therapists provide a wide range of beauty services at home, visiting client homes, and are much cheaper, though one cannot compare the quality of services. This is partly because the better salons send their staff to Thailand for training and learning all the essential skills, who then come and train other staff on the job. Most of the staff are young ladies, though some men work as hair stylists. Almost all the spas visited had young ladies in their twenties, working with reasonable levels of expertise.
Most of these beauty treatments are rather time consuming and don't come cheap. A body scrub at Spa Paragon takes two and a half hours and costs 60,000 kyats. A prefer- ence for natural products has made French brands like Decleor and Sothy's very popu- lar. The Japanese SK-II is another frequent- ly preferred brand. Hair care products from Shiseido, Joico, Kerastase, L'Oreal Profes- sionnel and others have become popular though prices vary.
Price range of services
The list of beauty services provided for hair and skin, the face or the body, is rather long, but some of the most frequently used ones are mentioned. Hair loss treatments have recently picked up, and can put anyone down by a few hundred dollars. Their effec- tiveness, of course, remains debatable.
 Hair wash costs between 2000- 10000 kyats depending on the salon. The shampoo and conditioners used also affect the price charged.
 Maincure charges range between 5000 – 12000 kyats
 Pedicure can cost between 6000 – 15000 kyats.
 Hair cut with shampooing of hair costs between 6000 – 20,000 kyats
 Facials which include face cleaning and elaborate treatment come for anything between 25000 – 85000 kyats
Body scrub costs 40000 – 60000 kyats
Staying Natural
All the salons may be doing brisk business, but coming to Yangon made me understand what wonders natural skin products can do. Applying 'thanakha' actually improves the skin in texture and clears blemishes left by pimples and acne, and I wonder why Myanmar folk, for whom applying this san- dalwood paste has been a sacred routine, should even dream of giving it up. I, for one, prefer natural looks more than heavily made up faces caked with layers of foundation, and admire those who dare to step out with their simplicity on display.