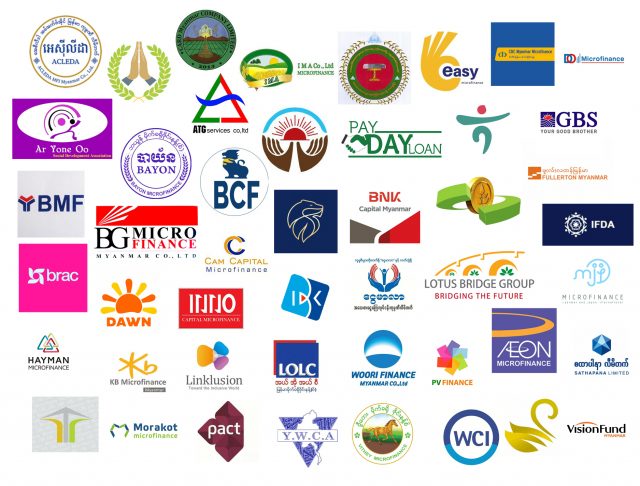 Regardless of the original divinely good intentions to make the lives of the poor better, Micro Finance Institutions (MFI) are still businesses and they needed to be run as such. Based on my own experience of running MFI business for more than six years in Myanmar, regardless of good intentions, the industry is filled with dangers and pitfalls, that can ruin even the slightest goodwill that one might have to help uplift the poor.
The Good
It's a profitable business, especially in terms of margins. With the income interest rate as high as 28% (Previously 30%) per annum, you can double your company size within a relatively short period of time, provided you limit your bad debts.
You can run a low cost model. MFI do not need nice offices along the city high streets, huge initial set up costs like banks to build vaults, etc. You can set it up in a hut or share it with the house owners. Since it is mainly a lending institution, you do not need a confidence-building facade to charade in order to attract depositors.
Licenses are relatively easy to obtain from Ministry of Finance (at least previously). Initial capital requirement is now 300 million Kyats (~$190,000). It was raised only a couple of years ago from an 30 million Kyats (~$20,000). Now the requirement is a bit more burdensome, requiring tax clearance, etc.
No need marketing spending. Everyone in Myanmar (or for this matter, all over the world) needs money. With ongoing outside illegal lending rate of at least 10%, the competition simply is no match for your government determined rate of 2.3% per month. People would be queuing up to borrow, even before you put up your sign board.
Regulated and licensed: Since MFI is a regulated and licensed business, with monthly reporting to government plus annual audits by the FRD (Financial Regulatory Department), the business is somehow recognized and protected by the government, in terms of chasing of debt and being a legitimate financial institution.
Potential for other business opportunities: You can combine with other MFI businesses horizontally or expand organically through branches network and regional expansion. The sooner you get your hands dirty, you will learn more about rural property market, how the crops are traded, processed and value added, transport network, fertilizer market and other associated businesses that you can do in connection with MFI. For city dwellers, you be pleasantly surprised how much you can learn from doing MFI business in rural areas.
Last but not least, you can create a powerful financial institution through congeneric diversification, by combining MFI, with money changer, pawnshop and other retail businesses serving the same clientele.
The Bad
Bad debts, bad debts and bad debts – The myth about most of the Myanmar people being honest may be a thing of the past. We cannot generalize all, but based on my experience, the bad debts varies according to location. Here is one important trick of the trade: NPL (Non Performing Loans) are significantly higher in urban areas compared to rural regions.
No collaterals allowed. MFI is not a pawnshop business. As such the license rules specify that the business cannot take collaterals from borrowers. So when doubtful debts arise, the borrower end to have the upper hand.
Legal system: Myanmar legal system is such that the award for punitive damages is minimal. When NPL borrowers are taken to court, the lawyers fees and related expenses have to be borne by the MFI. Also, the interest is cut off, from the minute the case is taken to court, i.e., the courts do not take into account of your loss of income once you start legal action against the default borrower.
No formal address and ID tracking system means the borrower who intend to default can run to another region without MFI being able to track him down, without incurring exorbitantly large amount of cost. This is a significant risk especially for MFI that intend to serve to small bazaar sellers or traders. Lenders to office workers in big cities such as Yangon, are not safe either. Most of the migrant workers live in dormitories or rented accommodation. Once they move out, there is little chance of successfully tracking them down.
License is regional. The MFI license granted by the government is regional, based upon State and Division lines. If you want to get the license to operate in the whole country, you would definitely need approval from all heads of fifteen different states of Myanmar.
The Ugly (everything to do with personnel)
Staff may be thieves in disguise. Since this MFI business is all dealing in money, especially in cold hard cash, it would be extremely tempting for staff to commit criminal breach of trust (CBT) with the business money in her hand. She may temporarily use it for her own personal expenses, lend to relatives, family or friends. Even with segregation of duties, the staff and her supervisor may gang up to steal money together. That is a significant risk that one must never lose track of.
Staff may take under table money. There are so many people who wanted to borrow and among them many unscrupulous borrowers. Knowing them and their characters, no one lends them any money under normal circumstances. They will resort to bribing MFI branch staff either to falsify the documents or submit/recommend applications for them, in order to get loan approval from head office.
Staff may run away with your money. If your lending reaches above 100 Lakhs a month, it become very tempting for the staff, who earns just two Lakhs a month, to run away with the money. This is especially plausible if the manager or supervisor in charge is lazy and not meticulous. In stead of spending time to personally give out loans to farmers, e.g., the supervisor might just leave the money with the branch loan officer to handle. This is where the loophole opens up for the branch officer to cheat. Another scenario to watch out for might be that the loan officer might run away with the money collected back from the borrowers.
Staff may collude with their managers to cheat the company together. In a power distant culture (Hofstede) of Myanmar, staff will not normally go over their managers or supervisors to report any suspected wrongdoings or potential frauds. The staff may simply choose to ignore, especially if she is also benefiting. We have encountered managers cheating by creating and making expense claims via false hotel accommodation invoices, when in actual fact, she was in Yangon and sleeping at home.
Staff may get loans approved for the borrowers for herself and her family. With the intent to commit this crime, the loan officer recycle the documents used by ex-borrowers, as if they are submitting the applications again. The loan will again be approved. The risk could be minimized, if the funds are directly distributed to the borrowers by head office personnel. Even then the branch loan officer will create stories of certain borrowers unable to come on that day. More often than not, the head office staff, having limited number of hours to be present to the far away branch, may decide to leave the money with the branch officer.
This article may seems a bit pessimistic, but this is the type of business, where the real money i.e., physical cash is in front of you all the time. As far as the fraud triangle (also applies to occupational fraud) goes, all we need is opportunity, unsharable pressure (motive) and rationalization.