One thing that the National League for Democracy (NLD), after winning a second mandate, should emphasize about the future of Myanmar post-Covid economy is a carefully designed approach towards an inclusive atmosphere and environmental provisions in any trade or investment deal. Covid-19 pandemic is a window of opportunity for sustainability transitions, which are desperately needed to recover from a series of dramatic crisis brought on by the so-called "the great lockdown'. In the meantime, coordination is absolutely needed for Myanmar to flatten the epidemic curve as well as to prevent any negative health spillovers on neighbouring countries, which could hamper efforts to kick-start regional trading and investment. A recent activity of becoming a signatory to the largest trading and investment block in Asia-Pacific seemed to indicate a broad approach of Myanmar's neutralist foreign policy to multilateralism, and strategic friendship at a time of global crisis.
Demand and Supply Shocks
ILO studies show that the "great trade collapse" of 2008–09 resulted in a large number of jobs lost in developing countries, but the impact of COVID-19 is likely to be even worse, given the combined supply and demand shocks on trade. The global supply and demand shocks cemented from central hubs of manufacturing output and exports – China, Germany, Italy, Japan, Republic of Korea and the United States- which were with the most cases of Covid-19 in the early months of the crisis. In earlier November, the Observatory of Economic Complexity (OEC) released a free online tool to visualize changes in the international trade patterns due to Covid-19. According to the World Economic Forum, the pandemic had an uneven impact on trade, depending on its products and seasonal variations. Some markets such as transportation and garment declined sharply in 2020 while some markets in agriculture products grew sharply.
Covid-19 and ASEAN Overview
According to ASEAN's officially released data for 2019, the total export and import values of ASEAN were $1,423.2 billion and $1,392.1 billion, respectively. Export amounts to China and the USA in the same year were $202.5 billion and $183.6 billion, respectively, making up 14.2% and 12.9% of the export value. The imports from China and the USA were $305.4 billion and $111 billion, respectively, whose sum constitutes 29.9% of the total import. For countries like Myanmar, Laos, Cambodia, Vietnam and Indonesia, 33.2% 28.9%, 24.7%, 22.6% and 21.6%, respectively, of their trading volume targeted China alone. ASEAN region is highly reliant on China and the US as its top external partners. Significantly, Covid-19 impacts from US and China are transmitted through fluctuations in trade, thereby affecting the internal equilibrium of regional economies. Lockdown imposition hit hard on countries like Thailand, the Philippines, and Cambodia that are heavily dependent on the tourism sector for foreign exchange earnings and job creation. Myanmar suffered the most in its export of garment and fishery stocks.
Regardless of the effects of COVID-19, the ASEAN region has been dealing with sluggish economic growth for the past 20 years and dependence on exports has declined, according to international studies. A drastic reduction in intra-regional trade volume imposes a threat to the region because export goods for most ASEAN member states are very similar in characteristics – concentrated in agricultural and mineral resources. Most countries in the region can compete on prices but they fall short of products which are complementary to each other. With the outbreak of Covid-19, the transaction cost increases, making price competition more difficult and further damages to the intra-trade.
According to a study from a Professor of Economic Policy at the College of Public Policy, Korea University, ASEAN needs to look into the manufacturing sector in the wake of the COVID-19 for restoring the economy. McKinsey stated in its September article that "emerging ASEAN has a chance to advance as manufacturing hubs" due to the fact that Intra-Asia trade is expected to fall 13 percent from 2019 to 2020 compared with a drop of 20 percent in East-to-West trade. Of the 150 global businesses surveyed by QIMA, 67% of EU executives and 80% of US executives intend to shift sourcing to other Asian countries, the article said.
RCEP Overview
On November 15, 10 AESAN countries signed the Regional Comprehensive Economic Partnership (RCEP) agreement with five other signatories- China, Japan, South Korea, Australia and New Zealand- which are the region's top trading partners. According to UNCTAD Monitor, the RCEP agreement is launched in myriad bilateral agreements with provisions related to market access and disciplines in trade of goods and services and e-commerce to strengthen the regional value chains. It includes liberalization, facilitation, promotion and cooperation measures. In fact, the key opportunity is in the diverse group of economies within RCEP, with complementary locational advantages and catch-up opportunities for the lower income economies. RCEP initiatives will involve free trade agreements (FTAs) with one another RCEP members, all with varying provisions and rules and disciplines governing trade, investment and services. After eight years of talks, the pact established the world's largest trade and investment block, accounting for 30% of world population, which is bigger than the Comprehensive and Progressive Agreement of the Trans-Pacific Partnership CPTPP and that of the EU. By 2030, the deal will increase GDP growth in the region by 0.2% and is expected to boost exports of the members by over 10% by 2025. ASEAN Leaders at the summit stressed that the RCEP Agreement helps the region revive post-Covid economic growth through inclusive and sustainable recovery process and help boost intra-regional trade in a set framework at a time of global trade tensions.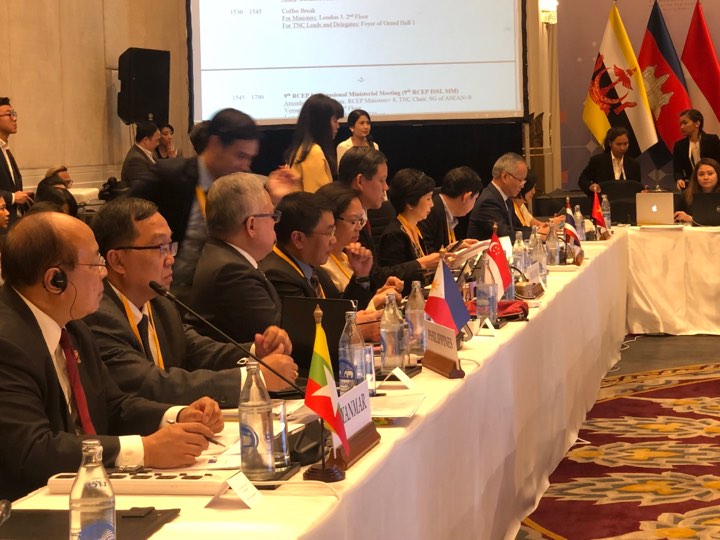 Myanmar Context
It has never been better than Covid-19 period for Myanmar to upgrade relations with international bodies and to look into a new phenomenon of expanding its strategic position in South-east Asia after taking a hit on the FDI scene from western countries on the Rohingya crisis amid complex geopolitical relations with China. As bleak as a transition can be, any government taking on the challenge of leading Myanmar would have to consider a diversification path to maintain economic reforms. The government is drawing the Myanmar Economic Recovery and Reform Plan (MERRP) in connection with the Myanmar Sustainable Development Plan (MSDP) for use in the post-Covid period in order to revive national economy, according to Union Minister for Investment and Foreign Economic Relations, Thaung Tun, the ministry social media page reported.
There are concerns developed around the RCEP deal. CNBC stated in a news report, "RCEP is a weaker trade deal compared to the CPTPP. Tariffs among many RCEP member countries are already low given existing bilateral or smaller multilateral trade deals among them, so the direct economic benefits are limited……" According to Than Aung Kyaw, Director General of MIFER, Myanmar will need to liberalize 30% of the market while other signatories will liberalise 65% of the market for being one of the three least development countries (LDCs), BBC's Myanmar language service reported. Myanmar will have time to prepare to adapt to the framework and procedures of RCEP and fully integrate into the deal. During the elegant period, the Director General said that the private sector can enjoy market access as a benefit. Under RCEP, Myanmar may have opportunities to partner up its relationship with China in which both parties can enjoy mutual benefit.
During discussion meetings, Myanmar proposed some special privileges to complete the disciplines in the RCEP framework and some were agreed by other signatories and some are still in on-going discussion, added Permanent Secretary of DICA, Aung Naing Oo. For example, Myanmar asked for technical assistance to carry out RCEP deals and in fact will have a maximum of 10 years and 15 years for the e-commerce and for the trade sector, respectively, to eliminate tariffs on 80% of trade. The State Counsellor also said on the summit day that RCEP will accelerate the facilitation of trade and investment as part of a well-functioning, highly efficient, rules-based multilateral trading system. Myanmar will need to work at its best to realize the full implementation of the provisions within the RCEP Agreement which will serve as a direction to a developed future by 2030.