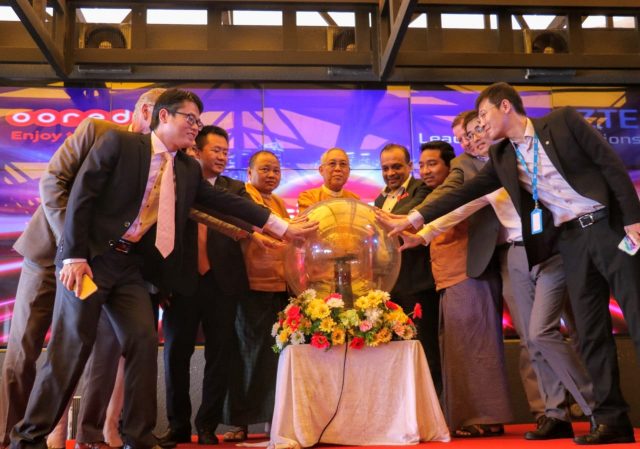 On September 25, Ooredoo Myanmar and ZTE hosted an exciting event at Myanmar Plaza Yangon that showcased multiple real-life 5G experiences for the first time in Myanmar. The event was hosted in partnership with network and technology leader ZTE, a leading technology enabler in the country.
The demonstration showcased a range of 5G use-cases, including 5G speed, immersive Virtual Reality (VR) experience, as well as an innovative drone-based monitoring system, generating global interest and setting a new benchmark in Myanmar telecommunications. The live speed test at the event reached up to 1.75Gbps on Ooredoo Myanmar's 5G network. This super-fast speed will be useful for multi-gigabit mobile connectivity, new user experiences on Augmented Reality (AR) and Virtual Reality (VR), High Definition Voice, Ultra High Definition Live Broadcast, 3D Videos, Emergency Services, automatic vehicles, Critical infrastructure monitoring, and more.
Around Inya Lake, Ooredoo Myanmar demonstrated the flying drone-based monitoring system, which was a highlight of the event. This drone is automatic and runs on Ooredoo's 5G network, delivering simultaneous images and video recording while it flies. This intelligent autonomous drone is fitted with HD cameras and streaming capabilities, allowing it to support automatic delivery and remote inspection. It can also facilitate environmental measurements such as pollution, temperature and many more features which can benefit governments, businesses and communities.
"Ooredoo Myanmar's progress towards 5G demonstrates our readiness to start a new wave of digital transformation across the society, industry and day-to-day lives in Myanmar. We are excited to provide our customers with new experiences and an exciting view into the future of Myanmar with 5G, in partnership with ZTE Corporation." said Rajeev Sethi, CEO of Ooredoo Myanmar. Mei Zhonghua, SVP of ZTE Corporation said, "ZTE focus on leading 5G innovations, which will definitely empower Myanmar people in the future. In the development of the digital economy, this new-generation network infrastructure will play an important role."