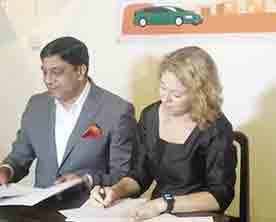 Uber and Ooredoo Myanmar signed a Memorandum of Understanding (MoU) and announced the start of a lasting strategic partnership, making mobility and connectivity accessible to more people in Yangon.
Charity Safford, Uber's General Manager for Vietnam, Cambodia and Myanmar, said Uber's story in Myanmar has been one of collaboration: with the Yangon government when we entered and now with Ooredoo Myanmar as we grow. Together, we aim to change the way the city moves and communicates. We see with partnership between Uber and Ooredoo as a big step in Myanmar's digital revolution".
Myanmar is one of Uber's fastest growing Asian markets. This partnership shows the company's deepening commitment to serving riders, drivers and cities in the country and the region more broadly through a truly local lens and with a local telecom leader.
Ooredoo Myanmar announced the release of a specially crafted package for Uber driver-partners, helping them cut their daily operational cost while using their phones. Among other benefits, Ooredoo Myanmar will let Uber driverpartners browse the Uber app for free and enjoy advantageous rates on data, SMS and voice calls.
The two leading tech firms also agreed on a framework to make transportation more accessible to riders around town, bringing their resources together to reach citizen not yet familiar with Uber's services.
Their strategic partnership marks a new step in Myanmar's sharp digital transformation, initiated four years ago by their arrival of telecommunication companies like Ooredoo Myanmar. The two leading tech firms agreed to collaborate and increase telecom and technological efficiencies across their services.
Virkam Sinha, CEO of Ooredoo Myanmar, said "Ooredoo is committed to support Myanmar to be a digitalfirst nation. We are passionate about technology's ability to improve the lifestyle of the communities we operate with. We hope that this strategic partnership will bring tangible and actionable solutions to people's daily lives and fuel further Myanmar's race to digitalization.