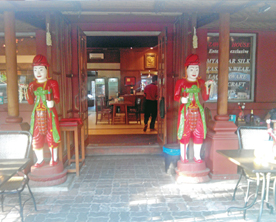 Roaming around Yangon's downtown area over the past year has become one of my life's little pleasures.
The aromas from the street food restaurants, combined with the buzzing chitchat of the locals, adds greatly to the atmosphere of what has become my favourite pastime in my favourite part of town.
Seeking out new places to eat, drink and people watch is what life in this part of the city has become for me and my small group of friends.One restaurant that we regularly go back to – because it really is very good – is the Zawgyi House Café, just along from Boyoke Market.
It serves a delightful mix of French, English and Myanmarese food and wines that I simply can't find anywhere else in town. The location is great, and the al fresco terrace is unbeatable for sitting, watching and appreciating Yangon's daily life at its most charming and very best.
An early morning breakfast of fresh home baked baguettes filled with tomato and salami and served with a hot latte is a true delight. If you're around at lunchtime, give one of the pizza's a try for just K8,000 and wash it down with a cold Dagon beer for K2,500.
Yeah – sitting on their terrace isn't too bad…
At night, as the sun sets over the city and a different crowd start wandering by, the restaurant lights with a maze of colour and the fine selection of wines from Italy, France, Argentina and Myanmar start to come into their own.
Life DowntownBy Anthony ParkerSome good Pinot Noir, Shiraz, Muscat and Macon wines are all on the list and prices vary around the K20,000 range. They all go nicely with my favourite chicken cordon blue, which only costs K7.000. The grilled pork chops and steaks with fresh salads and fries are delicious and are nicely complemented by a Myanmar Pinot Noir at K30,000 or the French Cote Du Rhone at K31,500, which is the most expensive wine on the menu.
If you're in the mood for a dessert, look no further than the selection of ice creams at only K4,000-4,500 to round the meal off nicely.
When I was there last month, one of the waiters told me that they are opening a new restaurant called L' Alchimiste on U Tun Nyein Street, Mayangone, in a beautiful old colonial building, and that they might be closing the existing one down; there are a lot of people who really hope they don't – and it's certainly odd to do a review of a restaurant that, at the time of this writing, might be closing… but I have done so in the hope that they'll stay open.
Even if they don't, we will just have to head over to the new location and keep sampling their delicious fare.