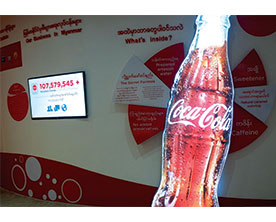 As the bottling factory and newly opened Coca-Cola Experience Center in Hmawbi Township, the Coca-Cola Company shared firsthand how its $200 million investment to date in their Myanmar operations has enabled them to produce a wide-ranging product portfolio with world-class production processes, giving consumers high-quality beverage options to fit any lifestyle.
Ozgur Simsek, General Manager of Coca-Cola Myanmar said "The CocaCola Company has invested significantly in world-class technology at our bottling facilities in Myanmar to enable us to produce a wide range of beverage choices locally, including teas, juices, isotonic sports drinks and more. These investments also ensure we consistently produce high-quality beverages, which we verify on an ongoing basis with our on-site quality testing labs. We are passionate about giving Myanmar consumers beverage choices to fit any lifestyle, whether that is low- or no-sugar beverage options like Aquarius or CocaCola Zero Sugar".
The Coca-Cola Company, celebrating five years of operations in Myanmar, has made consistent investments to build up its local manufacturing capability. A critical part of that investment has been the installation of a state-of-the-art $25 million hot fill production line in 2016, which produces juices, teas, isotonic sports drinks and other non-carbonated beverages. As with all seven of its production lines in Myanmar, the hot fill production line follows Coca-Cola's global standards and processes, along with an on-site Quality Assurance lab, ensuring that every beverage produced in the factory is consistently of the highest quality.
"Coca-Cola has not only invested in our local bottling facility and operations, but also in training for our employees and community development programs," said Sandy Chapman, Public Affairs, Communications & Sustainability Director at Coca-Cola ASEAN BIG Markets, "Our commitment to doing business the right way can be seen in these many activities we lead, such as the more than $1 million invested in 400,000 hours of employee training since 2013 and the six million dollars. The Coca-Cola Foundation has awarded to the NGO Pact Myanmar to support the Swan Yi women's economic empowerment program".