Healthcare sector plays an important role in developing the nation. In Myanmar, the NLD-government has been setting priorities through the annual budget allocations for each of the sectors. According to a recent report by MOPF Executive Budget Proposal, the ministry of health and sports was not in the list of five most spending ministries in 2019-20 Fiscal year based on the percentage of total expenditure although the government allocated 4.5% of the 2018-19 budgets to health care.  Nevertheless, the number of hospitals have increased over time according to the Hospital Statistics Report 2014-16  by Ministry of Health and Sports.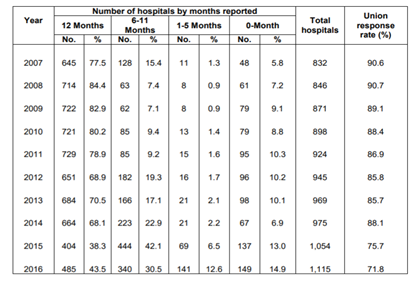 According to Oxford Business Group, rising health care costs, ageing populations and changing lifestyles in emerging economies are stoking demand for medical technology (med tech) solutions.
This entails not just smart devices that remotely monitor and transmit biometric data, but any instance of technology that helps to deliver health services. These initiatives are happening everywhere, but there are significant differences in the speed and scale of med tech adoption across emerging markets.
UBS Investment Bank estimates that the emerging market health care sector will grow 6.3% annually over the next decade – double the speed of developed markets – as governments make up for historic underinvestment. Emerging markets routinely spend less than 10% of GDP on health care, contrasted with close to 15% spent by developed countries, but are working to reduce the deficit. Ageing populations are a catalyst, and the UN estimates that by 2030, the 65-and-over demographic in emerging markets will rise to 15% of the population, up from 10%.
There are two main bodies that operate health care operations in Myanmar: the MoH, which manages the country's entire health sector and the Department of Public Health (DoPH), a subset of the MoH, which acts as the regulatory body for providers. Besides DoPH, there are six other departments of medical services. However, the private sector and the NGOs play important roles in overall health care sector, working together with Myanmar Medical Association (MMA).
Even with all this stated underinvestment and decreasing spending percentages, there are more than 1,100 hospitals in Myanmar. But there is a question about the quality of health care service they deliver. When it comes to the quality, the medical technology and the advancement of the equipment or the machineries cannot be left out of the topic. Myanmar is still in developing phase; the technologies cannot be as advanced as the most developed countries. However, there are a number of international hospitals with international standard equipment.
PUBLIC HOSPITALS
PRIVATE HOSPITALS
● 500-bed Specialty Hospital, Yangon
● Defence Services General Hospital (1000-bed)
● Defence Services Orthopaedic Hospital (500-Bed)
● Defence Services Obstetric, Gynaecological and Paediatric Hospital
● East Yangon General Hospital
● Insein General Hospital
● New Yangon General Hospital
● No.2 Military Hospital (500-bed)
● North Okkalapa General Hospital
● South Okkalapa Maternal and Child Hospital
● Thingangyun Sanpya Hospital
● Universities Hospital[1]
● Waibargi Hospital
● West Yangon General Hospital
● Yangon Central Women's Hospital
● Yangon Children's Hospital
● Yangon ENT Hospital
● Yangon General Hospital
● Yangon Orthopaedic Hospital
● Yangon Workers' Hospital
● Yangon Mental Health Hospital
● Yankin Children's Hospital
● Academy Hospital
● Ar Yu International Hospital
● Asia Royal Hospital
● Aung Yadana Hospital
● Bahosi Hospital
● Chan Myae Mitta
● East West Parami
● Grand Hantha International Hospital
● Green Cross Hospital
● Guru Nanak Hospital
● Hla Tun Hospice Cancer Foundation
● Jivitadana Sangha Hospital (for Buddhist clergy)]]
● Kan Thar Yar International Specialist Hospital
● Kwe Kabaw Hospital
● Lumbini Hospital
● Mahar Myaing Hospital
● MMCW
● Muslim Free Dispensary & Medical Relief Society
● Mya Parami Hospital
● Myint Myat Taw Win
● OSC Hospital
● Panglong Hospital
● Parami General Hospital
● Pun Hlaing International Hospital
The table shows some of the famous public and private hospitals in Yangon.
Hospitals such as Grand Hantha International Hospital, Victoria Hospital, Pun Hlaing Silom Hospital, ArYu International Hospital and many other private hospitals have a good reputation and trust from the patients because of the technology and service they provide despite their higher fees than that of public hospitals.
A regular patient who used to do medical check up once or twice a year in Bangkok said, "I am satisfied with ArYu hospital's service and the quality they provide. The prices are a lot cheaper than that of medical check-up in Bangkok. And, the hospital has almost the same check-up packages and the price are affordable". If people can get the quality healthcare in Myanmar without having to go out of the country, their lives will become a lot less troublesome.
Lately, there are many healthcare websites and free counselling applications that are available for Myanmar people, for example, KoeKoeTech, Klenic Software, Telenor Mobile Health App, MayMay and HMIS etc. A person can also reach out to experienced doctors who are available on social media, mostly Facebook pages, to consult healthcare needs. Getting access to medical advice is getting easier these days.
Klenic Software is a cloud-based web platform where doctors and health clinics can store and retrieve a patient's information and medical history at the click of a button. Klenic helps health practitioners digitize medical records and queue management. Since the hospitals in Myanmar have been using manual record keeping with books, which can get lost and misplaced easily, this kind of hospital management technology can improve the record system which in turn leads to improving the quality of healthcare sector in Myanmar. There are other ways through which advancement in digital technology can be used to improve the quality of lives.