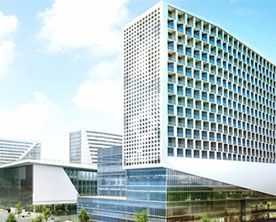 Dusit International, a major hospitality company from Thailand, has signed a management agreement with Myanmar V-Pile Group of Companies, which works in construction business ventures in Myanmar, to start a five-star hotel that will be located in the new Central Business District of Yangon city.
The Dusit Thani Yangon hotel will be part of a mixed-use development that includes an international standard convention centre, offices, retail facilities and residential units. The Mindhama area where the hotel lies is designated as a second central business district for the fast-growing Yangon city. Located at a 15 minutes' drive from Yangon International Airport and just 20 minutes' drive from the city's landmark Shwedagon Pagoda, Dusit Thani Yangon will incorporate a set of 338 lodging rooms along with meeting and conference spaces, a rooftop bar and one Thai specialty restaurant.
Dusit International, which formerly undertook the management of the  management of the Inya Lake Hotel in Yangon from 2003 to 2007 through its hotel brand Dusit Hotels and Resorts, eyes to further its reach in Myanmar with expansion especially aimed for key tourist destinations including Bagan, Mandalay and Inlay Lake, according to Suphajee Suthumpun, Group CEO of the company. The group has already planned a total of 20 properties throughout Southeast Asia that will begin operating within the next three years along with other 20 international projects. The development of the five-star Dusit Thani Yangon falls within the first phase of the upcoming second central business district, also known as Mindhama project, together with the construction of the new Myanmar Convention Centre. The hotel is slated to open at the end of 2019.
Dusit International, headquartered in Thai capital of Bangkok, is currently operating 29 properties in Thailand, United States of America, China, United Arab Emirates, Maldives, Philippines, India, Egypt and Kenya through its hotel and resort brands Dusit Thani, Dusit Princess, Dusit Deravana and dusitD2 and serviced apartment brand Dusit Residence.