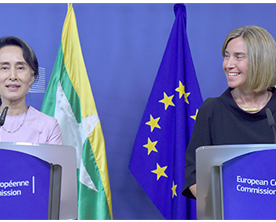 When the National League for Democracy (NLD) government, led by Nobel Peace Prize Laureate Aung San Suu Kyi, took the reins of power in 2016, foreign investment in Myanmar was booming. Foreign Direct Investment (FDI) is crucial to Aung San Suu Kyi's plans to build a flourishing and dynamic economy in a country that has suffered decades of mismanagement. Myanmar's colossal infrastructure needs cannot be met without the help of international capital. Building on the Thein Sein administration's initiatives to further improve the investment climate was part of the economic plan on which the National League for Democracy campaigned in 2015. With the recent one-year anniversary of the NLD's accession to power, FDI inflows are under scrutiny. The most widely used metric for judging FDI comes from the Myanmar Investment Commission. This government-appointed body approved $8 billion in foreign investment applications for the year to March 31, 2015, and over $9 billion the following year, before the NLD took power on March 30 2016. By the end of January 2017, however, investment approvals had yet to reach $6 billion.
Factors That Influence Foreign Investment
Delays in putting a new Myanmar Investment Commission (MIC) team in place after the NLD took the reins of government resulted in a 10-week hiatus, during which no investment applications were processed. Even taking this into account, the fall in approvals, widely seen as a barometer for investment appetite, has fueled criticism that the new administration has performed poorly in attracting outside investment. Making large-scale infrastructure projects bankable requires agreement from the government to contractual provisions for companies with the ability to build and operate such projects. But the new administration has little experience with these often complex deals. According to the Asian Development Bank (ADB), Myanmar's GDP grew by 7.2 per cent in 2015, following 8.7 per cent growth in 2014 and 8.4 per cent in 2013. The rate is forecast at 8.4 per cent in 2016. That compares favourably with neighbors and peers. The growth rates in Cambodia and Laos are both expected to be around 7 per cent in 2016, and the Philippines and Vietnam are set to see growth of around 6 per cent. Malaysia will expand by 4-5 per cent, Thailand by less than 4 per cent and Singapore by fewer than 2 per cent. Growth in Myanmar is expected to accelerate to 8.3 per cent in 2018, a huge rate indeed but one that is considered normal for hungry emerging markets. Though government policy is being faulted for the slowdown in foreign investment and has some role to play the international monetary market has a far greater baring on how much capital enters the country and how trade is conducted regionally and globally. It is also worth noting that the very early development phase, the 'bargain' phase for foreign investors who had the opportunity to move into the Myanmar market at low cost, essentially unopposed by market competition is coming to end as more permanent industrial practices take shape.
The third and final factor is the negative press Myanmar has been receiving since the end of last year concerning accusations of war crimes and crimes against humanity in Rakhine State. Though of course to multi-national businesses such concerns are unimportant where profit is concerned, the ongoing fighting between ethnic armed groups and the Tatmadaw (Myanmar Army) places a great deal of pressure on the peace process and moreover reduces confidence in the ability for the government to lay national groundwork and infrastructure in a safe and timely fashion. It also calls into question the civilian government's actual control of the mechanics of political power.
Climate change and other natural forces need to be considered – the flooding of 2015 caused intense rains and landslides which took a toll on growth as harvests were damaged and transportation impeded. An estimated 20 per cent of cultivated land was devastated. Inflation is a persistent problem, with structural issues keeping it high, while the floods caused a spike. Debt is becoming a concern, given persistent government deficits, and foreign direct investment (FDI) slowed for a period in 2016. Reforms that are being undertaken, which are important for growth, might yet become stalled due the centralized nature of NLD policy making and the sluggish, military-era civil service leadership. Myanmar may lack the capacity to effectively carry out all the changes that are needed in such a short period of time.
Myanmar, though, has great economic potential .It has reserves of natural resources, including gold, silver, platinum, coal, tin, tungsten, zinc, copper and gemstones, and it has a wide range of climatic conditions that allows for the growing of everything from tropical fruits to vegetables. Importantly, water is abundant. A wave of workers will be entering the market at the right time, yielding a major demographic dividend. The situation is very different from that in countries struggling with ageing populations.
With more than 50 million people, the country has a sizeable domestic market. Myanmar is also well positioned geographically, and situated between China and India, and next to South-east Asia, it was a centre of commerce for two millennia.
Where We Have Come From In modern times Myanmar's economic fortunes have ebbed and flowed. In the 19th century it was the region's wealthiest country, and it was the largest exporter of rice in the world until 1948. The economy suffered during the Second World War as a result of invasion. While the country gained independence in 1948, it has faced insurgencies continuously through to recent times. With the introduction of the Burmese Way to Socialism in 1962, industry was nationalized. The economy stagnated under self-imposed isolation and centralized planning just as the rest of the region started flourishing on the implementation of liberal policies (the Myanmar military leaders of course paid lip service to the principals of socialism but completely stripped away public spending on education, medicine and welfare, betraying their somewhat less noble policy goals and dooming social capital to remain one of the poorest performing in Asia). Economic reform began in Myanmar in 1988, but progress was slow and much of the investment opportunity was snapped up by wealthy military families (the beginning of the crony era). Inflation and budget deficits persisted. Tax reforms were not implemented and state-owned enterprises were not privatized. Cosmetic changes were made, but the government continued to intervene heavily in the private sector. These factors combined with the fact that the country was still closed to outsiders and deeply suspicious, if not outright hostile, to its more internationally integrated neighbours.
The country's World Bank 'doing business' ranking has improved in recent years. In 2015 Myanmar was 177th out of 189 countries; in 2016 it rose to 171st, and at the start of 2017 it was in 170th place. In the starting a business category it rose from 189th position in 2015 to 170th in 2016 and then to 146th in 2017. The first year in which Myanmar was ranked at all was 2014, when it was in 182nd place.
Today and Tomorrow
The 2015 election and the ascent of Htin Kyaw as president in 2016 took the country to the next level. The new government quickly established a tone suggesting further reform, producing a 100-day plan and a 12-point programme. The 12-point economic programme issued in July 2016 is the cornerstone of the new government's agenda. Not only is it comprehensive, but it also suggests that policy will be implemented that favors liberalization. The programme makes a formal commitment to the private sector, and doing business issues are set to be addressed. The government calls for more transparency on the budget, reform of state-owned enterprises, reform of the tax system, and an improvement in both the structure and the operations of Myanmar's capital markets. The country's mining sector will be revamped to make extractive industries more transparent. Special economic zones (SEZs) are seen as key to Myanmar's development, and projects are under way or planned at Dawei, Thilawa and Kyaukphyu. Myanmar's SEZs will provide platforms for investment that allow companies to enter the market quickly while the government works on more general, nationwide reform measures.
In Myanmar, the answers to several pressing questions will determine the success of the NLD in implementing its economic goals. Will Suu Kyi's government be able to find and empower a strong team of technocrats to manage the economy? Will Myanmar's newly elected members of parliament act in the national interest instead of their own and those of their wealthy supporters? And will the foreign community give Myanmar's ministers and director generals the time and encouragement to make on tough issues? For the moment, all factors point to steady, if not rising, international investment, further trade opportunities and technological advancement in domestic industry, but success is not guaranteed and the government must remain vigilant.