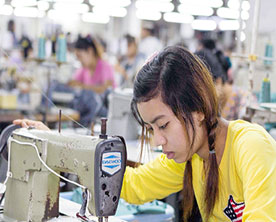 In order to strengthen the country's economic transf-ormation, Myanmar should make strides to lure increased foreign direct investment (FDI) from China in labour intensive sectors such as garments, a brief-ing paper by British think tank Overseas Development Institute (ODI) said.
The briefing paper 'Foreign dire-ct investment and economic transformation in Myanmar' recommends the South-east Asian country to target China as the preferred partner because of its economic size and geographical proximity. China is the largest foreign investor in Myanmar with $18.53 billion as of January 2017 since 1988. Chinese investment in Myanmar, most of which going to power and oil and gas sectors, amounted to $2.8 billion in the previous financial year that ended on March 31, resulting in a $500 million year-on-year drop as compared to the 2015-2016 financial year. In the previous 2016-17 fiscal, Singapore stood as the largest investor with $3 billion.
Garment industry is among the major job creating sectors in Myanmar with more than 230,000 workers employed in the activity as of 2015. The total value of Cut-Make-Pack (CMP) garment exports reached over $1.7 billion in the 2016-17 financial year, during which the permitted investments by the Myanmar Investment Commission (MIC) mostly flew into the garments manufacturing industry. The volume was an upsurge of more than one billion as compared to that of the year before.
China has already made substantial investments in Myanmar garment sector. Data from the Myanmar Garment Manufacturers Association (MGMA) show that, as of mid-2015, approximately 55 percent of registered garment firms in the country were recorded to be fully or partly foreignowned, with 25 per cent coming from China, 17 per cent from Hong Kong, 29 per cent from South Korea and 12 per cent from Japan.
The briefing paper urges Myanm-ar to further ease entry restriction for foreign firms and undertake active investment promotion in garments and other labour-inten-sive exports such as footwear through complementary reforms in finance and trade policy. The suggested reforms include such mea-sures as making access to trade credit possible for garment expo-rts and allowing tariff-free fabric imports for both Freight on Board (FOB) and CMP systems.
Myanmar's underdeveloped infrastructure presents serious impediments to factory production and product shipment, the publication noted. According to industry stakeholders, major in-frastructure problems include in-consistent and unreliable ele-ctricity, lack of deep sea port access for garment producers, outdated railway transport and inadequate road infrastructure.
The paper, written by Stephen Gelb and recently published by Supporting Economic Transfor-mation (SET) which is an ODI-led programme that aims to pro-vide governments and their development partners with pra-ctical policy support to develop the countries, is a summary brief of the ODI report of the same title. The report explores the potential for FDI to contribute in a constructive way to economic transformation and povertyred-uction in Myanmar, focusing mainly on garments and construction. The vast majority of Myanmar's garment factories operate under the CMP system, according to the MGMA. The CMP procedure is a form of contract work in which, typically, a foreign buyer with the necessary financial and technical abilities would pay contracting fees to a garment factory in Myanmar to carry out the labour-intensive task of cutting the textile fabric, sewing garments according to design specifications and then packing the garment for export to international markets.
The alternative is the Freight-on-Board (FOB) system. Under this approach – in the inter-national garment industry – retailers simply place orders from highly-capable and well-financed factories in overseas markets. The factories are basically responsible for producing the garments in their en-tirety and arranging for shipment. The retailer makes a purchase and doesn't need to take a heavy-handed involvement in the production process.
Myanmar's CMP garment industry mainly produces shoes, garments and bags. The country exports CMP products mainly to Japan, the European Union (EU) and South Korea, followed by the U.S and China. In Myanmar, the CMP system has been practiced over the last 20 years. In the current financial year, the EU has beaten Japan to become the top market for Myanmar's CMP garments following the reinstatement of Generalised Scheme of Preferences (GSP) rights to Myanmar, according to Myanmar Garment Entrepreneurs' Association (MGEA). Growing increase of orders from the EU countries has reduced Myanmar's heavy dependence on Japan for its CMP exports, said Myint Soe, Chairman of the MGEA.
A significant number of foreign-owned garment factories lie in Pathein, Mandalay, Yangon and Bago. Yangon metropolitan area and its vicinity house approximately 200 garment factories.
Foreign investors are currently hesitant to set-up factories in Yangon due to skyrocketing land costs. But there are several overseas investors who have established joint-ventures with local partners. Many of these arran-gements were set up in the previous years before land prices in Yangon reached their current, rather exor-bitant level. In Myanmar's garment activity, there are many high-quality and largevolume garment factories manufacturing for international markets as well as a large number of low-quality factories producing solely for the domestic market.
Foreign investment into Myanmar's garment sector was found to be on a continuous rise in recent years. In 2013, 26.5 per cent of the country's total FDI went into garments, 27.4 per cent in 2014 and 29 per cent in 2015. Industry stakeholders has projected to gross $3 billion from garment exports in the current financial year that is going to end on March 31, 2018 while the MGMA expects the sector to achieve the export value of $12 billion and to create 1.5 million jobs by 2020.