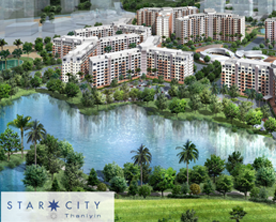 M any will have heard of STAR*C-ITY, in the rapidly growing Yan-gon suburb "Thanlyin" on the shores of Bago River facing downtown and the Shwedagon Pagoda.
Thanlyin and its adjacent Thilawa SEZ (Spe-cial Economic Zone) is a focal point on which the Myanmar business and investor commu-nity as well as the international business community have started to actively invest.
The Myanmar and Foreign Governments, the World Bank, IFC and multinational cor-porations have declared it as one of the most important development areas in the nation.
Star City, only 25 minutes from downtown Yangon is becoming the desired greenbelt location for families and singles alike. Es-pecially for those who wish to exchange the gritty, noisy and congested streets of the city with open space, landscaped avenues, gardens and the green of the golf course on the river shore. All this, coupled with the al-most daily spectacular sunset views of the Shwedagon Pagoda or sunrise views for the early risers.
Leading retailers and restaurateurs are op-erating and open or are set to open shortly. City Mart has a great fully stocked store, 50th Street Restaurant & Bar caters for residents, YOMA Bank have set up a mini branch and delightful Japanese Restaurants like IZA-KAYA REN, EDO ZUSHI and the famous YKKO noodles will be soon established. Why all this growth and interest? Star City is only 15-20 minutes from Thilawa and easily commutable to downtown Yangon.
The Thilawa SEZ was officially opened at end of last year jointly by the Myanmar and Japanese Government in a ceremony with over 500 VIPs attending. Commitments of billions of dollars for manufacturing, ship-ping and industrial plants have been made. Hundreds of millions of dollars have already been advanced for highways, new bridges and infrastructure construction. Four new highways are scheduled along with a new bridge connecting to downtown Yangon with planned completion dates for 2015. Over 40 companies are starting construction this year with completion dates by end of 2015.
When YOMA – SPA chairman Serge Pun be-gan putting his vision of Star City into reality at the beginning of 2011, it was still pioneer or frontier territory. No one could imagine how beautiful this master-plan resort would develop.
Now you have the spectrum of Palm Tree-lined avenues, fountains, garden courtyards and the first 4 of what will be a 9-hole golf course at Pun Hlaing Link.
The first two phases of Star City are a modern assembly of 10 star shaped buildings with 2,000 spacious elegant apartments with airy wide corridors, space and ample parking and views of nature all abound. An Olympic in-spired amenity pool, sports and recreation centre is to open by the end of 2015. There is scheduled elegant shuttle-bus service to downtown locations seven times a day.
The sales success of this very affordable apartment development is nothing but phe-nomenal. The first 1,000 zone A apartments are already sold with the first 2 buildings completed and occupants moving in.
Residents so far are Myanmar home buyers from Yangon to Mandalay or Nay Pyi Taw as well as international executives renting available unfurnished or full service apart-ments.
The professional European managed leasing and 24/7 management program attracts ma-jor multinational corporations and tenants from all corners of the world. Rental rates of available suites range from $1,200 to $4,000 per month, requiring only 3 months rent de-posit, contrary to the customary 1 year up-front fee.
In Zone B, of the 1043 apartments on sales release, over 80% have been sold and are un-der construction for completion by the end of 2015, early 2016. Zone C of this breath-taking project contemplates a sales release in the 4th quarter of this year.
All construction is conducted by the French firm Dragages Singapore Pte. Ltd., a FMI joint venture partner.
To truly appreciate what's happening in Star City, it is a must see to visit the spectacular million dollar sales gallery in Thanlyin and witness the elegant model suites and actual apartments.
Stop for a coffee at 50th street, or pick up groceries at City Mart whilst you are there. There is even a sales gallery for Myanmar nationals in Singapore at Peninsular Plaza in Singapore.
Is all this affordable in Yangon? To compare with Singapore, a comparable apartment in a comparable location sells for $1,500 per square foot. Star City's current release rang-es from $115 to $235 per square foot, aver-aging at $150. Suites are starting from as little as kyats 90,000,000 ($93,000). With only 5% down to book, 15% in 30 days, and the balance spread over the construction period of about 18 months, it is attractively affordable!
Many who went to see, believed and were handsomely rewarded with their purchase, it looks to be one of the more promising real estate investments in the future. For details further details, www.starcityyangon.com or call 95-5623150 ext. 118/119/120.