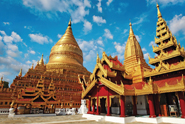 Yangon real estate agents report that the condominium rental market is very strong at the beginning of the year. This could be due to the increase in foreign expats relocating to Yangon for business purposes in 2014.
The administrations plan to limit high-rises could send property prices upward throughout the city, the report cited. The zoning plans in Yangon to the downtown area will undoubtedly drive up property prices in the short term. The effect could spread through out-of-town areas as far as Bago Region.
This will almost certainly help to push up land values in Dagon, Thanlyin, Thilawa and even farther out to the boundaries of Yangon. High-rise zones could be worth 20 percent more although prices should stabilise when the zoning comes into effect.
Last August's tax increases don't appear to have affected demand and the residential and office rentals are rising fast, particularly the market for condominiums in the downtown area. The reduction in availability of serviced apartment space and high hotel occupancy rates are driving foreign companies to rent condominium space for their expat executives. Amongst the most popular office space and condominiums at the moment are those in Sakura Tower, Seikkanthar Condominium, and Shwe Hin Thar Condominium. Ahlone and Sanchaung townships are the most expensive neighbourhoods in Yangon at the moment.
The city's development committee, YCDC, has designated Bahan, Dagon, Kamaryut and Mayangone townships as low-density. In Manyangone Township, Parami, 7 mile, Shwe Hnin Si and A1 quarters have been designated as exclusively residential areas.
The report noted that rental prices for Nov to Dec 2013 had risen by over 30% compared to the third quarter of the year, It went on to say that property rentals for a medium sized apartment are now well in excess of K1.4 million per month and expected to still rise.