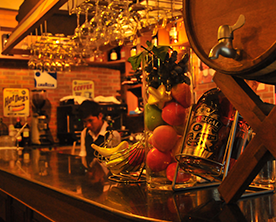 Modern, chic and elegant are the words that come to mind when describing Gossip Restaurant. In addition to the main space, there sits an array of
elegantly decorated private dining rooms, perfect for hosting both corporate and private events. Gossip Restaurant has in- vested a great deal of time in establishing a unique and artful environment for an intimate evening with that special some- one or dinner with a group of friends, so if there is one year- round mainstay worth visiting for either and eclectic dinner, drinks or both Gossip Café and Restaurant.
Located on 67thst, between 30th and 31st Streets, Gossip serves lunch and dinner daily, and weekend brunch. The menu features delicious western appetizers, Thai foods, sal- ads, sandwiches , entrees along with daily drink and menu specials.
The restaurant serves European food and Thai cuisine by two Thai professional chefs preparing amazing meal styles. Service is excellent at times even over attentive and the prices are reasonable comparing with other restaurants in Mandalay as well as Yangon and there is definitely potential for a fine restaurant if more consistency can be achieved with the wide and varied menu.
This place is frequented by tourists and locals. It is one of those places where easy to just relax for a while. Visitors can sit there by themselves, reading a book or something like that, without people coming up to talk .
The food is good. Various western salads and Thai food are quite satisfying. They even have a vegetarian burger (which in this case is a BURGER and not a roll with some vegetables and mayo has some other places around Mandalay serve).
The name "Gossip" does not really go with the cozy inte- rior and overall feeling of this restaurant though! Other than that, it's a suitable place, just chill out with family and friends…very welcoming atmosphere and nice lighting!