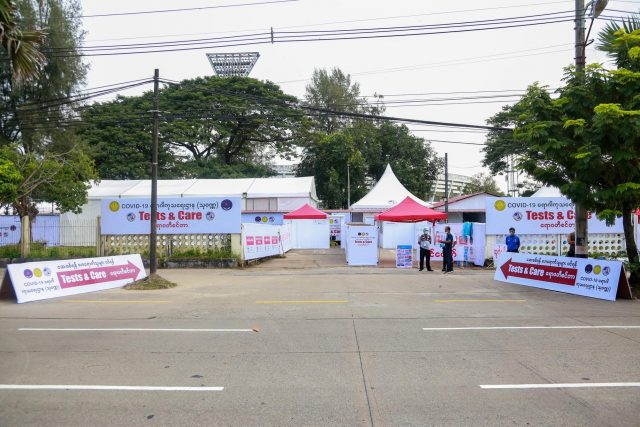 It is still difficult for countries around the globe to recover from the damage done by the novel Coronavirus. Myanmar was not an exception from the pandemic, although the disease started spreading in the country a little later than others. Myanmar confirmed its first and second COVID-19 cases on March 23, 2020, with a community lockdown in a village in Chin State to prevent the transmission of COVID-19.
The National-Level Central Committee for Prevention, Control and Treatment of COVID-19 was then founded the next day WHO declared COVID-19 as pandemic on March 11. Since then, Myanmar started issuing a series of social distancing measures in public places, domestic and international travel restrictions and guidance on personal hygiene of individuals.
During the first wave of the COVID-19 pandemic, which was from late March to early August, Myanmar recorded altogether 360 cases and 6 deaths. Myanmar did not suffer as much as the other countries from the pandemic until the second wave of COVID-19 hit the country in mid-August.
It predominantly highlighted inadequacy in healthcare workers and public health infrastructure in the country. According to the 2019 global health security index, in terms of availability of reliable healthcare systems, Myanmar was the least prepared country to treat sick people and to protect healthcare workers. Myanmar is said to be lacking in reliable capacity in the health sector when it comes to physicians, medical staff, hospitals and clinics.
In fighting COVID-19, one of the big issues that the country is facing at the moment is the shortage of quarantine centers. As the second started hitting several towns and cities across the country, daily COVID-19 cases increased from less than 10 per day in early August to 1,000 per day in mid-October.
As soon as the number has increased, the government made their best effort to provide necessary treatment and services that the country needs by constructing makeshift hospitals, quarantine centers and clinics.
Since a lot of buildings are now closed and operations are suspended due to the pandemic, public places such as hotels, schools and other spacious buildings are turned into quarantine centers. Ayeyarwady Foundation also implemented an emergency temporary treatment center at Thuwunna Youth Training Center in an effort to combat the alarming increase of COVID-19 cases in the country.
When the pandemic first started in the country, the quarantine period started with 14 days and now it has been eased to 7 days now. The government has prepared hotel and facilities quarantine as well as home quarantines according to the individual's health condition and financial status.
The government has transformed empty spacious buildings into facility quarantine centers such as schools, convention halls and other large spaces. When a person is tested positive of COVID-19, they are taken to the hospitals or a medical facility where they will be treated. The primary and secondary contacts of them will be taken to assigned facility quarantine centers or they can choose to stay at a hotel during the quarantine period.
I talked to a friend of mine who had to quarantine after her aunt and grandparents who were infected with the virus. "They were tested positive so we had to call an ambulance and they were taken to the hospital. The rest of us didn't want to go to the facility quarantine center since we were worried that using public facilities like restrooms would make it worse for us. So, we decided to choose a hotel from the list they provided for the quarantine." Ei Phyo Win, a 22-year-old girl said.
She stayed at the City Hotel Yangon in Botahtaung Township which costs 50,000 kyats per night including meals per day. "We didn't have the option to choose hotels that are close to our house since a lot of hotels are packed with patients and the government can only give us the list of hotels that are not packed completely."
Ei and her family had to quarantine for a week and the medical staff carried out the swab test on the 3rd day. "We didn't have a lot to complain about during our stay. It was okay and the only issue we had was the meal. They provided 3 meals a day. It was chicken for the curry most of the meals and the rice was a little bit hard. But it was totally understandable since they have to cook for a lot of people. I don't have anything else except that issue. The service was good and both the hotel and staff from the Ministry took good care of us."
There have been several complaints and suggestions made on the social media by people under quarantine at facility quarantine centers, hotels and community-based quarantine centers. Complaints and suggestions vary on the individual's quarantine experience – some people have hygiene issues such as public bathrooms being dirty, some people have issues with meals, some people are not happy with how volunteers and medical workers treat them and some are disappointed at other patients not being responsible enough while in quarantine.
The Brooking Institution, a non-profit public policy organization based in Washington, DC, conducted a research article on Myanmar's response to COVID-19, in which it stated that the most common weaknesses of the country during the pandemic crisis are testing capacity, health infrastructure, income security and domestic stability.
These factors can make a huge impact on the operation system of COVID-19 quarantine centers in the country. With limited availability of testing kits and shortages of human resources such as physicians and healthcare workers, quarantine centers are lacking the reliability to deal with daily increasing patients.
The government has called upon volunteers to work at these state facilities, but mandatory 14-day quarantine and increasing caseloads have stressed volunteers, as stated in the research. In addition, it also stated that some of the quarantine centers are reportedly poorly managed, increasing the transmission risk in centers and 10% of the total confirmed cases in the second wave are among healthcare workers.
Swam, who worked as a volunteer talked about his experience at the Yangon Airport Hotel. "I'm currently taking a break from my job so I decided to work as a volunteer. I worked there for almost a month back in October."
As a volunteer, Swam worked mostly on data analysis such as contact tracing. He had to work in teams with other volunteers and doctors from the medical school.
"I encountered only 2 issues during my volunteering period. The first one is the workload. Since there were only about 20 volunteers, the workload was a bit overwhelming. The working hour was also not consistent. We had to work till 2 or 3 in the morning when a lot of people were tested positive on that day. Another thing is the system. When we first got there, we collected data with Excel Worksheet. But the system changed a week later and we had to use DHIS2 (District Health Information System)."
It was his first time using that software and he did not receive proper training on how to use it. The volunteers had to research using guidebooks so that they do not make any mistakes in contact tracing and data analysis.
"I think it's important to give volunteers proper training on the system that is used. But apart from that, the whole experience was smooth and not much problematic. Although we did not have to interact closely with patients, it was a great experience and I'm really glad I could be a part of this." Swan said.
However, it is heartening to see that both the government and people in Myanmar are participating in helping the country survive and recover from the mess the pandemic has made. If we look on the bright side, the COVID-19 pandemic has highlighted the inadequate health infrastructure and how the country needs to improve its basic healthcare system and essential healthcare services.