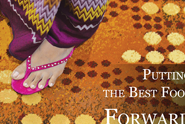 Ever since the announcement in 2014 of Taiwan-based Pou Chen Group that it will invest US$100 million to set up a manufacturing base in Myanmar, the future of Myanmar footwear industry seems bright. Pou Chen Group is the world's largest contract manufacturer of footwear having investments in US, Mexico, Vietnam, Cambodia, Taiwan and Bangladesh. Its chief executive officer Patty Tsai told Taiwan's local media, "The new plant in commercial Yangon, is expected to produce 300,000 pairs of shoes initially and the capacity will be increased to 800,000 pairs in 2019". Citing the reason for this development, he said, "The wages in China are gradually becoming high and the recent anti-China protests in Vietnam have fuelled its decision to set up the new plant in Myanmar." Pou Chen Group manufactures for brand leaders Nike, Adidas, Reebok and Puma.
The footwear sector is a very significant segment of the economy in Asian countries. The ASEAN (Association of South East Asian Nations) countries are seeing a pat- tern of growth in the footwear industry. The exports to major markets such as the United States and the European Union have been sluggish lately. According to a prominent newspaper report, Thai footwear producers establish factories in Myanmar to reduce logistics costs. The ASEAN footwear industry employs about 4,50,000-5,00,000 workers. Recently, Myanmar made its first appearance in the Adidas's Global Factory List which has factories that manufacture products for the group. "Myanmar is a newly developing country, one which is undergoing positive political change, but also one that has a legacy of human rights abuses including the use of forced labour, child labour and the like," Bill Anderson, social and environmental affairs Head – Asia Pacific re- gion, Adidas Group, said in a blog post in Adidas' website. It took Adidas two years of extensive stakeholder engagement before it allowed any of its business partners (sup- pliers) to start sourcing in Myanmar, the retailer said. The retailer also added that it is currently working with the International Labor Organisation's (ILO) office in Yangon and the Myanmar Garment Manufacturing Association (MGMA) on ways to lift the overall standards in the garment sector. "We have called on the Myanmar government to update their regulations, to match our strict standards," Anderson said.
Malaysia and Vietnam are other interesting investment destinations as both have a strongly developing footwear industry, and workers there are familiar with footwear production. Both countries in their quest to create an identity for their products have successfully marketed their own brands, while several other manufacturers are also producing for international brands such as Camel, Hush Puppies, Scholl, Puma and Nike under licensing arrangement. The local shoe-making industry has contributed significantly to the country's economy though Myanmar footwear industry is trying hard o compete with its neighbouring countries. Footwear manufactured in Myanmar are dress shoes, casuals, sport shoes, sandals, boots, and flip flops including Hnyat-phan- at (Burmese traditional sandal) made of rubber, plastic, P.V.C. and other materials. Rubber is the basic material for making the rubber soles used in producing athletic and casual footwear. Burma is currently ranked seventh in rubber production in Southeast Asia, behind Thailand, Laos, Cambodia, In- donesia, Bangladesh and the Philippines. Throughout the country some 1,430,000 acres are devoted to rubber only, according to a report by the Ministry of Agriculture. Besides designers and manufacturers are constantly seeking lighter weight materials that provide better support and stability to the footwear. The ubiquitous comfortable and light rubber slippers worn at home have gradually evolved to be a fashionable item. The manufacturers are constantly introducing innovative designs focusing on current fashion, patterns and colours so as to woo new buyers from affluent markets that emphasize on trendiness in latest designs and superior quality. Quality finishing and competitive pricing are other important factors which they have to keep in mind.
In Myanmar, the footwear for the domes- tic market consists mainly of slippers and sandals and mostly comprised of small and medium enterprises, though there are a few factories that manufacture sport and leather footwear, as well. Most of these factories are owned by foreign companies, (investors from China, Taiwan and South Korea), and a couple of them are joint ventures between Myanmar and Japan or Malaysia. But as the Myanmar's urban population's disposable income is rising, there's a demand for foot- wear of higher quality, particularly, of sports shoes. The reason for growing demand of this particular type of shoes is that urban people are now more conscious of their fitness and want to have a healthy and sporty lifestyle. Professional sports events are also becoming popular which require sportspersons to wear a particular types of sports shoes, like sneakers, travelling shoes, bas ketball and football shoes, tennis or skating shoes, hiking shoes, air sports shoes, and skateboard shoes. Sports shoes have a compelling brand effect.
New business opportunities have also arisen due to the demand of children's shoes. Lately, leading children's footwear brands have been attaching increasing importance to product quality. Therefore, children's footwear enterprises are placing greater emphasis on producing healthy shoes for kids. Elements such as the style, quality and com- fort of shoe products directly influence the buying decision of consumers. Many adult footwear brands have made entry into the children's market in recent years. In addition to popular international brands such as Nike and Adidas, Chinese brands including Li Ning, Anta, 361 Degrees and Xtep have also entered the children's garment and footwear market. Apart from developing new profit growth areas, fostering future customers is also a main purpose of these domestic brands.
Keeping abreast itself with the latest developments in the footwear industry and prepared to face the challenges and demands from the consumers Myanmar has surely put its best foot forward to march ahead of its competitors.