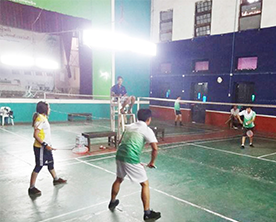 There are three courts in Yangon to play badminton in the city. Myanmar Badminton Federation (MBF) is the badminton organization of Myanmar that was founded in the late 1950s and later on it became a member of the Badminton World Federation and the Badminton Asia Confederation. The MBF's main court is located in 320-332, Anawrahta Street West Gymnasium, Lanmataw Township. This main court was constructed by the joint venture between a private company and Ministry of Sport in March 2003 and opened in December 2004. It is opened daily from 6:00am to 9:00pm with the charges of 20,000 kyats per section of 3 hours for locals and $25 for foreigners. A booking needs to be made in advance.
The second court is Myoma badmiton court, which is situated on the corner of Myoma Kyaung Street and Zagawa Street, Dagon Township. It is very nearby the Russian Embassy. It is opened from Monday to Friday from 9 am to 4 pm. The charge is 7,000 kyats per section. The session times are from 9 am to 12 pm and from 1 pm to 4pm. You can hire the court on a monthly basis too. Racket and shuttlecocks can also be rented for 500 kyats. The players can hire trainers for competition or learning to perfect playing badminton.
Final one is Tha Htone badminton court under Department of Higher Education. It is located on the corner of Tha Htone Street and University Avenue, Kamaryut Township, nearby the Yangon University. Most of the players are university students with member cards, but ordinary people can also play there for 2,000 kyats per section of one hour for local and 4,000 kyats for foreigners. This is one court where you can start playing as early as 6am every single day. If the player requires an instructor, there is a service to link the trainer and the player. You can get new friends, relaxation and a healthy life style at one of these venues.